Imagine Dragons are teaming up with Rovio for an Angry Birds in-game event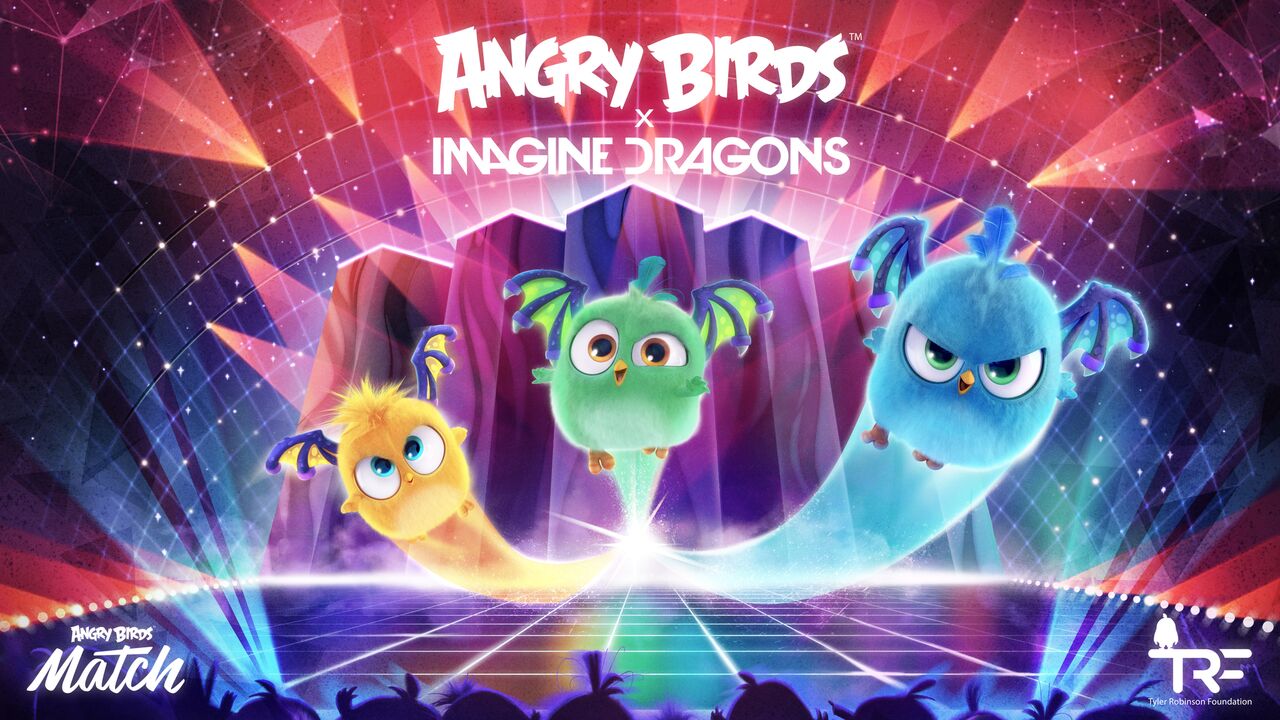 Rovio Entertainment and US rock band Imagine Dragons have joined together to fight paediatric cancer in a new in-game event, Angry Birds x Imagine Dragons, in Angry Birds Match from now until September 25, 2018.
The event benefits the Tyler Robinson Foundation (TRF), a non-profit organization dedicated to helping families cope financially and emotionally with paediatric cancer.
In Angry Birds x Imagine Dragons, players will help the Hatchlings as they set the stage for the biggest rock concert in gaming history in support of TRF. You will be able to take part in music-related challenges, collect VIP passes, and help Hatch a plan for the greatest rock show ever! The in-game event features a brand new location, the Las Vegas Concert Arena, and debuting three new characters with wonderful accessories, including rockstar gear and dragon wings. Even more exciting, Imagine Dragons' Natural will be showcased in-game.
The good boys of Imagine Dragons expressed their interest in the game and the charity, saying: "The Tyler Robinson Foundation is a cause very close to our hearts. These kids and their families should never have to suffer financial despair when they're already battling cancer together, and it's an honour to help them out any way we can. We jumped at the chance to join with Angry Birds to bring more awareness and support to TRF and these kids."
The CMO of Rivio Entertainment, Ville Heijari, had this to say about the collaboration:
"It's an honour to team up with Imagine Dragons to support all the good the Tyler Robinson Foundation does for children and families battling this life-threatening disease. It's our hope Angry Birds Match will help raise awareness around the world about this very important mission and inspire fans everywhere to join the cause."
For fans who are unaware, September is Childhood Cancer Awareness Month; TRF supports this initiative wholeheartedly and the game was created in mind of raising awareness of its mission and to highlight the difficulties families face during what is already a terrible ordeal.
The Angry Birds Match game will be featured during the Foundation's annual "Rise Up" charity gala which is being held on Friday 14th September in Las Vegas. Supporters of the charity and players alike can give back to TRF and watch an exclusive unplugged set during the gala by visiting Facebook at 9 pm PT on the 14th. There will also be opportunities throughout the game to read more about the cause and how to donate to the Foundation.
Finally, Kim Gradisher, the Tyler Robinson Foundation executive director, had this to say about the game and the charity:
"We are incredibly grateful to Imagine Dragons and Rovio Entertainment for using this compelling brand pairing to support TRF and the many families battling paediatric cancer. By using their considerable public platform and reach to draw awareness and encourage giving, Imagine Dragons and the creators of Angry Birds have helped to make a deep impact in the lives of TRF families. Every day, but particularly in September during childhood cancer awareness month, it's so important to let these families know they do not face their battle alone."
Angry Birds Match stars the Hatchlings from The Angry Birds Movie. Angry Birds Match is free to download with in-app purchases on iOS devices through the App Store and Android devices via Google Play.