An upcoming PUBG event mode will involve an armoured UAZ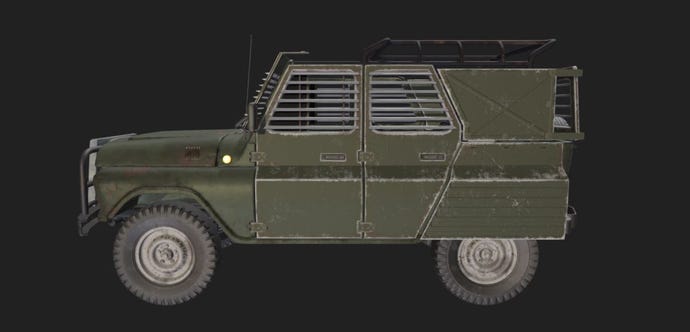 In this week's PlayerUnknown's Battlegrounds test patch on PC, dataminers found references to a particular vehicle that PUBG Corp. had not previously talked about.
That vehicle is an armoured version of PUBG's 4x4 UAZ, simply referred to as armoured UAZ. Earlier this year, PUBG Corp. said that it wants to add bullet penetration to the game's vehicles.
Bearing that in mind, when everyone saw the armoured vehicle, they assumed it would be a version of the UAZ that could fully protect its passengers, sort of like a level three helmet for vehicles.
As fun as that would be, PUBG Corp. stepped in to confirm that the armoured UAZ is in fact tied to an upcoming event mode. This is not a skin, but a whole new vehicle with - presumably - different properties.
The developer's lead community manager revealed this on Reddit, and promised to share more information soon.
You can see the 3D model of the armoured UAZ below via Skin Tracker. Feel free to start crafting your own theories about how the new mode will play out.
Last weekend, PUBG's event mode was the TDM-like War. This weekend's mode has yet to be announced, and we do hope it's the one that has the armoured UAZ.