AMD hits back at Nvidia with a pre-launch price-cut for its powerful new Radeon RX 5700 graphics cards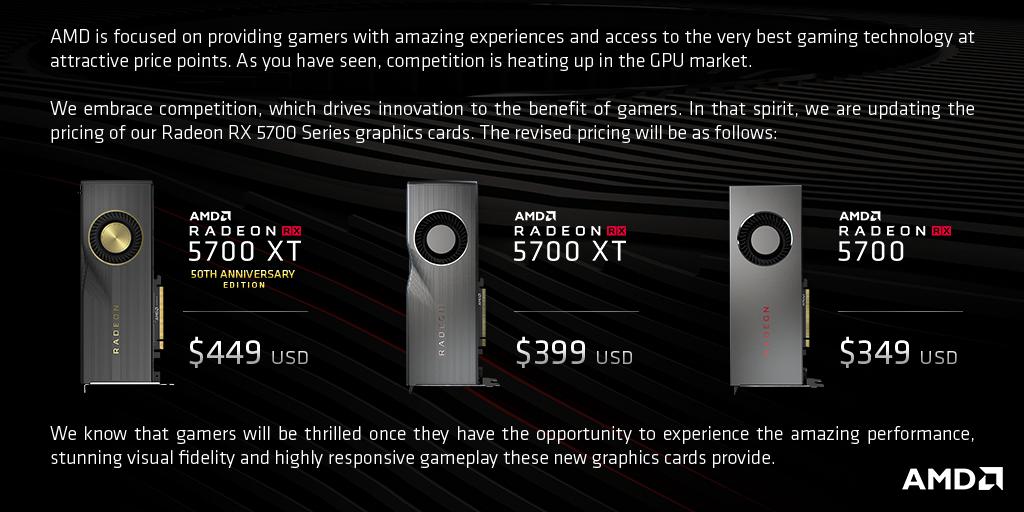 AMD and Nvidia are going toe-to-toe with new PC graphics hardware, and the fight is getting heated with a new pre-launch price cut.
Back at E3, hardware manufacturer AMD revealed its new Radeon RX 5700 series of graphics cards. The reveal came several months after Nvidia's launch of the GeForce RTX 20 series line of cards, which that hardware behemoth set out to mark as the most powerful cards on the market. AMD has other ideas and hope that their new Radeon RX 5700 series cards can catch the eye of users hoping to upgrade.
AMD has just made a significant move to make the three RX 5700 cards more attractive to the end user, too - over the weekend, they slashed the price of all three cards in response to the newly-announced pricing of Nvidia's GeForce RTX 2060 SUPER, 2070 SUPER and 2080 SUPER - new souped-up versions of the original RTX cards from September last year with increased performance at the same price point, thus making the cards more competitive. VG247 took a first look at the SUPER series RTX cards just last week.
The cut is pretty unprecedented given that the GPUs are only just now officially launching, and were still unreleased at the time of the cut - but cryptic tweets from AMD bosses suggest that it was all part of the plan, with one post clearly intended to indicate that Nvidia had been 'baited' into announcing a higher price so that AMD could undercut it. Here's how the price-cut breaks down:
The standard-issue Radeon RX 5700 was originally announced at $379, but will now have a RRP of $349. This unit features speeds of up to 1.7 GHz.
The Radeon RX 5700 XT features faster speeds of up to 1.9GHz. It was announced at $449, but will now retail at $399.
Finally, the Radeon RX 5700 XT 50th Anniversary Edition was meant to be $499, but will now RRP at $449. This card has a higher overall speed, but is very similar to its predecessor.
AMD embraces competition, which drives innovation to the benefit of gamers. In that spirit, we're updating the pricing for Radeon RX 5700 Series graphics cards. pic.twitter.com/L1ZbCUSi9z

— Radeon RX (@Radeon) July 5, 2019
The big question, of course, is how these cards stack up versus Nvidia's efforts in performance terms, especially since they don't have the focus on real-time ray tracing that AMD's rival has become fixated on with this generation of hardware.
The folks over at VG247 sibling outlet Digital Foundry have benchmarks and head-to-head comparisons between the new AMD cards and Nvidia's SUPER efforts and by all accounts they're quite powerful indeed - but hopefully we will also follow up with some tests and impressions of our own at some point. In the meantime, it's exciting to see the PC hardware world looking properly competitive once again.