Amazon Japan Now Allows International Shipping for Games
If Amazon Japan sells a game, you can have it shipped to you now.

This article first appeared on USgamer, a partner publication of VG247. Some content, such as this article, has been migrated to VG247 for posterity after USgamer's closure - but it has not been edited or further vetted by the VG247 team.
If you're an import gamer, you won't have to go through a middleman store to get many of your favorite Japanese games now. Amazon Japan now allows for international shipping on games sold directly from Amazon. For emphasis, that's games sold directly from Amazon, not "fulfilled by" Amazon. AmazonGlobal International Shipping means you can buy or pre-order Japanese games on Amazon directly and have them shipped to you.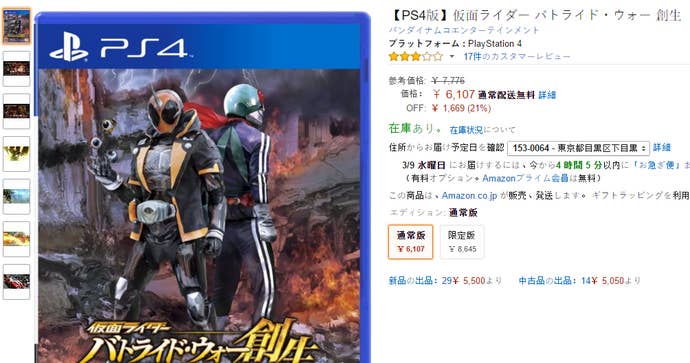 You have to navigate to Amazon Japan's official page and search for the game of your choice. The game's title will be in Japanese of course, so if you don't know the Japanese title of your chosen game, it's best to head over to Wikipedia to find it. (????????????? for Super Smash Bros for example. A bad example, because the Wii U isn't region-free.)
Once you're on a game's page, you'll see a prompt in the upper right corner of the page that says "Would you like to see this page in English? Click Here". Click that and you'll be taken to English JP version of the page. To make things easier for yourself, check your URL bar and change "en_JP" to "en_US". It's not a complete translation, but it'll make things much easier for you. Alternatively, you can hit the "In English" button under the search bar.



Then you need an Amazon account, because Amazon and Amazon Japan don't share. Click the "Hello, Sign In" section in the upper right, then click on "New customer? Start here." After that it's just like setting up a normal Amazon account. "Name Pronunciation" may trip you up, but just put your name in again. When you add your address, make sure that you note that it's an International Address, as a domestic address assumes you're in Japan. When you add your payment method, the site will also ask for you to confirm your currency. I selected US Dollar, of course.
Once your account is up and running, you can order and pre-order games just like you would on any other Amazon site. "AmazonGlobal International Shipping" will be the method of shipping.


As an experiment, I went through the process of ordering Kamen Rider: Battride War Genesis for PlayStation 4. The game itself was 5,655 yen, which Amazon converted to $52.09. Shipping came to $7.85, bringing my total to $59.94. In contrast, buying the same game from Play-Asia would cost $64.99 without shipping costs included. We don't know how long the shipping will take from Amazon though (my order gave a estimated delivery date on March 14, so six days), while a middleman store like Play-Asia offers a number of different shipping options.
Either way, for import gamers, you now have a new option to pick up your favorite games straight from Japan. Awesome, right?