Amazon Fire TV is a $99 game and movie streaming device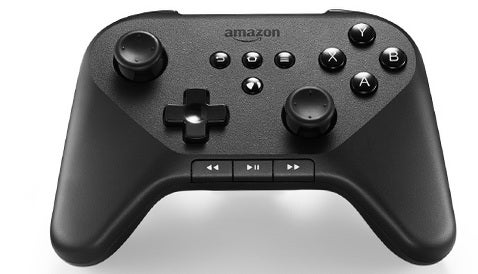 Amazon has announced its game and movie streaming device, after rumors of its development for what seems like months.
Gaming and specs
Fire TV plugs into your HDTV, has 2GB of RAM, a dedicated GPU similar to those found in smartphones, and a quad-core processor. It also has dual-band, dual-antenna WiFi, high definition 1080p video and Dolby Digital Plus surround sound.
It has three times more power than the competition such as Apple TV, Roku and is as tall as a dime, according to Amazon.
Fire TV includes full games support. According to Larsen, game consoles are priced too high.
Mike Frazzini from Amazon Games took the stage to discuss the developers on board with Fire TV, including Mojang, Ubisoft and Take-Two. By next month, thousands of games will be available to play.
Minecraft Pocket Edition, Gameloft's Asphalt 8 was shown, as was Monsters University and The Walking Dead, and 2K's NBA 2K14.
Earlier, it was reported in the live blog that a Fire TV specific version of Minecraft was coming to the system. Mojang told VG247 that Minecraft Pocket edition "is the version that's playable on the Fire TV."
Amazon's also making games, one of which is called Sev Zero, a third-person shooter developed through the firm's internal game developments studio. More than a dozen games are in the works at Amazon.
The average price of games will run between $1.85 and $2. You can play games with the remote or using the Amazon Game Controller, which will run $39.99, includes Amazon Coins to get you started.
The Fire TVis remote controlled and has a microphone embedded for voice search "that actually works." Users can search for media by actor, title or genre.
Other apps and features
The main screen TV features: Home, Movies, TV, Watchlist, Video Library, Games, Apps, Photos, and Settings, according to Engadget.
Fire TV is Android and HTML based, allows porting of apps, and the main streaming services are Hulu Plus and Amazon Instant Video with more on the way. The latter will also receive 10 original shows.
Pandora, iHeartRadio, TuneIn, HBO Go, SHO Anytime, Pandora, RedBull TV and others will be released on the device as well. It includes instant access to over 200,000 TV episodes and movies, allowing users to "watch what they want, when they want."
Amazon Prime members will be granted unlimited access to thousands of popular movies and TV shows, including exclusives. An exclusive new feature called ASAP predicts what movies and TV episodes you'll want to watch and gets them ready to stream instantly.
Photos taken with your smartphone can also be loaded to Amazon Cloud and loaded onto Fire TV.
A second screen option called X-ray was shown, and it seems to work similar to Microsoft's SmartGlass as users can start watching something on Fire TV and pick up where they left off on a tablet.
Fire TV was announced by Kindle VP Peter Larsen during Engadget's live blog of the event.
Amazon Fire TV will run you $99 and is available from today.