PUBG Erangel Vehicle Spawn Locations - How to Find Cars, Boats, Buggies, Motorbikes on Erangel
This is our PUBG beginner's guide, detailing all the essential tips you need to know for the PC, PS4, and Xbox One versions.
The main PUBG map is known as Erangel, and it's this base map that all PS4 players starting the game for the first time are going to be playing. In this PUBG Erangel map guide, we'll be providing you with a complete list of the PUBG Erangel vehicle spawn locations across the entire 4x4 map, so you know where to head to track down a transport.
PUBG Vehicles Locations on Erangel
The benefits of vehicles in Playerunknown's Battlegrounds are obvious: you get to move around the map quickly, going from point to point without having to worry about what lies in between. However, the drawbacks of using vehicles are significant. PUBG is a game about noise, and the general rule is that whoever makes the most noise, typically ends up becoming a target for the rest of the players on the map.
Therefore, vehicles should be used with caution in Battlegrounds. You'll draw incredible amounts of attention to yourself through using a vehicle, so you should probably only use one of you've got a good means of defending yourself, with an assault rifle or another decent weapon. On top of this, vehicles have their own health bars, which if depleted will cause the vehicle to explode, and they also have fuel gauges, which they can run out of fairly quickly.
PUBG Complete Vehicles List:
Buggy - Carries 2
UAZ (Open Top) - Carries 5
UAZ (Closed Top) - Carries 5
Sidecar Motorcycle - Carries 3
Motorcycle - Carries 2
Dacia 1300 - Carries 4
PG-117 (Water) - Carries 5
Above are the complete list of Battlegrounds vehicles, including the sole boat that the PUBG currently features. Additional vehicles may be added in future updates to the game, so we'll be updating this list whenever Bluehole Studio announces a new vehicle for Battlegrounds.
PUBG Car, Bike, Buggy Spawn Locations on Erangel
Over at Indieobscura.com, there's a map with the complete list of vehicle spawn locations for Battlegrounds, which you can see for yourself just below. Bear in mind that PUBG vehicle spawn locations are mostly randomised, but these are the locations that players have frequently seen Buggies, Motorcycles, Dacias, and more.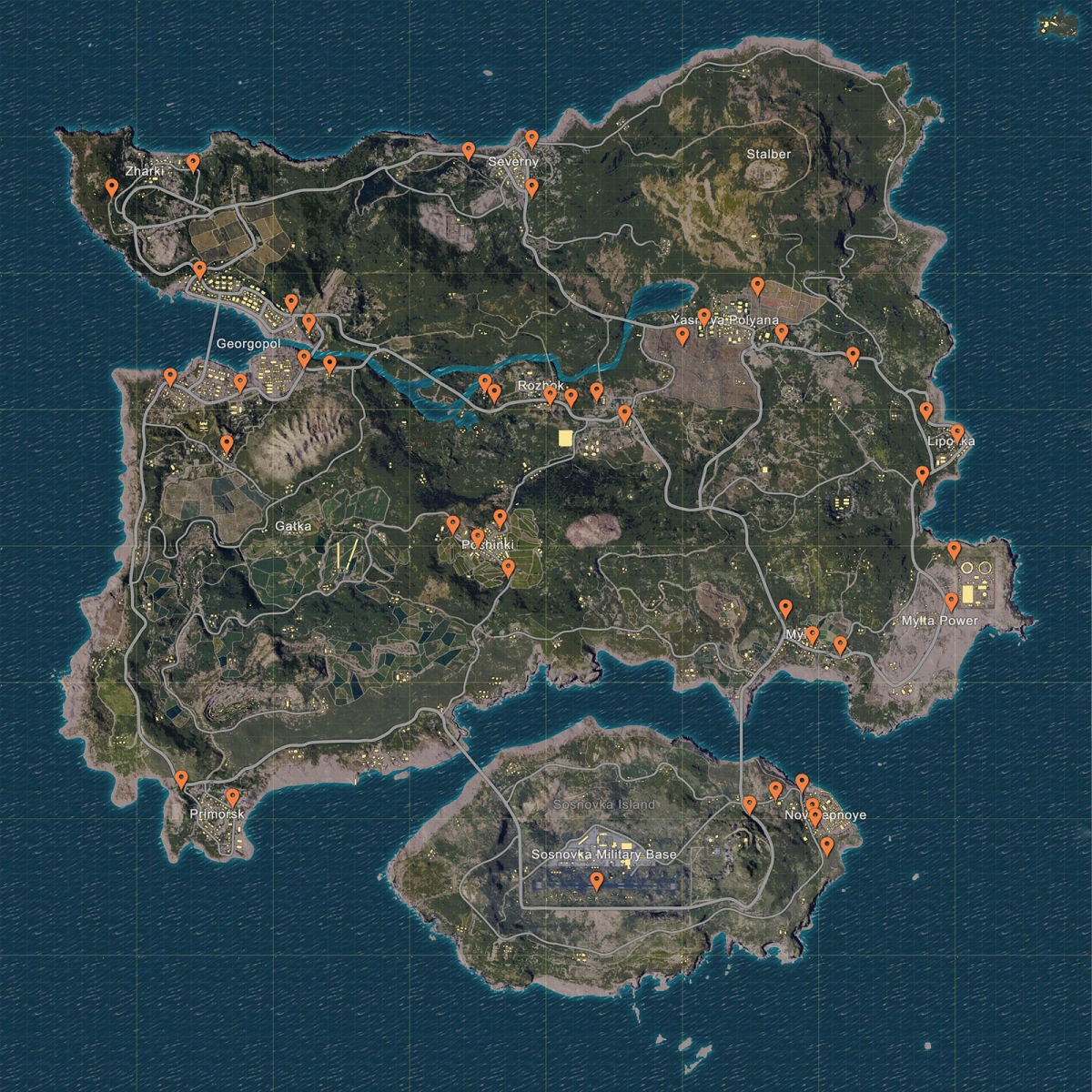 Taking a look at the map above, you'll notice a clear trend towards vehicles spawning in more populated areas of the map. This is no mistake on the part of developer Bluehole Studio, as vehicles are meant to be fought over in Battlegrounds, as they offer the obvious transportation bonus to anyone who is able to take control of one.
PUBG Boat Spawn Locations in Battlegrounds on Erangel Map
Below, we have another map courtesy of Indieobscura.com, which shows a complete list of where boats typically spawn in Battlegrounds. As with the previous map, this map isn't necessarily a comprehensive guide, as boat spawns are randomised, and it's instead a list of locations where boats have most frequently spawned.
The bonuses and drawbacks of PUBG boats are basically the same as any other vehicle: they offer quick transportation, but draw a lot of noise to the player that uses them. Bear in mind that boats don't always spawn in the ocean that surrounds the Battlegrounds map, as they can also spawn alongside rivers and lakes in the middle of the map.
PUBG Vehicles Guide - How to Refuel a Vehicle in PUBG
Scattered around in entire Battlegrounds map in various buildings, you'll sometimes come across a Gas Can, which can be used to refuel any type of vehicle in the game. To refuel a vehicle, simply get into any seat in the vehicle, have the vehicle stationary, and right click on the Gas Can in your inventory in order to refuel the vehicle.
Bear in mind that while you're refueling your vehicle, you're left entirely open to attack from any nearby players. On top of this, the vehicle can also take damage from enemy fire, so you definitely want to make sure you're in a safe location before you start the process of refueling your vehicle.
This is all the information you need to get a vehicle straight away in Playerunknown's Battlegrounds, and secure a nice method of transportation around the entire map.
For more PUBG tips check out our PUBG - How to Clear Buildings and Loot Them Safely guide, PUBG Beginner's Guide - Battlegrounds Essential Tips, PUBG Weapon Stats Guide - Best Weapons and Loadouts, PUBG Vehicle Spawn Locations - Cars, Boats, Buggies, Motorbikes - How to Refuel a Vehicle, and PUBG Loot and Weapon Drop Locations.