Adventures at Wargaming Fest: excess, success and Dolph Lundgren's pecks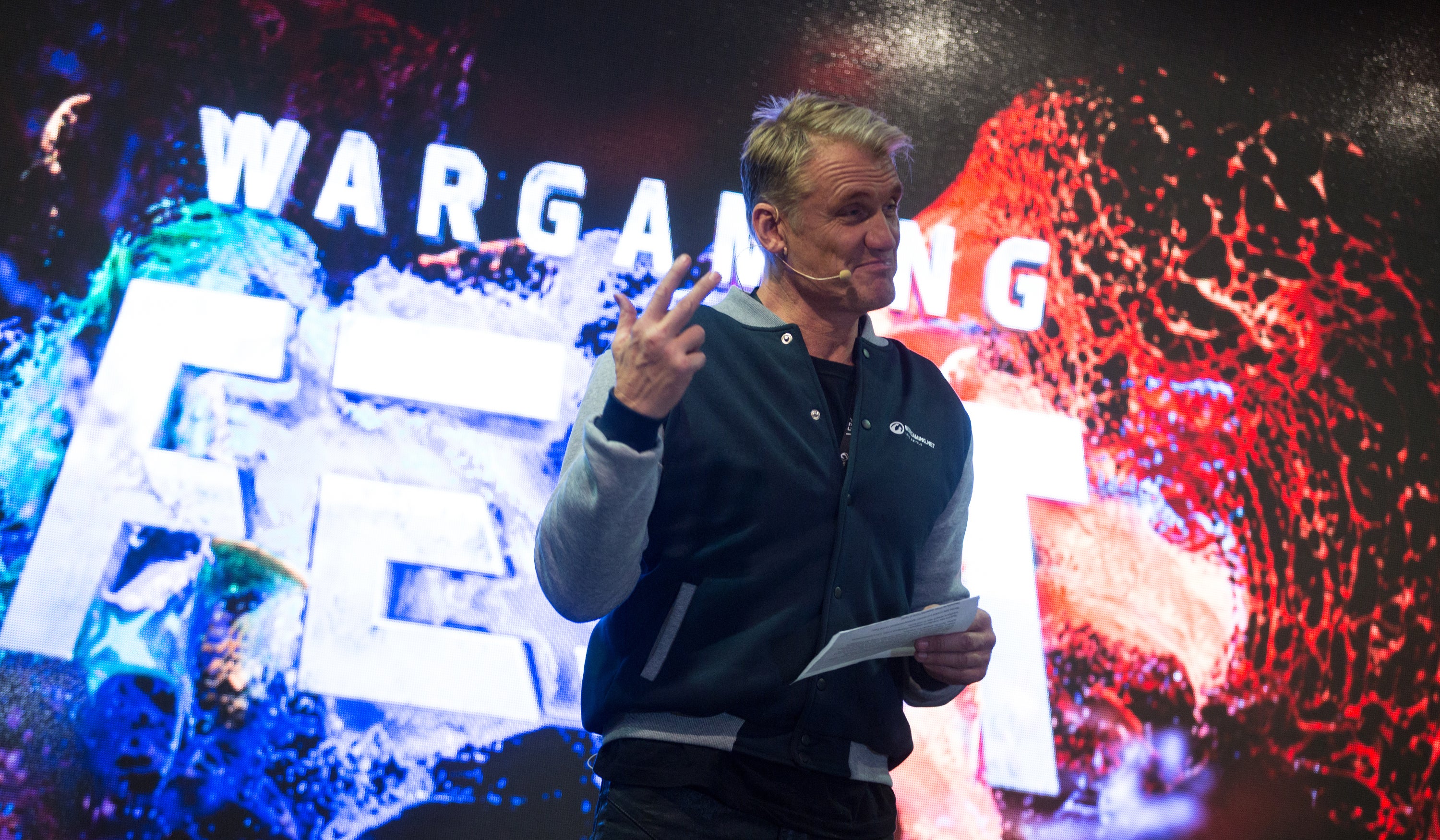 Visiting Moscow with one of gaming's maddest companies.
I'm honestly fairly fascinated by Wargaming. The company behind World of Tanks is a sort of mad, unregulated beast of the industry. They do what they want, their overwhelming free-to-play success meaning they really don't worry about a lot of the things other companies do. They're showy, brash and a little bit mad. They're entertaining.
When my phone buzzed and it was an offer from Wargaming to head to Moscow for an event at the very end of the year, every sensible thought was to give it a miss due to proximity to Christmas. But they're weird and I'm not sensible, and this was in Russia, on their home turf. "It's like our Blizzcon!" the PR rep excitedly explained. I said yes. (Consider this a disclaimer: Wargaming paid for my travel & hotel for the event.)
A couple of weeks later there I was in Moscow's Red Square, which was at the time less a glorious historical monument to Russia's place on the world stage and more a huge Christmas market complete with an ad-hoc ice rink and tacky wooden stands like those that take over every major town centre in England during Christmas. Red Square is amazing all the same, and Saint Basil's Cathedral is an impressive sight in person - but at that moment I'm still mildly stressed.
We're trying to get a taxi. It's about three hours until we fly and we're the better part of an hour from the airport. Our chaperone, a PR who is eccentric in ways that make him both hilarious and absolutely perfect for Wargaming's excess, is negotiating with taxi drivers. They're trying to come to a deal, and when he thinks he has one clinched he shoves a wad of money into the drivers' hand, a classic tourist mistake.
The driver then grips the cash and pulls a classic Darth Vader move: he changes the deal and says we need even more money. Our PR tries to take the wad back but the driver's icy grip refuses to relinquish it. Nervous journalists shuffle in place as it lightly begins to snow, sharing sidelong glances like Lando and his bald mate with the headset on Cloud City. We're definitely going to end up getting robbed, I think.
24 hours earlier I was watching the informative, bizarre and sadly somewhat sexist keynote conference of the event, Wargaming Fest. The conference's subject matter drives home just how it can afford to be so unique and independent in the industry: they're gigantic.
I feel a bit like I'm at the United Nations as I'm given a headset for live translation of the speakers, who all natter away in Russian. The translation is at once properly presented and strangely haphazard - which is the Wargaming norm. It's why I like them.
"We will be balanced," I hear a producer say of their game. "We will never be pay-to-win."
I barely need the translation anyway: it's just a lot of gigantic numbers. 110 million people are registered in World of Tanks. Spin-off tanks game Blitz is also huge, and there are over 7 million players on the console version of Tanks as well. Over 20,000 people are at this event, which is also open to fans. The eSports finals at the event will later see a team take home a tidy $80,000.
There are even all-new games: Wargaming is partnered with SEGA and Creative Assembly for Total War Arena, the idea being that CA's experience making Total War games can mesh with Wargaming's free-to-play expertise to make that effort a success. "We will be balanced," I hear a producer say of that game. "We will never be pay-to-win."
This is an attitude Wargaming stresses repeatedly across all its games, and it's good to hear. The fact that a viable eSports scene is springing up around its games seems to suggest this philosophy is working.
The company continues to spread its wings, announcing a new free-to-play shooter called Caliber that appears to be a Counter-Strike thing. It's hard to tell the details since all the slides are in Russian. There's of course redheaded stepchild World of Warplanes and the much better World of Warships, too. The point is they're bloody busy (and profitable) bees.
The press conference is interesting and drives home how Wargaming's free-to-play titles shouldn't be ignored, but a casually sexist undercurrent runs through the whole thing that I find a little unsettling. The worst comes when a producer on Blitz leaves the stage after giving a presentation on the success of her game. This is a high-ranking person, but as she walks off-stage the MC follows her interesting dive into the performance of Blitz with a jaw-dropper.
"After that you no doubt want to take out your phones - not just to ask for the beautiful lady's number, but to download the game!" he gleefully gurns. The assembled UK press look up and down our row of seats at each other slack-jawed. Minutes later the boss of Warships is led to the stage by women in some booth babe navy uniforms. While he speaks they hover at the stage edge, and as he concludes the MC pipes up again. "You had a lot to say! The girls have missed you! I kept them warm for you."
This goes on and on, not just with Wargaming employees but also with outsiders. In a Q&A session a Russian journalist raises her hand to ask a question and gets referred to as gorgeous and beautiful three times before she's handed the mic to, y'know, do her job. Some will call it a cultural difference, but it was all incredibly awkward, unsettling and gross. They're an international company, after all. They can and should do better, and this is something that deserves to be written about in more detail.
So, there's the good and the bad at the conference, but then there's the mad. Hollywood tough-guy Dolph Lundgren is here, the loose connection being that he's a Swede and they're now adding Swedish tanks to the game. He's a brand ambassador of sorts and he seems to be smartly picked. He clearly doesn't give a damn about games but loves tanks, talking enthusiastically about the models he's driven for films and those he was around when he did his own military service.
Dolph is asked if he plays video games. Not really, he answers, but he has younger family who do. Somebody very versed in his life brings up a quote from a previous interview where he said he was looking to buy a house in Eastern Europe - has he found a place yet? I'm baffled, but the next question is better still: has Dolph ever played The Sims 3? I basically pull the face from that 'confused black guy' meme in real life. It's explained what The Sims is and Dolph shrugs his enormous shoulders. "Well... I play life," he offers.
"The next question is better still: has Dolph ever played The Sims 3? I basically pull the face from that 'confused black guy' meme in real life."
Later on, I watch him awkwardly perched in front of a running Tanks build. He doesn't touch it. I won't judge him for that, though He's massive. He could clearly crush me with one hand, if not with a withering glare. Because of that I should probably say he was a pretty good brand ambassador. He was.
While the press huddle around Dolph upstairs, Wargaming Fest rages on. I take one trip into the public halls and immediately regret it. It is shoulder-to-shoulder rammed with people vying for a chance to play with all-new tanks in the games, try out a new Wargaming VR experiment or have bizarre photo ops. This is a heaving, successful event. Not bad for a first attempt.
It's also not just all about games. There are music acts on the main stage (described to me as 'Russian U2', 'Russian Beastie Boys' and 'Russian Lady Gaga' respectively) and a variety of activity areas for all ages.
One thing that strikes me in particular is that there's a wide range of people here. I see adults in full army or tank crew cosplay but equally there are an awful lot of kids. It dawns on me that World of Tanks is one of the few truly bloodless online shooters out there, since it's just metal mangling metal. That's actually rather cool.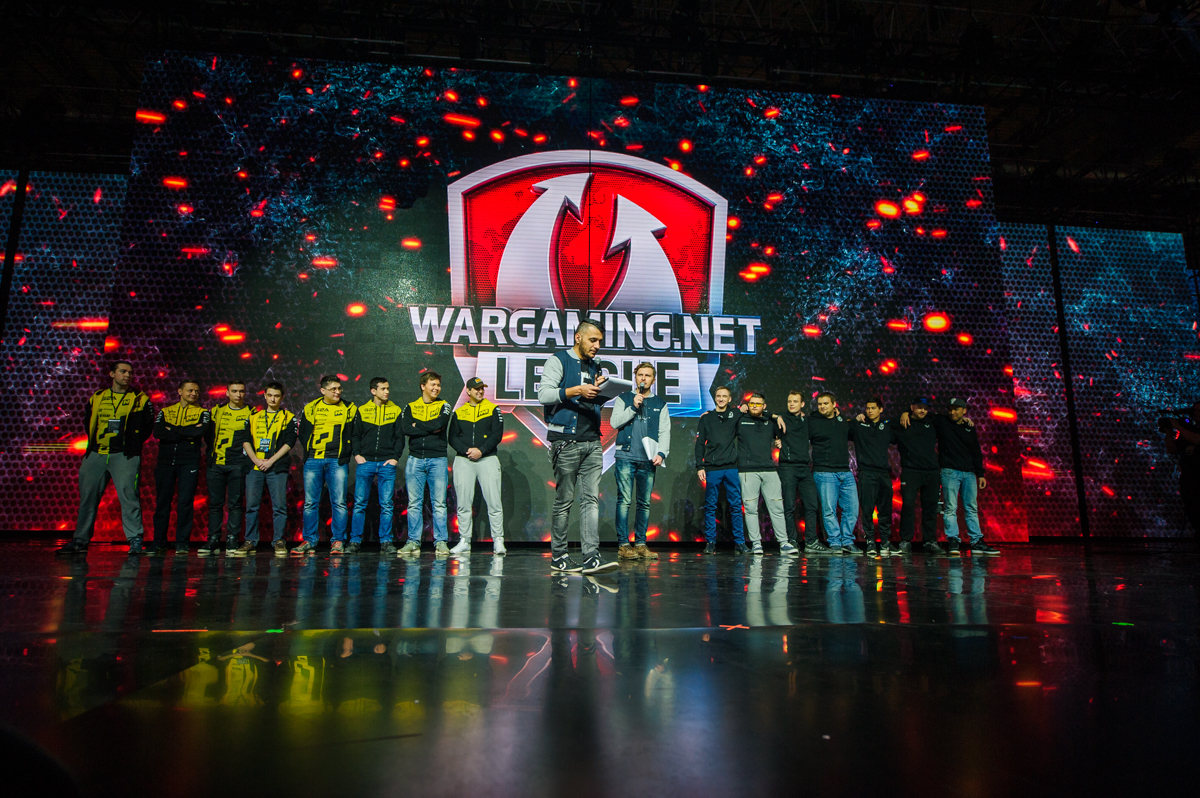 All the madness and occasional badness is all surface in the end. What lays beneath is a solid game that's incredibly successful for good reason. Even I am moved to excitement by the eSports final as one tank backs off a cliff and gets flipped upside down, eliminating its driver from the game. I feel for him.
That upturned tank sticks in my mind the following day as I sit in my death-cab. A fare has finally been agreed. The poor journalist in the front seat tries to put on his seatbelt. The driver won't have it. He rips the seatbelt out from around him. "Nyet! Nyet!" he commands. This wouldn't be so bad if the driver didn't then weave in and out of traffic on icy roads at well over 90mph.
One move is so close that I make a sort of involuntary 'Ooo-er' noise from the back. Our psychotic, Mad Max style driver is so amused he takes his eyes off the road to turn back and laugh at me. I'm horrified, obviously. On the other side of the journey the chap sitting in the front was visibly shaking. It was quite an experience.
Wargaming Fest was a typical event for that company, then: I was shocked at its size and reminded fully of the size and breadth of its business. I got a bit stressed, was strong-armed into a dangerous cab and got grossed out by casual sexism, but... the foundation is strong: good, engaging video games. Focused on Triple-A boxed releases it's easy to forget the free-to-play behemoths, but 'Wargaming's Blizzcon' served as a firm reminder of that format's importance.