Returning to the pure joy of hiking in A Short Hike
Hiking as Claire, a young blue canary in A Short Hike, feels like an indulgence.

You can meander along languid rivers that flow placidly along thick woods, climb up flights of wooden stairs towards the crest of a small hill, and glide through the crisp mountain air from the peak of a waterfall by spreading your wings. You can take in all the wondrous sights nature has to offer, without the curse of sweat cascading into - and stinging - your fragile eyes, or gasping for air mere moments before reaching the mountaintop when your lung capacity fails you.
Of course, A Short Hike is never supposed to be a perfect simulation of the grittiness of a hike through a scenic park. You're on a leisurely vacation after all, and you just need to reach the summit of the highest mountain in the area, because that's the only place with any cellphone reception. Even so, this is by no means a straightforward climb for a sprightly bird like Claire; getting to the top requires trekking through alpine routes and rough terrains, which demand incredible stamina. Fortunately, this can be expanded by collecting stamina upgrades in the form of golden feathers, which are either strewn across the park or purchasable from your friendly forest ranger. The more of these you collect, the longer you can last while climbing walls or performing double flips while mid-air. While this adds a thin veneer of difficulty, it ultimately isn't too big of a challenge, which encapsulates the essence of A Short Hike: it's about the quiet charm of exploring and discovering the wilderness, from observing the lush greenery of the game's Hawk Peak Provincial Park, to partaking in an impromptu round of beachstickball at a quiet, secluded beach.
In real life, hiking is infinitely more draining than what A Short Hike suggests. Treks on uneven, rugged terrains are punishing on the legs, wearing out dexterously challenged individuals like myself. Even the gentle pelting of drizzling rain can exacerbate hikes by chilling unprepared climbers to the bone. Then there's the thinness of the air as you ascend towards a peak, which makes breathing even more laboured.
These were my experiences when I was hiking with a friend at Qixing Mountain in Taipei, Taiwan in February earlier this year - incidentally the tallest mountain in the city at 1,120 metres above sea level. That was when the pandemic around the novel coronavirus was much more contained in East Asia, and with February being the tailend of the country's winter season. As winters in Taipei are mild, with the temperature typically ranging between 12 to 18°C, hiking at one of the most iconic, mountainous spots in Taipei didn't seem like such a terrible idea. Qixing Mountain is based in Yangmingshan National Park, which is also home to several dormant volcanoes, with its hiking trails embellished by several natural hot springs and fumaroles. So with all these geothermal activities going on, we assumed that the hike would be a rather sweltering one, with the slightly colder weather balancing out the heat of the climb.
Of course, we were absolutely wrong.
Because right at the beginning of our trail, we were greeted by a light drizzle. We decided to shrug off the rain and press on anyway, since we were both foolhardy hikers with a penchant for misjudging our own athleticism; after all, when has a little moisture prevented anyone from tackling a mountain? But on top of our regular clothes - a simple shirt, joggers, barely serviceable sports shoes and a mask - we only brought with us a slightly waterproof hoodie to stave off the cold. Meanwhile, the route ahead was paved by long flights of slippery stone steps and muddy trails. This means every stride we took had to be a careful, deliberate one, so we wouldn't tumble and fall off the steep mountain slope. Within an hour of trudging through Qixing Mountain, my calves were aching painfully, I was sweating buckets, and my body was torn between absolutely boiling from the vigorous climb, and feeling frigid from the wild combination of rain and high winds.
Oh, and the panoramic sights of the surrounding lakes, waterfalls and cityscapes we expected to see? They were all clouded by mist.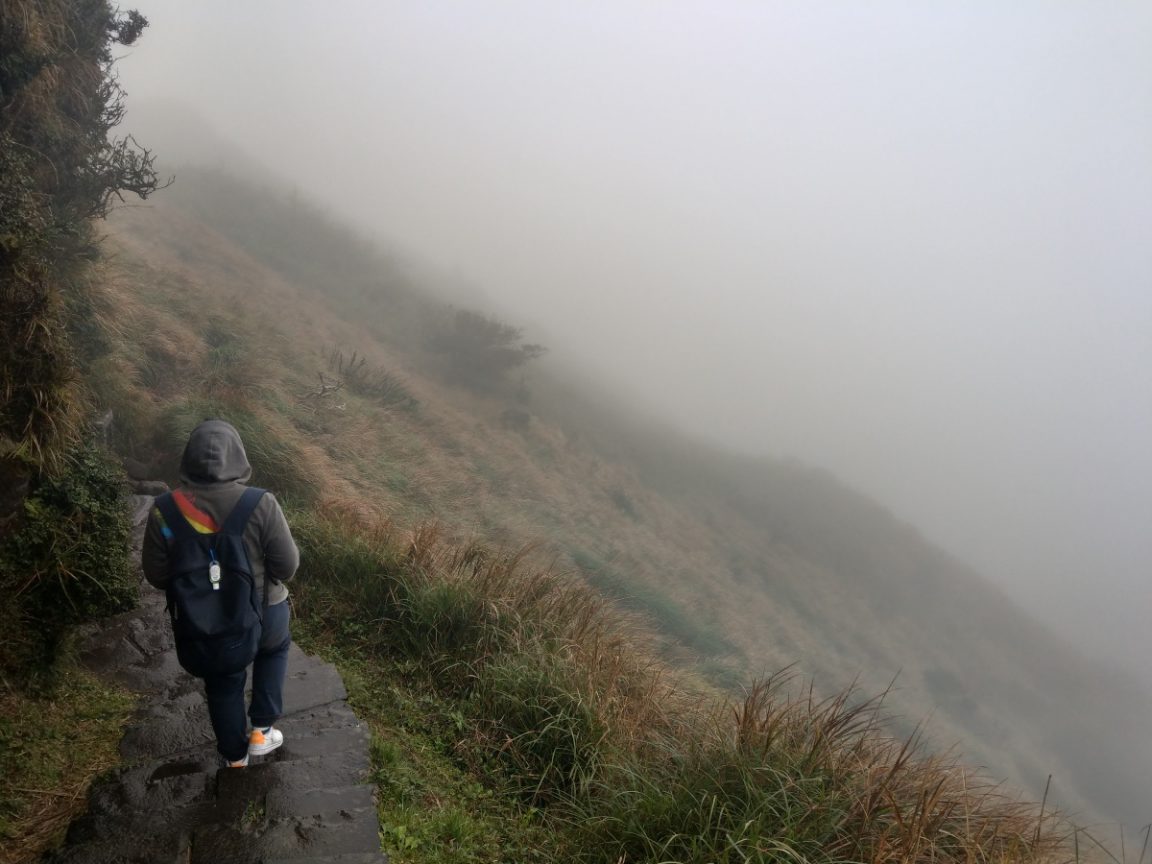 There is an almost meditative quality to roaming about and straying off the beaten path in A Short Hike. Closer to the mountainous north of the island, where graveyards and precarious cliffs reside, are an assortment of pickaxes strewn across the ground, as if left behind by workers off for a short break before they continue their construction of radio masts and towers. Here's also where you can speak to fellow hikers, like a struggling artist who's desperately seeking inspiration by painting in the midst of a torrid downpour, or a competitive bird called Avery, who has challenged you to a parkour marathon up an abandoned tower. What makes the this hike so idyllic are the meaningful conversations you can have with them, the pleasant surprise of discovering delightful secrets, easter eggs and buried treasure, as well as listening to the gentle patter of the rain, which only makes the trek feel even more tranquil as Claire sluggishly drifts from one precipice to another.
My hair had been plastered down to my forehead by the blend of persistent rain and my own torrential sweat. My glasses were heavily fogged up, thanks to the steam emanating from the heat of my excessively warm body. Our clothes were thoroughly soaked, and our shoes caked with thick layers of mud and grime. But hey, we finally reached the peak of Qixing Mountain after three hours, although we still can't see much of our surroundings due to all the befuddling mist. I also had to take my spectacles off, because the condensation was making it hard for me to look around - even though I'm blind as a bat without my glasses.
Pointing to a nearby thermometer, my friend pointed out that the temperature, right here at the peak, was at 8°C, while noting incredulously that we were wearing nothing more than thin hoodies and sweatpants. A fellow hiker, clearly more prepared than us for this wretched hike with a thick windbreaker and a hiking pole, leaped off expertly from an elevated vantage point, where a wooden signpost, with the name of the mountain etched on it, was erected.
"I know we look ugly as hell right now, but we need to take a picture up there," I nudged my friend. Shoving each other up perilously towards the post, we frantically warmed our fingers and fumbled about with taking a picture on my cellphone.
Like the top of Hawk Peak in A Short Hike, the cellphone reception at the height of Qixing Mountain was great. On the other hand, our picture wasn't.
Then it took us another agonising two hours to get to the base of Qixing Mountain, upon which we immediately called for a Uber ride straight to the nearest hot spring.
Yet despite how utterly under prepared we were for the expedition, and the abundance of mist that shrouded the breathtaking scenery around the mountain, there was still much joy to be had in the climb - which isn't unlike the climb I experienced as Claire in A Short Hike.
At Qixing Mountain, we marvelled at the sight of hot sulphurous gases emerging from the crack of a fumarole, took in the beauty of the greenery and flora along the trail, and watched as wild fowls huddled with one another in the thick shubbery for warmth. We spent quality time with one another as dear friends, and commiserated with fellow climbers as we make our way to the top together. Perhaps once the coronavirus pandemic blows over, we will return to Qixing Mountain again for another hike. This time though, we'll probably hike in summer.