2K Sports: $1M to first person to throw a perfect game in MLB 2K10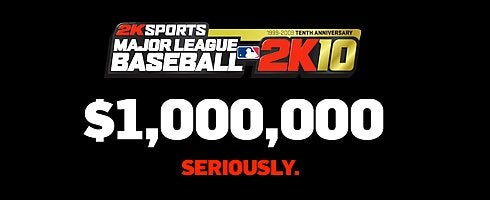 2K Sports announced today that it will hand over a cool $1M to the first person to throw a verified perfect game in Major League Baseball 2K10 before May 2.
The special contest is available through Xbox Live and PSN.
"You don't see too many perfect games thrown in MLB 2K, but we've seen it happen," said Jason Argent, marketing VP for 2K Sports. "Our goal is to celebrate and highlight Major League Baseball 2K10's superior pitching and hitting mechanics this season, while also giving one of our loyal fans the thrilling opportunity to be rewarded with a lot of money."
The $1M Major League Baseball 2K10 contest starts March 2 at 12.01am PST/9.01pm EST and ends on May 1 at 11.59pm PDT.
Game's out March 2 for DS, PC, PSP, PS2, PS3, Wii, and Xbox 360 and rules and the rest are below.
To compete, gamers must play in MLB Today mode, select from any of the available matchups, and then choose the option to participate in the 'Major League Baseball 2K10 contest' that will automatically default to the proper gameplay settings according to the official gameplay rules. Entries must be recorded via camera or digital video recorder in compliance with guidelines provided by 2K in the Official Rules, and all eligible entrants must submit a copy of their recording in its entirety for verification. Submissions will only be accepted on DVD. To ensure accuracy in the verification and submission process, 2K Sports has partnered with Twin Galaxies International, the worldwide authority on video game world records, and provider of scores to Guinness World Records that are published in the Guinness World Records: Gamer's Edition. For more information about the $1,000,000.00 Major League Baseball 2K10 contest, please visit
the official contest site.

Rules and Regulations

Game must be played on Xbox 360 or PlayStation 3. Open to legal residents of the 50 United States and the District of Columbia (D.C.), who are 18 or older (excluding residents of AZ, CT, MD, ND, and VT). Void in AZ, CT, MD, ND, VT and where prohibited. Begins on 3/2/2010 at 12:01 AM PST and ends at 11:59 PM PDT on 5/1/2010. Contest subject to, and entrants agree to be bound by, the official rules published at www.2ksports.com/perfectgame. Grand prize is subject to winner verification. Grand prize will be awarded only if an entrant throws a perfect game by 5/2/2010 in accordance with the official rules. Official Rules will be posted prior to contest start.