2K Confirms Borderlands 3 Will Have Cosmetic Microtransactions Following Gearbox CEO's Twitter Tirade
Semantics or no, Borderlands 3 will have microtransactions.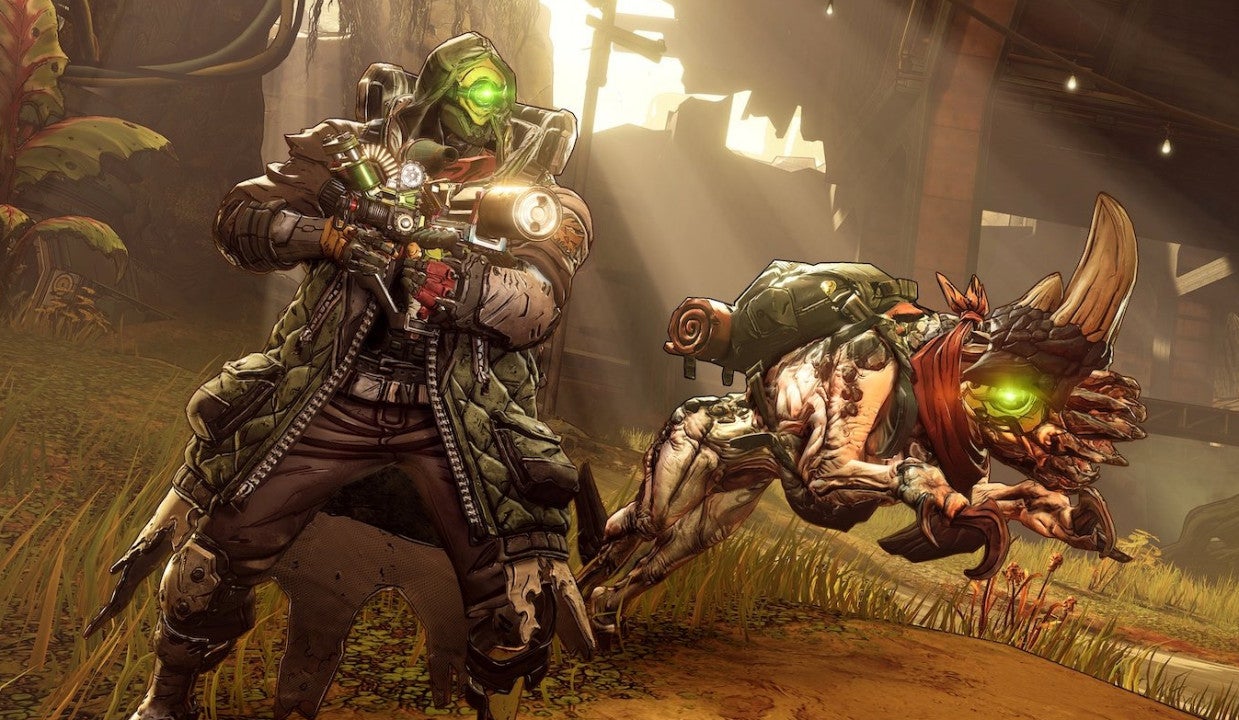 This article first appeared on USgamer, a partner publication of VG247. Some content, such as this article, has been migrated to VG247 for posterity after USgamer's closure - but it has not been edited or further vetted by the VG247 team.
Clearing the air once and for all, Borderlands 3 publisher 2K games has confirmed that Gearbox's upcoming loot shooter will include cosmetic-only microtransactions. These items will not impact any of the gameplay.
Following today's Borderlands 3 gameplay reveal livestream, Gearbox CEO and president Randy Pitchford took the stage to reveal that Borderlands 3 would feature things like "kickass campaign DLC," and "fun customizations like heads and skins, but we're not doing any of that free-to-play junk. There's not going to be any microtransactions, there's not going to be any of that nonsense."
This was a bit confusing as it seemed to imply there would be no, well, microtransactions. But 2K Games clarified that in a statement to USG that, "players will have the option to purchase certain cosmetic items like character, vehicle, and weapon skins, but none of these purchases would be considered pay-to-win or impacting on the gameplay, like weapons or actual gear."
It seems that by not having microtransactions or "free-to-play junk" Pitchford was referring to systems like loot boxes or battle passes, which encourages grinding for loot and rewards. Though cosmetic DLC and extra purchases are still considered "microtransactions."
Things took a strange turn earlier today when Game Informer reported as such, to which Pitchford responded in a series of tweets, "Come on guys – shitty clickbait headline... You know I was talking about premium currency and loot boxes kind of stuff NOT being in our game."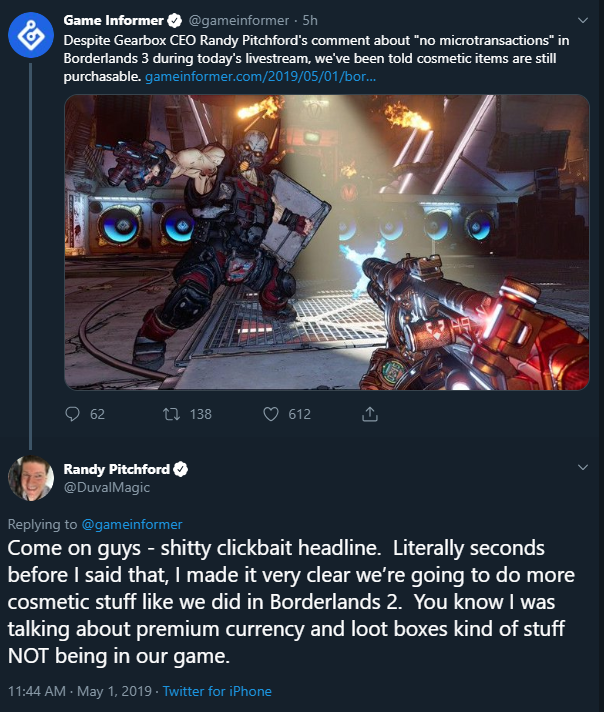 Though that may be true, cosmetic DLC, and essentially any small purchase made using real money that's in addition to the base game is considered a microtransaction. And now we know for sure that Borderlands 3 will have those.
We had a chance to play Borderlands 3 in Los Angeles yesterday and came away impressed with its broader scope and heavier sci-fi focus. You can read our Borderlands 3 preview here or check out 22 minutes of Borderlands 3 gameplay footage we captured. Check out our Borderlands 3 guide for our complete coverage.