26 particularly rad photos of EA's Peter Moore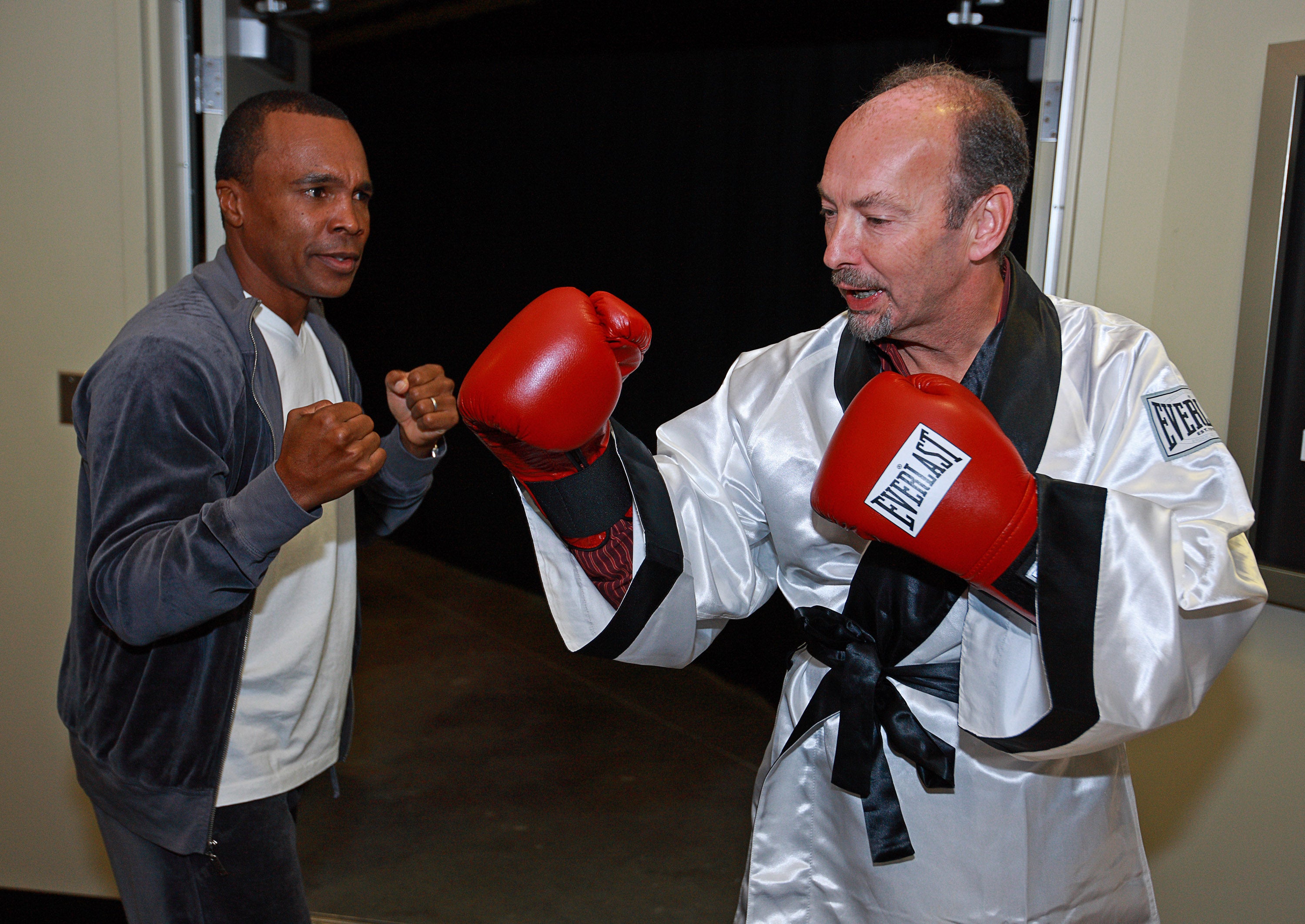 Here's 26 of Brenna's favourite pictures of EA executive Peter Moore, occasionally with bare arms, and frequently cracking a devilish grin.
When you spend a lot of time reading, writing and thinking about the games industry you start to tell yourself little stories in your head about the people involved. You start to feel like you know them personally. You groan aloud when someone boring gets hold of the mic at an investor briefing. You cheer when your favourites go indie.
My favourite games industry executive is EA chief operating officer Peter Moore. Here's a picture of Peter being very emotive. I like him because he's so genuine. You can tell this is heartfelt because he's feeling his actual heart. Ergo.
Peter Moore had our vote to follow John Riccitiello as CEO. He had plenty of experience running EA Sports before he became COO - which, you'll note, is what Andrew Wilson was doing before he got the top job.
In this picture, Peter's doing "slightly startled sincerity". Probably explaining that he didn't actually want to be CEO because the share holders yell at you and you can't go around saying really funny shit in interviews, which is one of Peter's hobbies.
One time Peter came to Australia but for various reasons I couldn't go interview him. It's kind of my dream to interview Peter over a few beers. (Snez, if you're reading this, I'm not joking. Make it happen.) "Peter," I'd say. "I forgive you for axing the Dreamcast. I know it was Sega of Japan's fault. I'm sorry you had to be that guy. Who is your favourite Mass Effect romance."
In this one Peter pulling a slightly unfortunate face that sort of makes him look as if he's saying "Really? Really? You even have to ask? Of course it's Liara! That's canon, Brenna, just as you always suspected."
Here's Peter smiling in front of some sports. Unlike many Peter Moore photos, this one is large enough to use as a desktop background!! I have verified this. Twice. I have two monitors.
Below, Peter's doing a gesture which will be appreciated by high-powered go-getting executive type and also the youf. Peter is a man of the people, no matter who the people are.
This is one of my favourite photos of Peter Moore because it's quite candid. The executive has been surprised and hasn't had time to put his photo face on. Also it's an all new angle. If you looked at this out of context, you might not even realise this is Peter! And that's the story of how Peter infiltrated a foreign embassy, stole all their blueprints and escaped via a laundry chute and a daring car chase. In my fanfic.
This is a very common picture of Peter Moore in which he cracks his trademark grin and, thanks to some well-chosen red accents, looks particularly Satanic, a thing I greatly appreciate in my friends and compatriots ever since a man at a party told me I had "one of those pointy Disney villain faces, like Jafar". Internet wits often draw horns and a tail on this one when they're pointing out how EA is teh debbil.
The next few images have a theme and also are horribly low res, so I've put them in a little gallery. First, there's a picture of Peter wearing a tattoo to celebrate the launch of Halo 2. We think it's fake. But then, we see him with it again, and he's wearing a different shirt. How long do transfers last?
Later, Peter with another gaming tattoo, only this one is pretty obviously fake. Or real, but then coloured over with a gel sharpie? Just look at the next photo. It's rubbish. There's no way it's real. You can't fool me, Peter. (Please try.)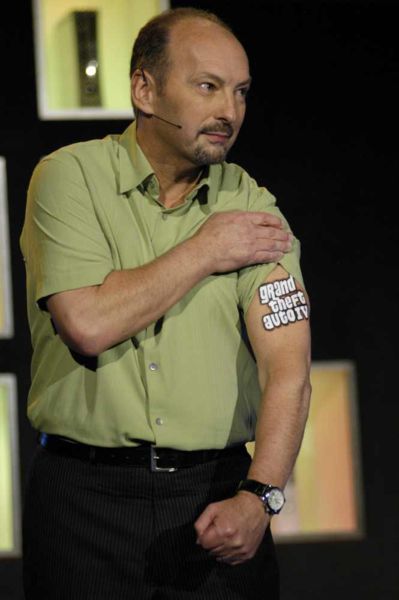 Now here's one of Peter being on brand without actually painting the brands on his body. This was a major step forward for his executive career! This photo was on my HDD (*cough*) and TinEye turned up no results and then I got bored of researching and went looking for more photos of Peter instead, so if you own it, please let us know so we can credit appropriately!
IGN took this one of Peter in SERIOUS FACE MODE. Sports are SERIOUS. Engage SERIOUS FACE MODE. The burly men will be EVEN MORE BURLY this year. Do you ever look at our industry and think about nuclear apocalypse? I do. If it weren't for the thought of rad dudes like Peter Moore I'd probably give into the urgings of my hellish genetics and waken the world serpent.
Click through for 13 more photos of Peter Moore looking exceptionally rad.
I don't know what Peter is doing here. Some sort of dance?? Maybe this is how executives prove themselves in the board room. That would explain why slender chappies like Peter and Andrew are rising to the top of the food chain: they can bend it.
Here's Peter bringing jobs to glorious Ireland. Please don't ask difficult questions about PopCap's lay-offs. Now is not the time.
Sometimes Peter goes outside. That's a thing sporty people do. I went outside three times yesterday! My skin cracked and blistered in the unaccustomed light and the cool air burned at the exposed, weeping flesh. It's okay, I have a cream.
This is something to do with Fight Night, a franchise EA was very excited about until it got the UFC license. Peter, what a fetching dressing gown! I think Sugar Ray Leonard will probably beat you to a smear though, please be sensible; take those gloves off and apologise.
Continuing the theme of celebrities, here's a selfie Peter took with rapper Busta Rhymes.
And now here's a group shot with Peter and Run DMC. Peter knows all the #rappers. He is down with #youthculture. He'd probably never be so passé and inauthentic as to use a hashtag like that, actually; he seems genuinely excited about meeting cool people.
Here Peter is sitting in a chair in a normal human posture as opposed to the "executive lean", a thing you instinctively do in PR shots.
Here're two I screengrabbed from an EA video of staff attending Pride rallies around the world. You will notice Peter's arms are bare, and also that he is wearing some kind of rainbow bandana thing on one. Also, he does his twinkly devil smile and wears some frighteningly reflective shades.
Peter, red is a really good colour on you!
Peter is showing some sock. This is getting quite racy. I'm upgrading this feature to "PG13".
All innocent smiles! That's more like the Peter I know and love. I mean, like. I mean, don't even know. I mean, have a slightly weird obsession with because I'm a games business geek and everything EA does is important and fascinating and Peter Moore is one of the only executives who will actually say interesting things rather than just talk bollocks all the time and also looks as if he'd like a laugh rather than making one feel like an underbred worm for not being on the board of anything.
This is a lovely one to end on because Peter has a lot of emotions. He's pleased, cynical, daring and maybe a little bit suspicious - but never frightened. Peter knows he can trust you.
If Peter Moore, John Riccitiello and Andrew Wilson fought to the death, who would win? if your answer is not "Peter Moore", provide a two paragraph explanation. Show your sources.