Skyward Sword needs a lot more than control tweaks to live up to Zelda's best
As Zelda turns 35 years old, fans anticipated Nintendo would return to its back catalog for some celebratory re-releases. So it's perhaps not surprising that last night we got a reveal of The Legend of Zelda: Skyward Sword HD, a high-definition Switch do-over of the Wii's exclusive Zelda title. Skyward Sword has much worth interrogating anew – but those playing it for the first time expecting a quintessential Zelda experience may be left cold.
Skyward Sword is weird. It was built to celebrate the 25th anniversary of the Zelda franchise, which is why it's positioned as an origin story for more or less everything about the series. And yet, it's also surprisingly different from the Zelda formula that drove these adventure games to great success.
It's less exploration-based, instead swapping a more populous and exploratively rich overworld for larger, more intricate dungeons. There's backtracking galore, with overworld areas that are used over and over again. You'll fight some bosses, which are repetitive to begin with, two or three times.
This is the thing about Skyward Sword. It's safe to assume a lot of the game's basic problems will be solved in this remaster. Stuff like dialing back Fi's constant nagging tutorials, streamlining menus and other delays, and even offering up some ways to speed up the glacial intro section for later play-throughs should be a given for this re-release, just like changing that awful Triforce Quest in Wind Waker. But these things aren't actually Skyward Sword's problem.
In the repeating bosses, the backtracking, the generally lonely nature of the world outside Skyloft (which admittedly, is a narrative conceit), and the sparse sky overworld that makes Wind Waker's Great Sea look positively overpopulated, Skyward Sword has deeper systemic issues.
This isn't to say it's terrible. The dungeons are without a doubt some of the most satisfying in the series. There's some wonderful characterization and story moments. There's also some very clever gameplay gimmicks deployed throughout – but nevertheless, it feels like one of the most uneven entries in the Zelda series.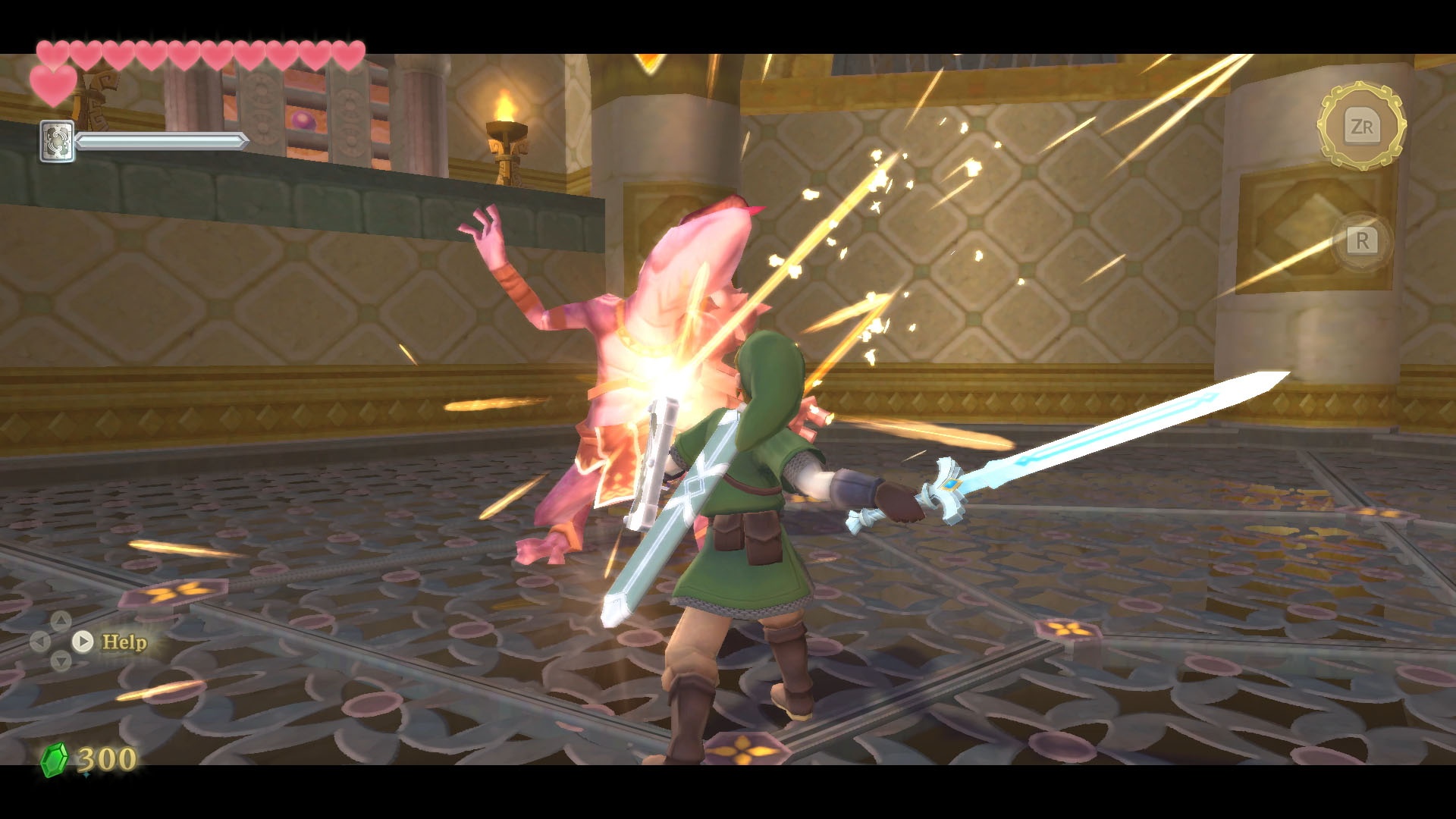 It was interesting to see Zelda boss Eiji Aonuma highlight how Skyward Sword introduced some elements present in Breath of the Wild during the HD remaster's announcement, because while they do share things like a stamina bar, to me the games couldn't be more different. Breath of the Wild is free-form and wide-reaching, focused on the overworld, exploration, experimentation, and tremendous environmental storytelling. Skyward Sword is the inverse; focused on dungeons rather than overworld, and intent on telling you a story through lengthy expository cutscenes. In many ways I've always thought Breath of the Wild's change of direction was a reaction to Skyward Sword, rather than strictly an evolution upon it.
All this has been said so far without mentioning the controls. I've done this deliberately because the thing about Skyward Sword is that mileage varies greatly depending on what sort of player you are. The motion-based sword combat works for some and falls completely flat for others. Hopefully you'll find yourself in the former group. Here's what I will say, however: giving players the option to play with normal controllers by mapping the sword's movements to the right analog stick is unlikely to change the hit-or-miss nature of Skyward Sword's combat.
For me, the flaw in the titular Skyward Sword wasn't actually how you controlled it, but how the game was built around it. The promise is of the freedom to engage in sword combat however you please, but the execution often doesn't allow that. Enemies fall into a few categories; some can simply be batted away with whatever motion you want. Others are all about timing, a block-off where you wait for an opportune moment to strike. And some are puzzles where you must attack in a very specific way to win.
To come back to the Breath of the Wild comparison, in that game you can approach a Moblin enemy in what feels like an endless number of ways. In Skyward Sword, there's a specific way you'll need to approach Moblins and their shields. The open-ended sword control does sometimes feel awesome, but it's often stifled by the design around it. You have all this freedom of expression around your core method of attacking, but nevertheless you don't actually feel very free.
To me this paradigm ends up feeling more video-gamey and less organic than even hitting a button to swing your sword while having quicker access to more attack options mapped to other buttons. When Skyward Sword's motion-based sword combat works, it really feels accurate and magical – but as previously mentioned, it's hit or miss, and deeply dependent on the player's personal tastes.
Skyward Sword deserves this Switch remaster, and what's exciting in particular is that the traditional control option will allow those who couldn't get on with or legitimately couldn't use the motion controls to experience this Zelda title. But those who have never played it expecting a stone-cold classic be warned: this game is not nearly as clear-cut a masterpiece as many other Zelda titles. In fact, it's probably the most flawed game in the 'core' Zelda series – yes, I'm saying that even over Adventure of Link.
It's a solid start to Link and Zelda's 35th anniversary celebrations, however. Hopefully, later in the year this is joined by Switch versions of those Wii U versions of Wind Waker and Twilight Princess. It'd be great to see those definitive 3DS versions of Ocarina of Time and Majora's Mask make the jump too. Even if I think this game is Zelda's Mario Sunshine moment, I know I'll be there this July, shiny new limited edition Zelda Joy-Cons in hand. That speaks a lot to what it does right.