Borderlands 3: Where to find the SpongeBoss BulletPants miniboss
Who lives in a meat house inside Krieg's brain? SPONGEBOSS BULLETPANTS!
It wouldn't be a Borderlands 3 DLC without some dank memes, and in Psycho Krieg and the Fantastic Fustercluck, you'll be able to find SpongeBoss BulletPants. This miniboss is tougher than he looks and is worth seeking out if you're after a real challenge.
As the name suggests, he is an absolute bullet sponge. He has several phases and, being a Goliath, can level himself up and eventually turn into SpongeBoss NoChance. I'm not joking when I say you'll need a stack of different ammo and weapon types and maybe even a few pals to defeat him.
Borderlands 3: Where to find the SpongeBoss BulletPants miniboss
You'll find him in the Castle Crimson section of the DLC after you've been tasked with breaking down the doors. On your way to the third catapult, you'll find a pineapple-shaped meat house where SpongeBoss Bulletpants will be chilling inside. Go up to his door and he'll eventually come out to face you.
He fires an irradiated bubble attack at you from the Bubble Blaster that can take you down in seconds, so watch your shields and dodge like hell.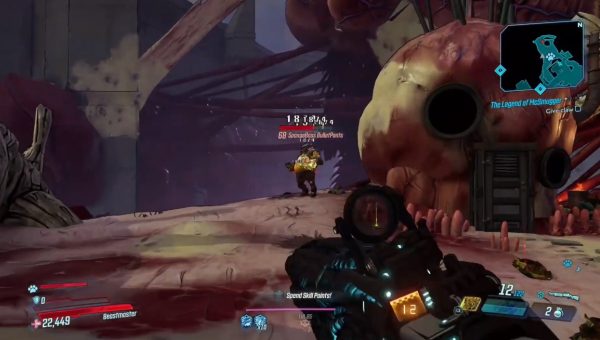 Your best bet is to use a powerful grenade and/ or rocket launcher to defeat him, preferably something with a super-fast reload speed. It's possible to kill him without him switching up to SpongeBoss NoChance, but the more you run around and stop firing at him, the quicker he'll ascend to Godly and become near impossible to beat.
There are chests and lockers near his house, so open them first before you get started so you can sprint off and replenish your ammo if need be. Keep him in front of his house and you should be able to defeat him in no time, providing you have good enough weapons.
If all else fails, try to lure him back towards Krieg near the catapult and he'll take care of him for you. Unfortunately, he doesn't drop anything particularly special and there's no achievement for beating him other than patting yourself on the back.
You can check out how to defeat Evil Brick and Mordecai here, as well as where to find the Castle Crimson, Sapphire's Run and Benediction to Pain Signal to Noise challenges.