The VG247 Gear List: gaming hardware picks used by the VG247 team
At VG247 we spend a shed load of time playing games. Here's our picks for the best gear for doing so.
One of the perks of writing about video games as we do on VG247 is that we all get to spend quite a lot of time playing them and, in turn, perfecting our choice of gear in each of our gaming set ups. We test and reject a lot of stuff, and some stuff you read about on the site even in reviews might be considered quality – but the ultimate test of quality is if after the review process we keep using it in the following weeks and months.
On this page the VG247 team run down their current hardware and peripheral picks and recommendations. We'll update a couple of times a year as and when we need to. These are the items we all currently use – so this is a good reference for exactly what rig we might've reviewed a recent PC Game on, plus broader recommendations on any techy items we use for gaming or gaming-related activity. This page will expand over time, so if you're considering building a new PC or you're looking for a new keyboard or controller, this is the place to bookmark and check back on.
Alex's Top Gear Picks
PC Specs
My PC is one of my most prized possessions, and it gets updated fairly frequently. Some elements of this setup have been enduring, though – I'm now on my second Corsair Air 540 case, having loved the first I had so much I just did a straight swap when it was looking worse for wear. I even use the Air 240, its smaller sibling, for a smaller PC in the house.
Given I also spend a lot of time working on the VG247 YouTube channel, the PC has to be good enough for capturing and exporting 4K video quickly, plus editing tasks, general mixing and solid multi-tasking potential. I'm a very strong advocate of quiet fans (thus the fairly expensive Noctua NF series ones I use) and of a modular power supply for neatness. If you can afford to copy those two things, do. Here's the full specs:
Outside of the PC case itself, here's some picks for devices I use regularly during both PC and Console gaming:
Monitor: Acer Predator X27
This monitor is an absolute beast. It supports full 4K resolution on a gorgeous IPS display, supports NVIDIA G-Sync tech, and as well as the DisplayPort 1.2 connectors I use it also has HDMI 1.4 for connecting up consoles, plus a bunch of stuff I admittedly don't use like USB ports and built-in speakers. It also has HDR, which is always a bit of a nightmare to configure in Windows but worth it in supporting games. At 27 inches, it's about as big as I would ever go for a desk-based monitor. I also use a lower-end monitor as a second screen.
Keyboard: Corsair K70 LUX RGB
Once you've gone mechanical you'll never go back, and Corsair's K70 line-up are great keyboards. The model I have has lovely Cherry MX Brown switches, which provide just the right amount of tactile feedback for my style of touch typing when I'm writing on the site. For gaming, there's some great macro features I use, plus the cool RGB lighting if I want to show off. The only down
Mouse: Razer Naga Trinity
The Razer Naga Trinity is actually marketed as an MMO and MOBA mouse, but I don't really play either of those genres and love it all the same. It's comfortable, has a ridiculous 16,000 DPI sensor and 3 interchangeable side plates with different configurations for different kinds of games. I use this alongside a Razer Goliathus Chroma mouse mat, which has cool RGB lighting around the edges and a solid cable management solution.
Headset: Turtle Beach Elite PRO
I liked the Turtle Beach Elite Pro so much that when the one I reviewed for VG247 a few years ago unceremoniously snapped, I picked up another. These headsets perhaps don't take wear and tear as well as they should at the price, but when paired with Turtle Beach's optional TAC pre-amp device, it feels near-enough unbeatable – at least compared to other headsets I've used.
Speakers: Razer Nommo Chroma
Sometimes you don't want a headset. Sometimes you want to shake the walls. Razer's Nommo Chroma speakers are some of the only PC speakers out there that having a focus on gaming and gamers. These two individual speakers come on small stands that let you easily orient them toward you, and while they're a simple stereo set up they feature bass output on the rear of each speaker to allow for more pronounced bass. They also offer what Razer is calling 'full range' sound – not surround sound, but a cleverly-designed approximation of it that'll allow you to place enemy footsteps and the like. There's separate knobs for bass and general volume, and best of all the pair are compatible with Razer's bad-ass Chroma lighting solution – meaning it'll pair with other Chroma products brilliantly to create a stunning light show.
Laptop: Gigabyte AERO 15 (RTX 2070 model)
Gigabyte's Aero series of laptops are great, high-end machines that really give you the power to do pretty much whatever you wantr to do on the go. The Aero 15 features Nvidia RTX graphics – the model I have has an RTX 2070 in it, meaning it's marginally less powerful than my gaming PC but still more than capable enough for a bit of playing or video editing on the go. It also has an absolutely ridiculous LG IPS panel.
Because the Aero 15 is a larger, heavier laptop due to its spec, I do use something else for carrying around trade shows and work on-the-go – that's a Microsoft Surface Pro 4. For a form factor to power balance, the Surface Pro series is still the best around for my money.
Desk: Flexispot E6 Sit/Stand Adjustable desk
You should never underestimate the power of a good desk. For me, in this job, it is essential: I spend much of the day at a desk either playing games, writing, or doing other things to keep VG247 updated. Over the years I'd read a solid amount about the benefits of spending at least some of your work day standing, and so I decided to invest in a sit-stand desk. I originally had a manual Ikea-brand sit/stand – which was great, but I wouldn't stand as often as I'd like, mainly because I had to crank the desk up any time I wanted it raised.
Enter Flexispot, a company that essentially specializes in sit-stand desk solutions. They've got some relatively affordable electronic options, where you get a nice, sturdy set of metal legs and a simple electronic interface to make them rise or fall. I've got the E6 model. As well as generic up and down buttons, you can program in three presets that'll make the desk go to a set height. On mine, I've programmed my sitting height, my partner's sitting height, and a comfortable standing height. The desk feels strong enough to carry heavy PC equipment – I've sat on it and raised it with no issues – and it's compatible with both official Flexispot desktops and third party alternatives.
Arcade Stick: Qanba Dragon Joystick
Regular readers of VG247 will know all too well that I'm a full-on fighting game nerd. I own several arcade sticks (and even a full cabinet), and have even put together a detailed page listing the best arcade sticks. My current first choice is the Qanba Dragon. It's on the expensive and heavy side, but the latter makes it feel sturdy and significant in your lap. Mine has been modded with Sanwa OBSF silent-press buttons to disguise the sound of panic-mashing from my opponents – and if you like swapping buttons, it's got a great opening system that sees the top pop up like the hood of a car.
PC Capture Device: AverMedia Live Gamer 4K
After years only using external capture kits, I finally took the plunge on an internal PCIe powered capture device with the AverMedia Live Gamer 4K. This is a neat little bit of kit if you're looking to record really high-end footage from consoles – it features 4K, 60 frames-per-second recording with support for HDR, and the latency is some of the lowest I've seen on a kit of this kind. If you're into this, it also features RGBN lighting with pre-set modes and programmable options to make it match the bling of your case – but I'm in it more for the substance than the style, and this is a substantive, quality piece of kit.
Travel Capture Device: Atomos Ninja Inferno
For capture on-the-go, the Ninja Inferno is hard to beat. It's actually a recording monitor for camera work, but works great for capturing 4K, 60FPS footage of games on-the-go. It's very expensive, however, and there are cheaper solutions built-in to PC, as mentioned above. The Ninja Inferno is amazing, but it's a serious expense.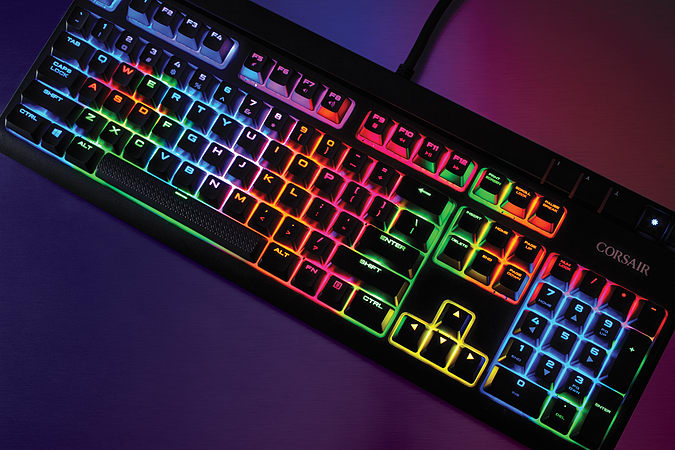 James' Top Gear Picks
PC Specs
Despite Game Pass pushing progressively prettier and more intensive games onto my hard drive, outside of work I'm most likely to relax with FIFA, PES, an isometric RPG like Wasteland or Shadowrun, or the latest from Devolver Digital. That means the value proposition of the RTX 2060 Super suits me perfectly – even if it's been blown out of the water by the new 30 series.
Processor: Intel Core i5-9400F @ 2.9 GHz
Memory: 16 GB RAM
GPU: GeForce RTX 2060 Super
Motherboard: ASUS TUF B360M-PLUS GAMING
Case: Fractal Meshify C Blackout Tempered Glass Midi Tower
Fans: Fractal Dynamic X2 GP-12 (Two in the case) Arctic Freezer 11 LP Low Profile (CPU)
Power Supply: Corsair CX550M
Controller: Nacon Revolution Unlimited Pro Controller Call Of Duty Edition
Nacon's Revolution line are great luxury controllers to invest in.
After crunching through the sticks of at least 5 stock PlayStation 4 controllers, I picked up the original Nacon Revolution Pro and haven't put it down since.
I used it nearly every single day for literally years, with the body surviving being wringed like a flannel through the frustration of Sekiro and Nioh 2 and the sticks standing up to season after season of FIFA. But the wired design is better suited to a PC desk than a large living room, and started to become a bit of a tangle.
I was recently sent the Call of Duty edition of the Revolution Unlimited Pro Controller by Nacon, and it's yet another step up from the standard. The wireless capability makes it a bit chunkier than the wired oldie, but that only enhances the premium heft I like from such an extravagance.
The crisp, matte vinyl design is beautiful, and the shallow buttons and responsive triggers make it a joy to play with.
Amazon link for original version: Nacon Revolution Unlimited Pro
Keyboard: CORSAIR STRAFE RGB Silent Mechanical Gaming Keyboard
When you work from home in the same back bedroom as your significant other, the constant click-clack of loud mechanical switches is only ever going to give them (and by-proxy you) the Cherry MX Blues – no matter how responsive the tactile feedback. The silent switches in this Corsair keyboard do an amazing job of giving you a solid, non-mushy typing experience without sounding like an automatic rifle. Something to note if you're interested though: these switches are significantly quieter than most, but aren't totally silent. On the gaming front, the key rollover is flawless and the textured WASD and Space keys are great for orientation.
Mouse: M65 PRO RGB FPS Gaming Mouse
Fancy mice are expensive. I tend to find a lot of them plasticy and a bit disappointing, so the aluminium frame and subsequent heft of the M65 make it my far-and-away favourite (and useable as a makeshift flail to ward off intruders). The sniper button on the side makes it really versatile too. You can map it to lower the mouse's DPI – useful for popping headshots and making tricky photo edits – or even to pause/play your current audio track, which is a big help when you're transcribing.
Microphone: Blue Microphones Yeti
The Blue Yeti is king of the internet, and with good reason. It's used by a lot of streamers, youtubers, podcasters, and singers because it's easy to work with and offers great sound quality for the price. I picked mine up used for about £50 on eBay a handful of years ago and it's served me well through countless interviews and Skype calls. All you have to do is plug it in via USB – which is less ubiquitous in decent audio equipment than a lay person like me thought – set it as your default audio device, and twist a knob on the back to select if you want to record one or multiple people: simple.
Sherif's Top Gear Picks
PC Specs
I use my gaming PC more than any other electronic device. It's there for me when I want to play games on a keyboard and mouse, and it's hooked up to a TV for when I want to kick back and enjoy a game or two on a controller.
For a while, I cared a lot about overclocking; perfect CPU voltages, RAM timings, cooling and everything that entails. I was never satisfied with stock anything, and I've had a lot of fun tinkering and tweaking over the years. At some point, though, I stopped caring and just decided to get the best piece of hardware I can afford.
My current PC build features very little changes from stock components, and what's there – like the CPU fan – is necessary and not so much about letting me push hardware past its limits.
I am also a bit of an audiophile, so naturally I've set my PC up with decent audio gear, and a good pair of headphones.
It'd be a little pointless to highlight every peripheral I use, mostly because a lot of them aren't that interesting; I only keep them because I like them, or because they're comfortable to use. I will instead highlight some standouts that I continue to be impressed by years later.
Monitor: Asus ROG Swift PG279Q
I do most of my gaming with keyboard and mouse, hunched over the desk like it's the 1990s. I've used many monitors, most of them good, but my current monitor – and the one I am the most happy with – is the 27-inch Asus PG279Q. This monitor is the stuff of dreams, it effortlessly ticks every box exactly as I hoped.
27 inches is the sweet spot between the smallish 24-inch size, and the massive 30 inches and beyond. It's not 4K because I won't be able to run games at 4K at 60fps or above consistently, which makes 1440p perfect as a sharper alternative to 1080p that still allows for high frame-rates in many of the games I play. The monitor can reach 165Hz through overclocking, though it defaults to 144Hz – which is more than enough.
But none of that is more impressive than its Nvidia's G-Sync module. I have always abhorred tearing in games, but now I can finally do something about it. No amount of praise will do G-Sync justice, it's more valuable than display tech, 4K, and even HDR. I care a lot about frame-rate, and I never had to worry about tearing since I got the PG279Q.
The only drawback you could point to is its IPS panel. I specifically wanted a non-TN panel because their colour reproduction is terrible, so I was willing to put up with the imperceptible 3ms increase in input lag – from 2ms on a Benq TN to 5ms here.
Headphone: Sennheiser HD 650
Like I mentioned at the top, I do appreciate good audio. The sound profile in Sennheiser headphones, especially the open back ones, has always appealed to me more than any other brand's. My nearly eight years-old HD 598 served me well, but I decided to upgrade to the one I've always wanted: the HD 650.
The 650 is the 598's older brother. In many ways, the 598 is just about as good for music and games, but the 650's upgraded power allows for deeper bass. The 650's main "downside" is that it requires a dedicated amp to truly get the most out of. Getting the Asgard 2 really opened my ears (heh) to the potential of a dedicated amp driving a pair of headphones.
At that point, the 598 reached its full potential and well, I wanted more. The 650 delivers exceptional performance, though its shorter out-of-the-box cable and two can prongs (compared to just one for the 598) make it a bit cumbersome to put on and take off, but that's about the only real issue you'll have to put up with.
Mic: Fifine K668
After years with ModMic's various models, I decided to upgrade to a condenser mic. I still keep my ModMic around, but I wanted something that doesn't weigh down my headphone cord, and ModMic's wireless model was very expensive, so I opted for a basic desk mic to start. The Fifine K668 is the brand's basic model, and it was often recommended as an entry-level one of those for people not looking to spend above $25 or mess around with audio interfaces.
After some deliberation, I decided to pull the trigger. The K668 performed well, much better than what you usually find at this price range. Other than that, though, it wasn't the upgrade I was hoping for. Granted, there's only so much you can expect from a $20 USB mic, but the sound quality overall was almost identical to the ModMic, which was surprising.
But, at least I can now pretend to be a streamer by moving the mic arm every time I want to take a sip of my drink.
Mouse: Logitech G703 Lightspeed wireless
I've been using the Razer DeathAdder for over six years, buying one every 14 or so months because that's how long they last me. I wanted to get something wireless, now that wireless mice are no longer terrible, but there was no wireless DeathAdder at the time. So I went for the Razer Mamba, which I liked, until it also lasted me about a year, so I decided that was it with Razer.
I reluctantly picked up a Logitech G703 wireless. I have nothing against Logitech products, but every mouse of theirs I used in the past has either been too small, too heavy, or filled with 6,000 buttons that made holding it a chore. So I took a chance on the G703 and I am glad I did. Not only is it lighter than my Razer go-tos, it fit my large hand perfectly, despite being smaller.
Its wireless charge lasts weeks when not in use, to the point I initially thought the indicator was broken. I can't judge its longevity yet as It's not yet been a year, but it's been a dream so far.
Matt's Top Gear Picks
PC Specs
My PC specs are aging now, but like Kirk I don't feel the need to tinker and change. I won't go into the details because although I play some early access and pre-release code on it, it's not exactly what you would call my gaming "rig". It does have some badass skull stickers on the side of it though. I looking at picking up a quality laptop for gaming and capture in the near future, so I'll fill you in when I've upgraded.
Keyboard: Logitch G513 Carbon RGB Mechanical Gaming Keyboard
I am a notorious skinflint, so have used crappy mouse and keyboards for years now. £10 off Amazon, use it until it breaks, bin it and start again. Imagine my epiphany when I began to use this, a mechanical keyboard designed by the gods. I don't actually use it for gaming, but to write these wonderful words you read today. My fingers mince across the keys, stroking them into a rattling cacophony, a soundtrack for Valkyries to ride into battle. The keys glow like 4am at Studio 54. The palm rest is like having mermaid tails tickle your wrists. It's beautiful.