The official Halo Infinite trailer is way better than the Xbox event version
A new Halo Infinite trailer surfaced on the official Halo YouTube account shortly after yesterday's Xbox event, and it's way better than what we saw there.

Although the Halo Infinite trailer looked relatively promising at the Xbox first-party games reveal, it appeared to suffer from stuttering and poor performance. Fans have also criticized the game's official art online, noting that it's not necessarily indicative of the power of next-gen.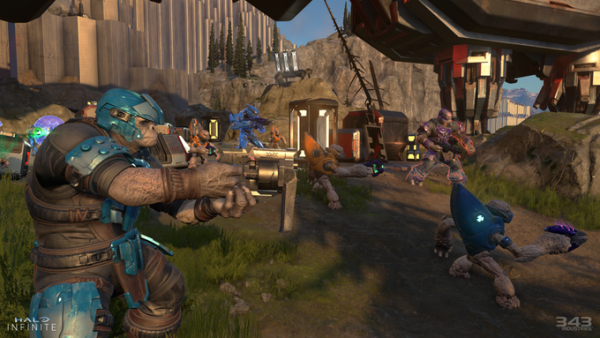 Fortunately, the official Halo YouTube channel posted a new video shortly after the Xbox event, which is significantly better than what we saw during the livestream.
Check out the much, much better Halo Infinite trailer below.
As you can see, one of the first things Master Chief does in this video is use his new grappling hook to pull himself towards an enemy before absolutely ruining their life with an Energy Sword. I honestly reckon that one clip is more Halo-y than the entirety of yesterday's reveal.
Also, although yesterday included a clip of Chief grabbing a fusion coil with his hook before hurling it at a turret, I think the no-fucks-given meter flies much higher when you see him launching it at a couple of brutes mid-fight. They're not even worth his time anymore. Just chuck a coil at them and walk away.
On top of that, we've got Grunts with double Plasmas, which means this truly is Halo. We also get a look at The Banished, Halo's new enemy faction.
Anyway, here's our first look at the Halo Infinite campaign gameplay in case you missed it yesterday. It's definitely interesting, but if you're worried about the poor performance, just rewatch the video above. Again, grappling hook/Energy Sword combos are pretty much its primary selling point now.
In related news, the Halo TV series is apparently "well into shooting the first season." Also, you can buy Halo Infinite Monster Energy now.