Destiny 2: Guardian Games – How to complete the Class Act Triumph and get the Heir Apparent Exotic Machine Gun
The Guardian Games spring event is now live in Destiny 2 and there's a shiny new Exotic machine gun up for grabs.
The Revelry spring event has been replaced by the Guardian Games this year, with each of the classes battling it out for the top spot. The winners will have a commemorative statue placed beside Zavala for an entire year and you'll be able to rub it in your pals Titan face that Warlocks were the champions.
Alongside some bragging rights, the Heir Apparent Exotic Machine Gun will be available to earn throughout the event, which runs from April 21 – May 11. Its Intrinsic perk is Heavy Slug Thrower, where you'll need to hold L2 or left bumper to spin it up, as it can only be fired when fully spun up.
It also rolls with Armour of the Colossus, where you'll get an Arc shield while at full health when spinning it up. There's also have a catalyst that'll generate Orbs on multikills and other additional capabilities. With that in mind, let's take a look at how to get your hands on it.
Destiny 2: How to complete the Class Act Triumph and get the Heir Apparent Exotic Machine Gun
To get started, speak with Eva Levante and begin the Guardian Games quest. Once you've accepted the quest New Traditions, you'll see a new screen that shows the Heir Apparent. To unlock it, you'll need to complete the Class Act Triumph.
The Class Act Triumph can be completed by finishing off seven Guardian Games Triumphs throughout the next three weeks. There are several to choose from, including the Renowned Triumph where you'll need to fill a bar to 100% by collecting Laurels from Super, grenade and charged melee final blows.
You could also complete Great Deeds, where you'll need to gather several hundred Laurels from Gambit matches, Strikes, Forges and Destinations.
There are also several Bounties and Medal challenges to complete that will contribute towards various other Triumphs in the seal. Once you've completed seven Triumphs, you'll unlock Class Act and can return to Eva to get Heir Apparent.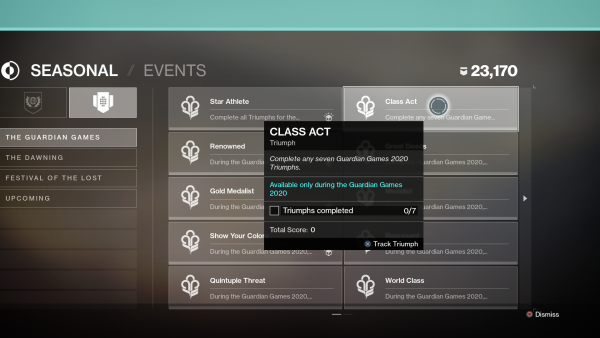 For more Destiny 2: Season of the Worthy guides, you can check out how to complete Into the Mindlab and where to find the EDZ, Moon and Io Seraph Bunkers.
You'll also find guides on this season's Artifact: Warmind Khaljali , where to get the Tommy's Matchbook Exotic Auto Rifle and the Fourth Horseman Shotgun.
If you're new to Destiny 2, you can check out our Forsaken guide here as well as how to find Lost Sectors and cache codes.