Nintendo Switch Black Friday 2019 – the best deals on Switch and Switch Lite
While Black Friday may be rapidly fading in our rear view mirror, Cyber Monday is almost upon us to take the deals baton and run with it. Despite Nintendo products never quite matching the same discounts as its competitors, the deals this year aren't too shabby at all, especially if you look in the right places. Thankfully, you won't need to do any scouring of the world wide web as we've done all the hard work for you already!
There's a number of Nintendo Switch console bundles worth considering this Black Friday. We reckon Amazon's deal which bundles the Witcher 3 and Nintendo Labo Variety Kit is a great option, and there's plenty of Switch Lite offers knocking around if you're a handheld only gamer.
Even if you grab a Nintendo Switch console, you'll still need some games to play on it. Well, the stars of this year's Black Friday sales are the Switch games – you're in luck! Big titles like Luigi's Mansion 3, Pokemon Sword and Shield, as well as The Legend of Zelda: Breath of the Wild are all at a heavily discounted price (well, at least for Nintendo games). If you decided to hold off on grabbing ports like The Witcher 3 or Overwatch, your patience has paid off as well.
Buying official accessories for the Nintendo Switch can prove to be seriously expensive business, but as it's Black Friday, there are some good savings to be made. If you're in the market for some Joy-Cons, retailers have discounted a number of colours, but be quick as they always sell out extremely fast. Be sure to keep an eye on this page so you're always on top of the best bargains – we'll update it regularly throughout the day!
Today's best Nintendo Switch Black Friday deal
In the US:
In the US, Amazon's had a couple of offerings, but all that's left is a bundle of the old model with Mario Kart 8 Deluxe for $299.99. Is a copy of Mario Kart 8 worth picking up the older model, which has a shorter battery life? If you're mostly planning on playing the console docked, this is still a good deal. Meanwhile, Best Buy are offering the new model console with Mario + Rabbids Kingdom Battle and the Starlink Starter Kit with Starfox. While both older games, they're nothing to be sniffed at – especially Mario + Rabbids which remains one of the console's best titles even to this day. If that wasn't enough, you can throw in a decent accessory kit and 128GB MicroSD Memory Card for just a little bit more.
In the UK:
In the UK, we're already starting to see some great deals on Switch emerge. Argos is a decent pick with a Labo kit, LEGO Jurassic Worlds and a case for just under £300 – an ideal Christmas present for the younger player.
Also, the Switch Lite bundle with Pokémon and Minecraft is another one that the kids may be interested in.
Nintendo Switch deals:
There isn't much in store for the Nintendo Switch in the US. There's been a couple of Nintendo Switch and Mario Kart 8 Bundles for $299.99 on Amazon US, though we've noticed them having a tendency to appear and disappear over the course of the day, but it's worth checking just in case. However, Best Buy have swooped in over the weekend with a new deal that offers the new, longer life model console with Mario + Rabbids: Kingdom Battle and Starlink: Battle for Atlas Feat Starfox for $299.99 – they may be older games, but Mario + Rabbids Kingdom Battle especially remains one of the Switch's best titles.
In the UK, however, some great bundles have already started to surface. The Nintendo Switch + Selected Labo Kit + LEGO Jurassic Worlds + Stealth Case for £299.99 at Argos is flat-out a great deal! If you're not keen on LEGO Jurassic World, though, you can grab a Nintendo LABO and Switch Bundle from Amazon UK or GAME:
Nintendo Switch Lite deals:
The Nintendo Switch Lite has only recently released, but there are still some good offers this Black Friday. Right now in the US, Gamestop is offering a $25 Credit Coupon for Switch Lites purchased on Saturday and Sunday. In all likelihood, that's probably going to be the best deal for the portable you'll find this year. If you really must snap one up right now then you can get this Nintendo Switch Lite with Ematic Switch Lite Case for $199.96 from Walmart. It's only about $10 off, but a case is a case!
In the UK, the best deal we've seen is Amazon UK selling the Nintendo Switch Lite in all three colours – Yellow, Grey, Turquoise – for £179.00 in time for Cyber Monday. Alternatively, the official Nintendo UK Store is selling a Nintendo Switch Lite with a free 12 month Nintendo Online subscription thrown in – including the usually more expensive Limited Edition Pokemon Zacian & Zamazenta Edition- for £199.99 which isn't too shabby.
Switch game deals:
As always, there are some fantastic Switch game deals this Black Friday. Switch titles tend to cost more than their PS4 and Xbox One counterparts, but you can't go wrong with a bit of AAA action on the move. The Nintendo Tax is worth it, especially when it's at these sort of discounts.
US:
UK:
Switch Accessory deals:
Right now, you can grab a nice MicroSD card for your Switch. Best Buy as a 128GB microSDXC Memory Card for Nintendo Switch for $19.99. That's a ridiculously good price for such a large amount of storage. It'll likely have you covered for many, many games to come and you'll essentially purchase piece of mind – no need to worry about maxing out your Switch!
If you're looking for a new dock, the ikedon Portable TV Docking Station Replacement for Nintendo Switch for $20.00 can provide a nice replacement for the official Switch dock. For those taking the whole Switch on the go, this Orzly Nintendo Switch Carry Case for $11.88 is a great buy.
In the UK, you can also grab some MicroSD cards for cheap. Amazon UK has a SanDisk Ultra 128GB microSD Memory Card for £12.95, or a Nintendo Licensed SanDisk 256GB microSD card for £42.99.
Black Friday 2019: when is it?
You'll want to mark the 29th of November on your calendar for Black Friday 2019. Be prepared to be on the hunt for deals in the weeks prior and following that date, though, as retailers look to make the sales a much bigger event.
In fact, some retailers have already begun some sales! Most Black Friday ads are at least live, and retailers have some early bird specials to entice consumers to start spending even earlier than before. We'll keep the best deals updated so you don't have to worry about it!
What Black Friday Switch deals will there be this year?
That's a tricky question, but we have a few ideas of what Nintendo Switch Black Friday deals you might expect to see this year.
Now that Black Friday adverts are out there from the likes of Best Buy it's become clear what's going to be available. Those of you holding out hope for a cheap Nintendo Switch bundle, it's not incredible news, but certainly not bad news either. We now know the offering is going to be a Nintendo Switch with Mario Kart 8 Deluxe for $299.99. Other retailers may also be getting this bundle, but it's hard to say yet. Most of the major retailers don't seem to be offering much of a discount on the system.
Nevertheless, we'll be keeping a close eye on Pokémon Sword and Shield as they will have only been out for two weeks by the time we reach Black Friday. While it seems unlikely that we'll see a good deal on such a recent release, even $5 or $10 off saves money!
There are many other popular Switch games that are seeing more significant price cuts, though. The likes of Breath of the Wild, Super Mario Odyssey and others have sat at full price for as long as we can remember and are now coming down to $40. All of the expected games will reach this price point, with some other third-party titles such as Diablo 3 and Overwatch (which just released last month) dropping to all-time lows.
Don't forget the Nintendo eShop as it's also home to some big discounts. Deals are already live, and more will drop when Black Friday arrives. The eShop sales can be a bit hit or miss, but this week's sale is definitely worth looking into if you're after a lovely little discount on a game you've been eyeing up for a while.
Should I get the Switch Lite on Black Friday?
If you're holding out for a Nintendo Switch Lite Black Friday deal then you might end up being disappointed this year. The Switch Lite has only just been launched so we aren't expecting to see any considerable money off it so soon compared to the standard Switch. However, do keep an eye on this page as we'll update it as soon as we spot any Switch Lite deals appear!
However, Walmart is offering a slight deal on a Switch Lite bundle already. The Switch Lite and Pokemon Bundle for $238.99 offers about $30 in savings between the system and game, and gets you a free carrying case to boot.
The best you can probably hope for is to get a Switch Lite console with a first-party game for $199.99 or £199.99. Some offers are already up in this sort of area so it won't be anything new. Depending on the game, though, it could work out nicely as a free extra.
Will the NES Mini and SNES Mini be on sale?
Nintendo's retro consoles make for excellent gifts so we wouldn't be surprised if some retailers brought them back at a discount during Black Friday. You probably won't see anything quite as strong as the PlayStation Classic for $20 during Prime Day! Still, there's definitely room to save a few bucks on the NES Mini and SNES Mini. We just haven't seen anything from retailers regarding this… yet.
Where will be the best place to get a Nintendo Switch Black Friday bargain?
We'd suggest checking the usual suspects such as Amazon as they've pushed some of the best Nintendo Switch Black Friday deals in recent years. Of course, traditional games retailers such as GameStop, Best Buy and Walmart could also compete. Their offers are most likely going to be shared between them, though.
Over in the UK, you'll want to keep track of Argos, AO, Very and the multitude of online games retailers for all their Black Friday Nintendo Switch bargains. We could see some exclusive offers from the biggest of these as they all compete for the big-ticket sales. For the largest department stores, you could pair up a Nintendo Switch Black Friday deal with something on a 4K TV, some accessories or homeware for even more savings!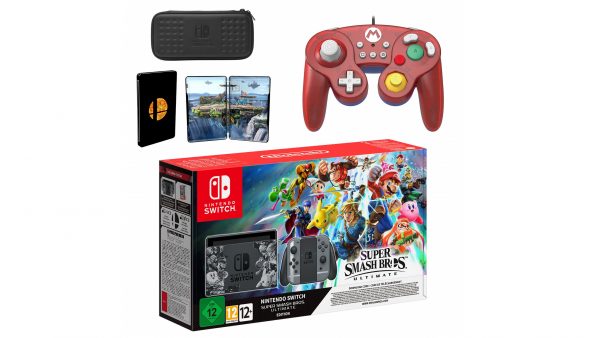 What were last year's best Nintendo Switch Black Friday deals?
Last year the Nintendo Switch stuck around $300 for Black Friday. The best we saw was the addition of a free $35 gift card at for that same price, so you could essentially create your own Switch bundle. Still, that's not the sort of eye-popping Nintendo Switch Black Friday offer we expect to see.
Outside of that, you saw a few top Switch games such as Super Mario Odyssey and Super Mario Party drop below the $50 mark for the first time. Games like this are now sitting at that price point more permanently at Amazon US, so look for further discounts on Black Friday.
Over in the UK, a Nintendo Switch console fell to £250. When a game was added to the mix it crept up to £290. Again, not something that would make us want to scream from the rooftops but you could appreciate the small saving. Let's hope for something better this year!
And don't worry about trying to follow it all yourself. Keep this page bookmarked and be sure to check in every so often so you know about all the latest Nintendo Switch Black Friday deals. If this isn't your console of choice, you can also follow our pages dedicated to the PS4 Black Friday and Xbox One Black Friday deals. It's going to be a wild few weeks!