Star Wars Jedi: Fallen Order Tips for mastering the Force
Star Wars Jedi: Fallen Order is tougher to beat than Chewbacca in an arm wrestle. Set after the Empire's massacre of the Jedi following Order 66, but before A New Hope, it takes obvious cues from Soulsborne games and Sekiro, mixing metroidvania-style levels with tough, punishing melee combat.
To ease your journey through the galaxy and fight against the Sith, here are five tips for Star Wars Jedi: Fallen Order that I've gathered from playing.
One of these tips could be considered a spoiler, so I'll save it for last. Although if you don't know about it, you could miss out on a really cool weapon for a lot of the game.
These are not the secrets you're looking for
If I have one gripe with Jedi Fallen Order, it's that it's not always clear where you can and can't get to. The game's worlds are packed will collectable cosmetics, secret upgrades, and force echo audio logs, but to find them all you'll have to back-track through old areas multiple times as you unlock new powers.
If you haven't found everything in an area on your first, or even second time through, don't worry too much – you'll be able to come back again later.
Luke, use the camera angle
When health is at a premium and every fight is an ordeal, there's nothing you want to be doing less than throwing life away with fall damage. However, some of the nooks, wires, and ledges in Jedi Fallen Order's many platforming sections can be finicky to grasp.
I've found that if you angle the camera to look at what you're trying to grab hold of, Cal makes the jump more consistently.
May the Force be with you, most of the time
From the very start of Jedi Fallen Order, Cal has access to powerful Force combat abilities. These powers work on just about any enemy in the game, or can be upgraded to, not just the regular grunts.
This means it's really important to use them as often and efficiently as possible – which means balancing your Force meter.
Heavy lightsaber attacks and special abilities require Force energy to use, which replenishes every time you hit an enemy. To keep it full enough to use your best powers, you need to play aggressively, utilise your parry and block up-close rather than relying on dodging, and punish openings when you see them.
Doing this will allow you to defeat enemies more quickly than chipping away at every single stamina bar.
Do or do not. There is no try
Like the reanimated warriors of the Undead Asylum, who thought a Star Wars game would resurrect one of the most shambling debates of 2019 – whether specifically tough games should have an easy mode so everyone can play.
As I mentioned earlier, Jedi Fallen Order wears its FromSoftware influences plain on its sleeve: there are bonfires to meditate at, you lose your XP when you die, and giant frogs can one-shot you from 66% health.
While the normal difficulty is doable, any higher and most of the enemies you'll face will be a real challenge. If you're in the mood for a swashbuckling adventure more like Star Wars games of the past, then try out Story Mode, which lowers the incoming damage of enemy attacks, makes them less aggressive, and removes fall damage from the picture completely.
Although you might not feel the same sense of pride and accomplishment for defeating the full force of the Dark Side, Cal Kestis won't judge your gamer cred for bumping things down – although Greez might.
You can change the difficulty at any time from the pause menu – and that means any time. There isn't a penalty; which effectively gives you the ability to "skip" sections you're having trouble with by lowering the difficulty then boosting it back up.
Step 1: Reveal self to Jedi. Step 2: Revenge
Early in Jedi Fallen Order, two locations with open up to you on the Holotable. The first is marked with your objective, the second is Dathomir – the home planet of fan-favourite villain, Darth Maul (although he's long been chopped in half by this point).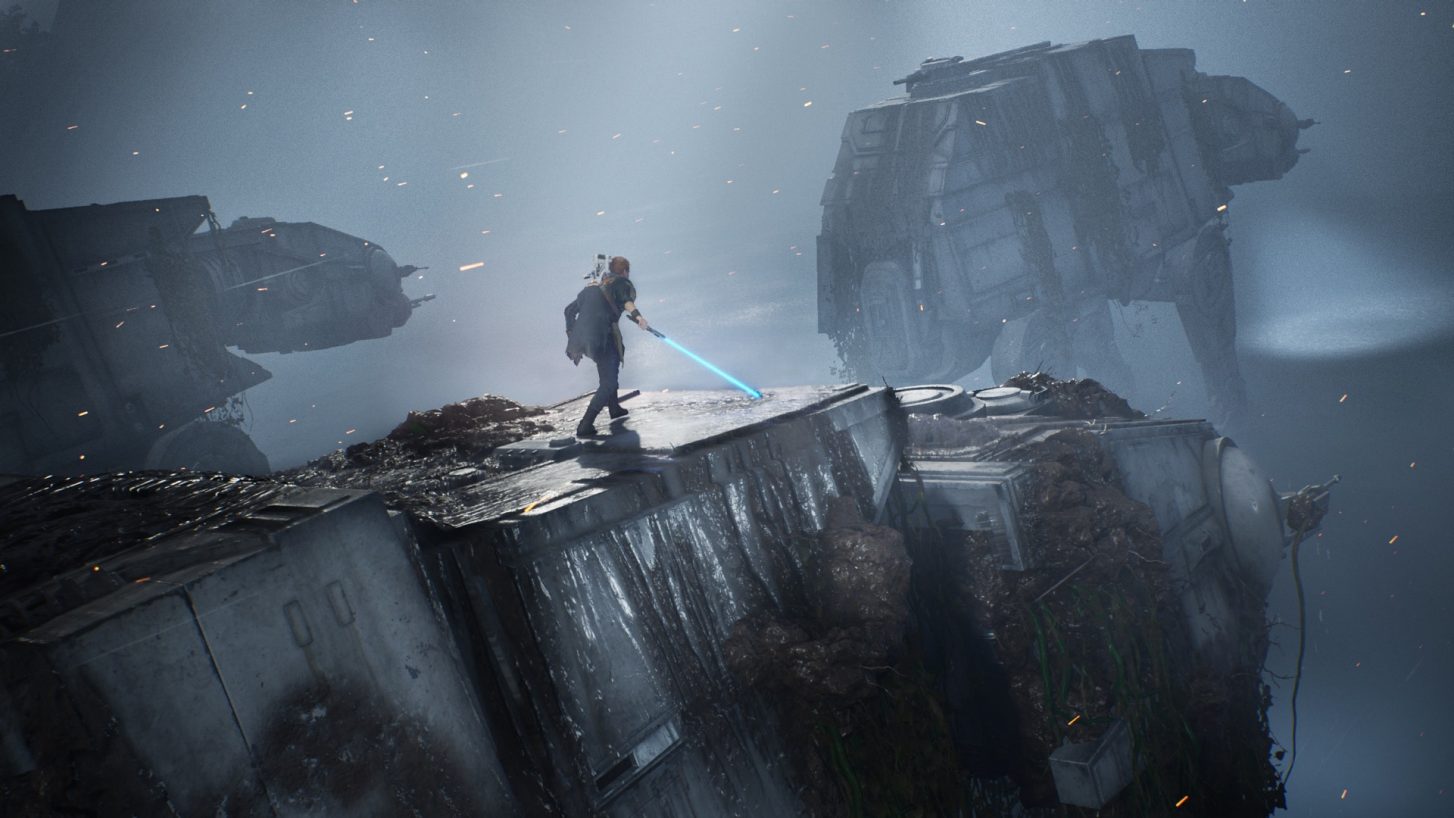 Without any specific instruction to visit Dathomir, it's very easy to just forget about it and carry on with your adventure. But you should definitely make the trip as soon as possible.
The latter part of the planet is gated off by a late game ability, but without too much trouble you can acquire the Dathomirian Sith's signature weapon: the double-bladed Lightsaber.
It's also really easy to miss, but is hidden in the Brother's Bastion area, near where you meet the unpassable jump and the Traveller.
We have a full page on how to get the double-bladed Lightsaber here.
Although its basic attacks are weaker than the traditional lightsaber, the double-bladed version excels at crowd-control and blocking incoming blaster shots – so it's well worth picking up. If you get it early, then you can enjoy playing with it for most of the game, rather than it coming in as an afterthought later.
For more on Star Wars Jedi: Fallen Order, here are all of the Lightsaber parts we've found so far.
Many secret items in Jedi Fallen Oder require a "Scomp Link" to access – here's where to get it.