Experience gaming's best WW2 beach landing and ferocious tropical storms in Battlefield 5's new maps
Log into Battlefield 5 on October 31 and you'll be able to download War in the Pacific for free.
The WW2 shooter's latest update adds two maps – Iwo Jima and Pacific Storm – as well as a pair of factions in America and Japan. If you found Battlefield's 5's infantry-focused Into The Underground map a touch restrictive, you're in for a treat with this wide open, sunny paradise, not least because it features gaming's most hellacious beachfront landing.
First, Iwo Jima, an island dominated by a crater-riddled beach, towering cliffs, and crisscrossing underground tunnels that work brilliantly as flanking routes. You'd almost buy it as an alien world straight out of DICE's other big FPS, Star Wars Battlefront, what with its charcoal-coloured sand and bright green grass, if it wasn't for the recognisable sights of M1 Garands and Sherman tanks.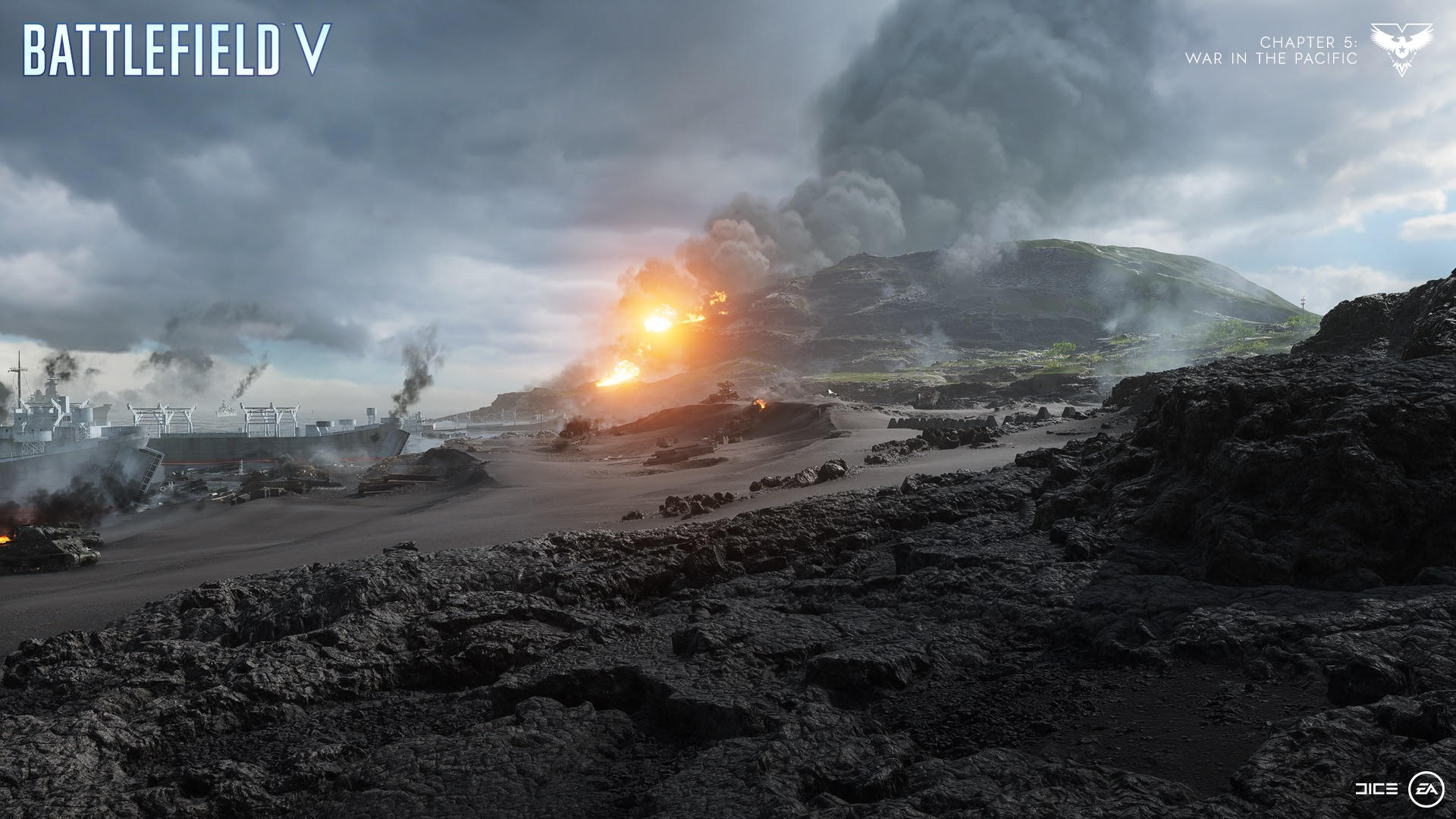 Despite looking like paradise, the fighting's just as pitched and desperate as ever: players litter the shoreline shouting for medics; the new Corsair and Zero A6M2 planes buzz low in efforts to pick off troops emerging from the safety of the caves, and thick smoke from closely stationed carrier ships blocks out the sun.
Given its coastal theme, Iwo Jima best lends itself to invasion game type Breakthrough. Here, team USA must make their way to the beach via amphibious tanks and landing craft, attempting to gain a foothold while Japanese forces pick them off with snipers and fixed gun emplacements. The latter's higher position gives them a distinct advantage, which makes it all the more fraught for U.S. soldiers as they dart between the smouldering tanks and volcanic rock. After that it's into the map's grassy middle strip, where muddy trenches bisect patches of flat ground occupied by several sectors that need capturing.
Once that's done, the final sector at the summit of a craggy cliff beckons. It's a perilous ascent, because by now, the defenders are truly entrenched, able to fire down with rifles and grenade in a bid to protect their one remaining flag. It's a concentrated blast of Battlefield, with dozens of players shouting out enemy locations, calling for ammo, and reaching out bloody hands to help one another off the deck. Once the match is all said and done, it might have just given you the greatest WW2 invasion scene you'll play.
The map is less irresistible in other modes. Where Breakthrough is a sequential territory grab, Conquest lets you claim territories in any order, and this detracts from Iwo Jima's escalating invasion narrative. Several sectors are positioned along a flat central steppe, so the flow is horizontal rather than back and forth. Without incentive to keep pushing up, it can all feel a bit aimless.
That said, the presence of underground routes gives troops options when tanks run amok, injecting some close-quarters combat into proceedings. Their bottlenecks can prove entertainingly disastrous. At one point, scores of players pile into the cave to avoid an aerial bombardment, and meet an equally packed opponent line firing everything they have to repel them. Whether it's witnessing a burning man running frantically across the dark sands, or desperately throwing medikits to teammates as they fend off a final wave of enemies, some of the most compelling war stories are to be found on Iwo Jima.
Where that skirmish takes place mostly on land, Pacific Storm leans more into amphibious action. It's set on the Marshall Islands, a series of small land masses divided by waterways. This gives boats an advantage when it comes to quickly getting around opponents' backlines. It's also dense with foliage, providing ample cover to stealthy players who want to prowl on their bellies with a sniper rifle, or put something between themselves and thunderous tank fire.
As a result of this varied terrain, Pacific Storm is a great Conquest map. You can dart between sectors and pinch them right from under the enemy's nose just as much as you can defend them from the relative safety of houses and watchtowers. That these structures are made out of wood means they'll also crumble spectacularly when hit with something suitably explosive. Its tropical aesthetic is reminiscent of Battlefield's classic, crescent-shaped Wake Island map, but lacking the huge body of often unoccupied water in the middle, Pacific Storm has a greater sense of immediacy.
Infantry enjoys more of an advantage here than on Iwo Jima as they navigate narrow dirt roads and seek cover in vegetation. Tanks, on the other hand, might find themselves beset by onrushers emerging from the shrubbery with mines. And, due to a series of small bridges being the only way to cross each island, movement options are limited on treads and wheels.
Just when you think you've got a handle on this playful archipelago, the monsoon hits. It's a dynamic storm that completely transforms the look of the map, plunging it into a deep blue haze as torrents of rain descend from the heavens. Gale force winds ragdoll once sturdy palm trees, and the undergrowth ripples uncontrollably. As well as the visual change, it also has an effect on the match itself, masking footsteps and reducing sightlines. Sometimes, when a team is entrenched, the storm is their undoing. This rain-wash prevents matches becoming a whitewash, and helps even the odds.
Both maps play to two different Battlefield strengths. Where Iwo Jima bottles its cinematic splendour in a dramatic beach landing, the larger Pacific Storm captures its unrelenting freeform warfare across land, sea, and air. With the tropical theme calling back to DICE's very first instalment in Battlefield 1942, the pair work in tandem to effectively demonstrate where Battlefield 5 is in 2019.