Greedfall: Disappearance among the Nauts guide
There are several ways to complete each of Greedfall's many sidequests, though some are determined by what skills and attributes you select.
As you progress through the opening hours of Greedfall, you'll be asked by Captain Vasco to locate this cabin boy who has mysteriously disappeared.
This quest will affect your Reputation with the Nauts, so choose wisely and consider this your only spoiler warning.
Greedfall: Disappearance among the Nauts guide
The first thing you'll want to do is explore all the dialogue options with Vasco to learn more about the cabin boy, Jonas. He'll point you in the direction of Flavia and Lauro, his two closest friends, so visit them first.
Lauro will reveal that he saw Jonas being manhandled out of the tavern and whisked away by some burly men. He'll direct you to a regular in the tavern who's standing to the right of the bar. He'll tell you that it was Sir Fontaine, a merchant, that kidnapped Jonas from the tavern.
Head to the Fontaine's manor to confront the kidnappers. Their servant will usher you inside where you'll meet Lady Fontaine, who reveals that Jonas has her son and hasn't been kidnapped, he simply returned home.
Nauts enter into contracts with families where they take sons and daughters often in exchange for money or goods. Jonas' life was sea-gifted to the Nauts when he was very little, hence why Vasco mentions that they are all family.
You now have a choice to make: rescue Jonas and return him to the Nauts, or carry on with the main quest and leave him behind.
Should you choose to return him to the Nauts, you'll need to pay Vasco another visit to explain the nature of the Fontaine's contract with the Nauts. You'll then need to visit Mr. de Courcillon who'll tell you that if you want to avoid a diplomatic incident, it would be wise to find Jonas and return him to the Nauts.
Head to the Fontaine's house and look for a note on the sideboard in the first room you enter; it will give you Jonas' whereabouts. Alternatively, you can threaten Lady Fontaine with prison for kidnapping her son. This will reduce your Reputation with the Congregation of Merchants, however.
Either way, Jonas is in the Fontaine Family Warehouse in the Coin Guard Plaza, near the canal. Head inside and follow the wall around to the left and down the stairs. Once you open the door at the bottom you'll immediately enter a cutscene with Sir Fontaine.
Alternatively, you can go around the back and kill the two guards and use either the Lockpicking skill to open the door or use Science or Alchemy to blow a hole in the wall if you want to make a more dramatic entrance.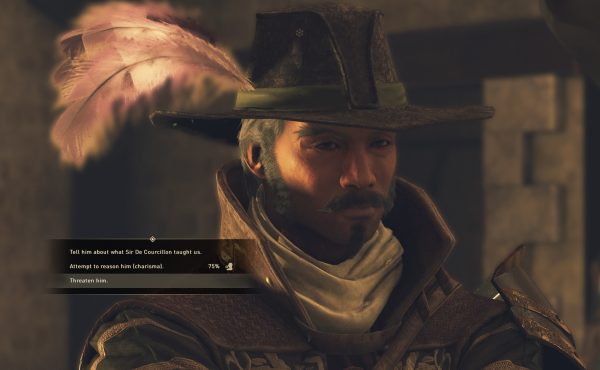 Once you meet Fontaine, he'll try to plead his case and you'll be faced with three actions:
Tell him what Sir de Courcillon taught you
Charisma: Attempt to reason with him
Threaten him
If you chose Intuition or Charisma as your starting skills or attributes, you have a reasonably high chance of diffusing the situation right away. If you're successful, you'll compare Jonas to the merchandise being kept in a warehouse and Fontaine will relent. You'll also gain a Reputation point with the Congregation of Merchants.
Otherwise, you'll have a bit of a fight on your hands, so be prepared. Once you've obtained the cell key, speak to Jonas who'll willingly return to the ship. You'll get 1000 XP and three Reputation points with the Nauts for your trouble.
For more Greedfall, check out our Charlatan guide here.