Destiny 2: Solstice of Heroes cheat sheet
Upgrading your Solstice of Heroes armour can be a bit of a grind, so we've come up with this handy cheat sheet to help speed up the process.
Regardless of your Power level, you should have received a set of Solstice of Heroes armour upon completing your first run of the new EAZ location. You can upgrade this armour to Masterwork level, so here are our top tips for getting the most out of the event.
Destiny 2: Solstice of Heroes – how to access the EAZ and get your Solstice armour
To get started, speak to Eva Levante in the Tower. She'll give you a helmet, so equip that then access the EAZ from the Tower by selecting it from the Director or by interacting with the mini transmat to the right of the Statue of Heroes.
The Statue of Heroes is in the centre of the main square of the Tower, right beside where Eva is standing. Once you've completed your first run, speak to Eva again and she'll hand you over the full set. Each piece of armour can be upgraded and has its own set of requirements.
Remember: you must have the Solstice armour equipped in order to upgrade it. If you find that a challenge isn't progressing, such as defeating Cabal enemies, make sure your weapons match the daily element and you should see a difference.
Destiny 2: Solstice of Heroes – fastest Adventures
For some armour items, you'll need to complete Adventures as one of the requirements. You don't need to complete the most difficult challenges in order for this to count, so here's a list of the easiest and fastest Adventures to complete in order to upgrade your armour:
EDZ Adventures
Dark alliance
Getting your hands dirty
Reversing the polarity
Stop and go
Unsafe at any speed
Red Legion black oil
No safe distance
Nessus Adventures
Hack the planet
Unbreakable
Release
Invitation from the emperor
Mercury Adventures
Bug in the system
The up and up
Destiny 2: Solstice of Heroes – challenging enemies
As you progress through Adventures, activities and Strikes you'll face a range of enemies that will fulfil other requirements, such as defeating Hive enemies. When it comes to creating your Masterwork Solstice of Heroes armour, you'll need to face off challenging enemies.
These challenging enemies aren't the same as high-value targets; you'll need to kill mini-bosses or bosses for it to count. Try the likes of Escalation Protocol or the Menagerie to find bosses to fight. If they've got an orange health bar then they're definitely worth pursuing.
If you're fighting the Cabal in the EAZ, keep your eye out for a yellow-bar Psion. He shows up every minute or so around the other bosses and defeating him counts as progress.
Destiny 2: Solstice of Heroes – Solstice packages and keys
Once you've beaten the boss in the EAZ, you can claim your first chest as a reward, which is usually a mixture of Glimmer, Solstice keys and packages. You'll then get a brief look at the location of several other chests that you'll need to find before the timer runs out. Finding these chests will grant you bonus keys and packages, so they're worth finding.
Open your inventory and look for the Solstice package. You can use the keys to open the packages and you'll get some cool loot. You can also earn keys by completing bounties for Eva Levante, such as defeating enemies in the EAZ with specific elemental weapons.
You can get items such as Enhancement Cores and once you've earned your Masterwork armour, you'll get pieces with different Perk rolls.
Your best bet to get maximum use out of the packages is to play through the EAZ in a pre-made Fireteam so you can direct each other to chest locations easily, then save at least some of the boxes to open after you've earned your Masterwork armour.
Destiny 2: Solstice of Heroes – Micro Mini Sparrow
The Micro Mini Sparrow costs 2500 Bright Dust for the first week of the Solstice of Heroes event, so jump in and get it so you too can look super cool on a what is effectively a tiny scooter.
Destiny 2: Solstice of Heroes – save your bounties
Once you've unlocked your Renewed armour, you'll need to complete 50 bounties as one of the quest steps. It goes without saying that you should horde some easy bounties and complete them once you've equipped this new armour.
It can be any kind of bounty, from clan challenges to Eververse bounties, so just accept every and any you can to complete the next step.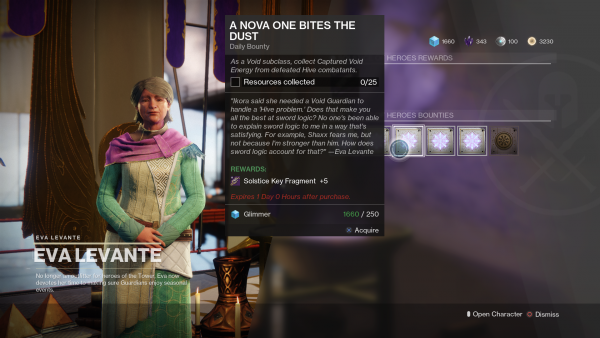 You can kill two birds with one stone by picking up some of Banshee-44's bounties as well, such as the Void Calibration bounty, which will help you towards restoring your armour and netting yourself an Enhancement Core.
The Solstice of Heroes event runs until August 27, so you have loads of time to grind it out to get your shiny new armour in time for Shadowkeep on October 1.
Want more? Then check out our Destiny 2: Forsaken guide for more on the Season of Opulence and how to succeed in the Menagerie , how to farm Imperials, and how to get the new Pinnacle weapons and the Truth Exotic Rocket Launcher and Lumina Exotic Hand Cannon.