New Pokémon revealed for Sword and Shield, including a giant cake and Geodude's distant cousin
The Pokémon Company gave us a look today at four new critters coming to Sword and Shield, including the super sweet Alcremie and a puppy Pikachu.
Alcremie takes the cake of the batch. A fairy-type Pokémon, it produces whipped cream that becomes richer the happier Alcremie feels, but the cream can also be used as a weapon to distract enemies or temporarily blind them while it escapes.
Yamper is classified as a "Puppy Pokémon" that looks like a cross between Pikachu and a Corgi. Yamper has an organ in its body that generates electricity, and it's activated whenever Yamper runs around. It also has a cool "Ball Fetch" ability that lets players recover the first Poké Ball that fails to catch a Pokémon, regardless of what type of ball it is.
Then there's Rolycoly, a "Coal Pokémon" that looks like an angrier version of Geodude. Its red eye illuminates dark areas, and it can use the lump of coal attached to its body like a wheel to move through caves. The description reads that until one hundred years ago, every household in the Galar region had a Rolycoly and used the coal to heat their homes.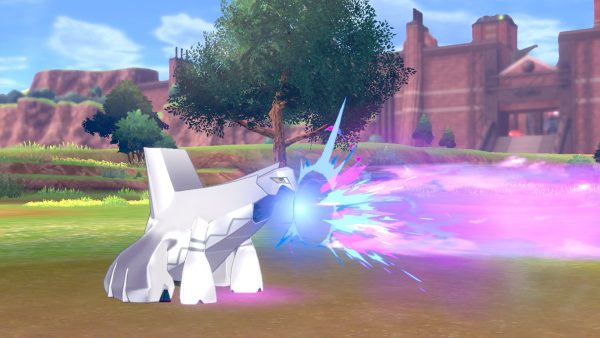 The final Pokémon revealed is Duraludon, a Steel/Dragon-type "Alloy Pokémon." Its body is composed of incredibly durable but light metal, so it can move faster than you'd assume. However, its body is known to rust easily.
You can see each of the new Pokémon in action in the video below:
The video also details Gigantamaxing – not to be confused with Dynamaxing – which lets Pokémon grow even larger than their Dynamaxing heights. Few Pokémon can Dynamax, and fewer still can Gigantamax, which changes each creature's appearance and allows them to use a special G-Max Move. The video shows Alcremie gigantamaxing, and both Drednaw and Corviknight are capable of transforming too. Like Dynamaxing, Gigantamaxing can only occur in certain parts of the Galar region.
Finally, we got to see a few new characters, including gym leaders Bea and Allister. Bea is an expert with Fighting-type Pokémon, and Allister is a Ghost-type trainer, who "spends most of his time around ruins or in cemeteries." On brand, I'd say.
Leon is the strongest trainer in the Galar region (barring you, of course), and he won the Championship in his first-ever Gym Challenge without being defeated in battle a single time. His partner is Charizard, which is nice little throwback to Lance, the Johto region Champion from Pokémon Gold and Silver. Other characters you'll come across in Sword and Shield include Chairman Rose, the head of the Galar League and the president of a large business conglomerate, and Oleana, the vice president who runs the company's day-to-day operations.
Pokémon Sword and Shield come out on Nov. 15, 2019 for Switch. There's been some controversy surrounding the developer's decision to cut Pokémon from the game, although Game Freak recently assured fans that those 'mon could still appear in future titles. Here's everything we know about the game so far.