Fortnite: Search unicorn floaties at swimming holes locations
Name a more iconic image to come out of the 2018 FIFA World Cup than England centre-back Harry Maguire straddling the back of a rainbow unicorn floatie. I'll wait.
Now it's your turn to get in on the fun in Fortnite! Your 14 Days of Summer challenge this weekend is to "search unicorn floaties at swimming holes", and here's where you need to go.
Below are seven locations that you can hunt down to find those precious unicorns. You can search multiple in the same match, but the floatie will disappear when you interact with it, so if someone gets there first – you're out of luck.
You only need to snag three to complete the challenge, so there will be a few leftovers for you to choose from!
Search unicorn floaties at swimming holes in Fortnite
Looking at the list of previously leaked challenges – which hasn't been wrong so far – we know that the same locations are likely being used for multiple challenges. Some of the beach parties from earlier in the week have giant umbrellas that you need to bounce off, balloon decorations that you need to pop, and clown boards that you need to score 10 on.
Some of the Unicorn Floaties will appear near the beach parties, but there are a few in other places too. They're dotted around the central and southern areas of the map:
| Unicorn Floaties locations | Map Reference |
| --- | --- |
| North of the camp in Dusty Divot | F5 |
| Northwest of Paradise Palms | H7-H8 |
| Southwest of Paradise Palms | H9 |
| South of Fatal Fields | G9 |
| Northeast of Loot Lake | E4 |
| Under the jetty at Lazy Lagoon | F3 |
| Northeast of the geyser field to the north of Pressure Plant | G2 |
Here's a map version of the Swimming hole locations: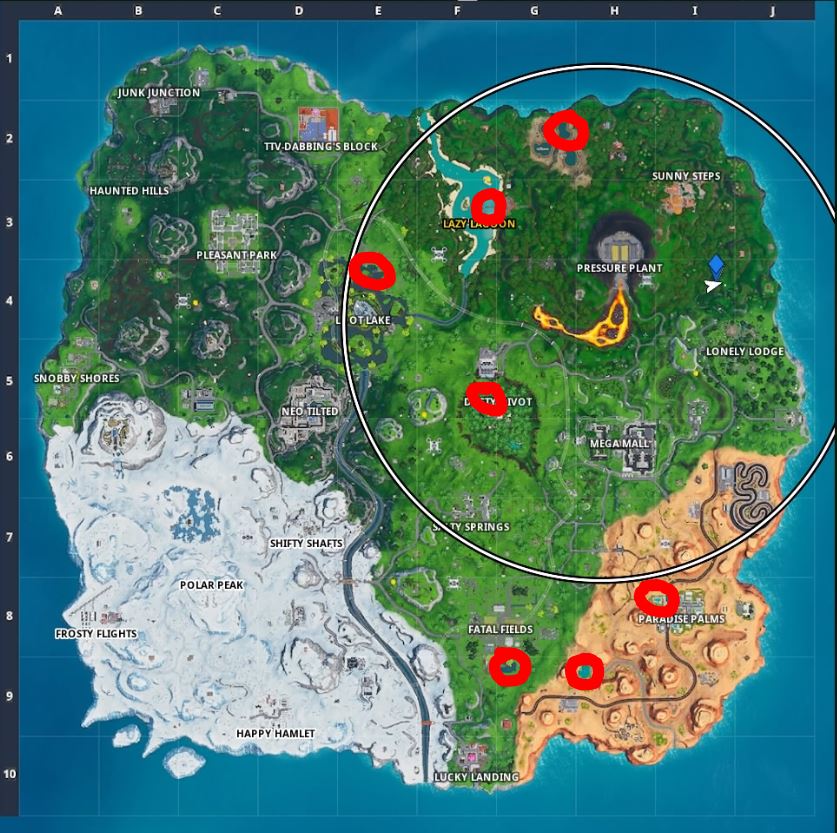 So jump into a game and head over to the middle and southeast of the map. We'd recommend doing the Dusty Divot one first, because you can use the nearby slipstream to reach the others more quickly.
Or you can start up in the north of the map and make your way through Lazy Lagoon to Loot Lake.
For more help with the rest of this season's Fortnite challenges, use the list below!
Fortnite Season 9 Weekly challenges