Dauntless free-to-play RPG launches today with the new Hidden Blades Hunt Pass
Dauntless officially launches today on PC, PS4 and Xbox One and Season 5 brings with it a new Hunt Pass.
After a lengthy Open Beta period, Dauntless will be available to download for free today from 3 pm BST/ 10 am ET/ 7 am PDT. It's a free-to-play Action-RPG that takes a leaf out of Monster Hunter's book as you play as a Slayer and battle fearsome beasts co-op style, crafting powerful gear as you progress.
There's a range of skills and weapons to choose from and you'll need to study each beast to figure out which weaknesses you can exploit as opposed to going in hacking and slashing.
If you played in the Dauntless Open Beta, it's important that you link your accounts before playing Dauntless at launch or you will lose all your progress, so don't skip it at the title screen.
For PC players, download Dauntless from the Epic Games store and create an Epic Games account if you don't already have one. Then, click the Link Now prompt on the title screen to link your account.
For PS4 and Xbox One players, select Activate Account from the title screen and follow the prompts to link your PSN or Xbox Live account to your Epic Games account or create one if you don't have one. Then select Link Now from the next screen and follow the prompts.
You can team up with pals from the Open Beta or use Dauntless' matchmaking if you're new to the game, so let's take a look at what you get in the Season 5 Hunt Pass.
Dauntless Season 5 Hidden Blades Hunt Pass
Players will soon be able to purchase the Season 5 Hidden Blades Hunt Pass, which works similar to passes found in the likes of Fortnite and Apex Legends.
This season, there are three levels of Hunt Pass:
The Basic Track
The Elite Track
The Elite Track Bundle
The Basic Track is free for everyone and you'll get the usual rewards as your progress. The Elite Track and Elite Track Bundle are 1000 and 2400 Platinum respectively.
The Elite Track grants exclusive rewards, like weapon skins, cosmetic armour sets and special seasonal dyes, and you'll get two bonus loot rolls and a 50% boost to Mastery experience, which makes you a more effective Slayer.
The Elite Track Bundle offers all of this and also unlocks 15 levels in the Hunt Pass. You can purchase it at any time, so you have the option of unlocking the first 15 levels right away or waiting till nearer the end of the season to finish it off quickly.
There are 50 levels in the Hunt Pass, and you can earn experience by completing weekly challenges, gathering collectables in the city of Ramsgate and breaking Behemoth parts. The weekly challenges will reset every Thursday at 8 am BST/ 3 am ET/ midnight PT.
It's worth noting that you can only gather up to 10 collectables in a day and Hunt Pass drops from breaking Behemoth parts are random so you might need to break a few more parts before you get one.
If you feel you're lagging behind your pals, you can always purchase a Level Skip for 200 Platinum.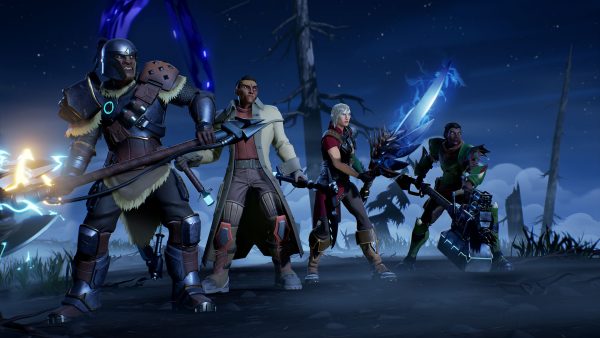 Dyes are getting an overhaul in the 0.8.0 update and will soon be available as curated trios that work with a theme. They'll be available for 125, 350, and 600 Platinum at launch.
The following dyes are being retired after the update:
Blood Moon ("Intensity" Premium Dye Palette)
White ("Slayer's Style" Dye Palette)
Black ("Slayer's Style" Dye Palette)
Black Pearl ("Slayer's Style" Dye Palette)
Peach ("Slayer's Style" Dye Palette)
Ashen Brown (Recruit's Dyes)
Straw (Recruit's Dyes)
Dust (Recruit's Palette Completion Bundle)
A future update will add a third dye region and some dyes will be getting renamed, so we'll keep you posted on that.
Dauntless launches today on PS4, Xbox One and Epic Games Store for PC players.