Apex Legends Battle Pass reward tiers
Apex Legends' Season 1 Battle Pass, Wild Frontier, launches later today, but what do you get with it?
There will be 100 Battle Pass rewards to unlock in Season 1, 25 of which you can unlock instantly with the Battle Pass Bundle.
The Battle Pass will set you back approximately £7.99/ $9.50 and the Battle Pass Bundle will be around £24 or $28, or 950 and 2,800 Apex Coins respectively.
You'll need to buy Apex Coins to buy the Battle Pass in-game, so don't trust any third parties trying to sell it online.
If you play on multiple platforms, however, you'll need to buy a Battle Pass for each version as cross-play isn't supported at present.
Those of you who played the likes of Fortnite and PUBG will be familiar with the Battle Pass structure, so let's take a look at what you'll be getting.
Apex Legends Season 1 Battle Pass: Wild Frontier
Season 1: Wild Frontier launches today at 5 pm GMT/ 10 am PT/ 1 pm ET. It will run for around 3 months, with Season 2 following in June.
Wild Frontier brings with it the introduction of the Battle Pass and a new Legend, Octane. Octane's Adrenaline Junkie active ability appears to allows him to trade health for speed.
Octane is also the only hero capable of regenerating health constantly. Octane's Ultimate is the Launch Pad, which lets him place a jump pad for everyone on their squad to use.
He'll cost roughly the same as Mirage and Caustic and will be available for all players, not just Battle Pass holders.
There will be free rewards for those who don't purchase the Battle Pass that you can earn, but Battle Pass holders will get 100 additional premium rewards.
By completing and winning matches, you'll earn Battle Pass XP and every level you go up unlocks a new reward.
There may be challenges and other features you'll need to complete or achieve to earn Battle Pass XP, but that hasn't been confirmed yet.
Your Battle Pass XP is different from your Account Level, however, so the two should level up concurrently.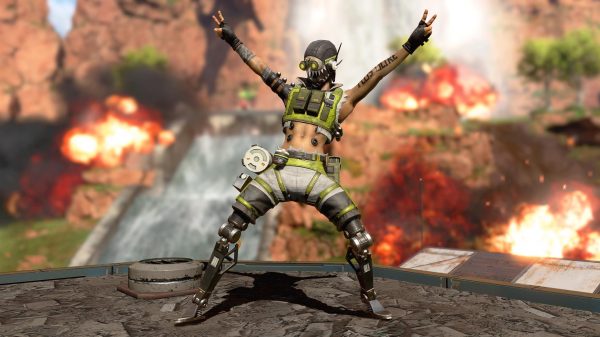 Apex Legends Battle Pass types
As I said earlier, there are Free Battle Pass rewards you can earn without buying a Battle Pass. These include the Wild Frontier Legend skin, which unlocks at Battle Pass level 48, and you'll also be able to earn 5 Apex Packs and around 18 Wild Frontier stat trackers.
The Standard Battle Pass gives you access to the 100 premium rewards, which drop at a rate of one per level. You'll also receive the Apex Packs and stat trackers, too.
Finally, there is the Battle Pass Bundle, which unlocks the 25 levels instantly, cutting down the time between starting and reaching that coveted level 100.
You may have already earned enough Apex Coin to buy either of the Battle Passes or may earn enough during Season 1 that you can save them to buy the Season 2 Pass.
You'll earn XP towards your Battle Pass Level even if you don't buy it. You could reach Level 40 without spending a penny on the game, then buy the Battle Pass, and unlock all of the rewards for up to Level 40 so far plus three special Battle Pass Skins
The aim is to encourage everyone to buy a pass one way or another, it seems.
Apex Legends Battle Pass rewards
Battle Pass holders will get a range of rewards including Rare weapon skins, Apex Coins, new dialogue lines, badges and banners as they progress through the levels.
None of the items can be found in-game, so your only way of getting them is through the Battle Pass.
If you're new to Apex Legends, then check our guides on the best guns, where to find the best loot and what moves each Legend has.