Anthem Challenge guide: where to find Challenges, Trials and more
There are loads of Challenges to complete in Anthem, though you'll need to find them first.
Update: Players will now be able to start earning progress towards the Finding Old Friends and Tombs of the Legionnaires missions from Level 3 onwards, so now the likes of multi-kills and chests opened earlier in the game will count towards their completion.
If you were having problems interacting with the Tombs, the best workaround is to exit Freeplay then revisit the Tomb in a new session.
Another issue players are having is that the Tomb door won't open despite your Journal updating to say the relevant Challenges have been completed. The advice is to double check the Challenges tab to ensure the criteria to open the Tomb has been met, as some Journals are displaying incorrect information.
A major bug fix is expected with the Day One patch on February 22.
Original story: If you've been playing Anthem, you might have noticed a pop-up appearing during a mission that says you've completed a Challenge. Some Challenges you'll be able to find and complete while exploring the world, and others will only be available for a short time as missions.
In this guide, we're going to look at where to find these Challenges alongside some issues players are experiencing with the likes of the Multi-kills Challenge.
Anthem: Challenges
There are 10 Challenge categories in Anthem, each with multiple subsections. Many of these challenges you'll complete just by using your weapon, visiting locations or gathering items. Others will require a bit more planning and effort, particularly those focused around your Javelin.
You can find the Challenge list by opening up your Cortex and switching to the Challenges tab. There's a Tracked section to keep an eye on ones you've started, as well as a list of Challenges you've already completed. You can complete each Challenge once and you'll be able to see your progress under each section.
The 10 Challenge categories are:
Path to Glory
Factions
Expeditions
Exploration
Gear
Weapons
Feats
Combat
Javelin
Freelancer
Feats work slightly differently as they are available to earn once per Expedition and give you and your team added Experience. They also increase your Freelance reputation which you can track on a document next to Yarrow in Fort Tarsis.
Alongside these Challenges, there are Daily, Weekly and Monthly Trials you can complete that usually revolve around Feats and Challenges from your list. You can find these Trials near Lucky Jack in Fort Tarsis.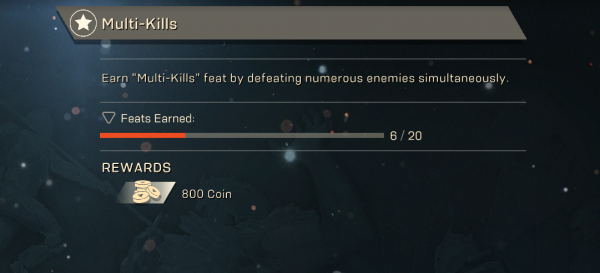 Anthem: Challenge issues
As Anthem is so new, there are a few issues with some of the Challenges. The Multi-kills Challenge is proving difficult for players as the requirements aren't clear.
What you need to do is kill eight enemies then wait ten seconds before attacking the next group. The other issue is that you must get all eight kills by yourself, so an assist from teammates won't count.
This challenge is doable against horde enemies like the Scars, so save your Ultimate moves for larger groups of opponents. Playing as the Interceptor class, I used my Ult ability, Assassin's Blades, to melee a big group of Scars before giving myself ten seconds to run to the next group of enemies. The Ult lasts just long enough to take down two groups and should work with the other classes of Javelin.
You need to complete this step 20 times to complete the Multi-kills Challenge.
Tomb Challenges are also proving problematic as they require players to search 15 chests or more as part of a quest step. For the Tomb of Yvenia Challenge, each player must find and search 15 chests – it won't count if a teammate opens one for you.
BioWare is reportedly looking into a fix for these Challenges to make them more team-focused, so we'll update this page with any changes.
Anthem releases on PC, PS4 and Xbox One on February 22.