Mortal Kombat 11: release date, beta, gameplay, trailers and more
Mortal Kombat 11 was announced during The Game Awards 2018, and fans of the franchise have been excited ever since.
Mortal Kombat first burst on to the scene back in 1992 as part of the Midway Games umbrella. The first three games in the series were developed for arcades, but have been ported to various systems over the years.
The franchise became so popular, it spawned spin-off games, movies, comics and other forms of media set in the universe.
Now, 27 years later, we have Mortal Kombat 11, and it's shaping up to be one hell of a ride. We've gathered everything we know about the brutal fighting game so far, and put it all here in one convenient spot for you.
More information about what we can expect in Mortal Kombat 11 will be added to this page as it becomes available.
Mortal Kombat 11 release date, gameplay
Come April 23 on PC, PS4, Switch, and Xbox One, you'll be able to smash, eviscerate, cleave, and explode the heads of your enemies in Mortal Kombat 11.
The fighting game has been dubbed by NetherRealm Studios as the "bloodiest, most gore-filled" entry yet. You can see this for yourself in a video clip showing various fatalities.
It will also come with new mode, one of which is Towers of Time, additional challenges, and rewards.
This entry in the storied series brings a new feature along for the ride: two meters instead of one. In the game you'll find an attack meter, and another focusing on defense. Sharp timing will trigger a  'perfect block' mechanic, while 'crushing blows' allow you to turn moves brutal by fulfilling certain requirements.
There's also 'Fatal Blow', a new revenge-style attack that only becomes available when your health drops very low.
For more on Mortal Kombat 11 gameplay, be sure to give Alex's hands-on a read.
Mortal Kombat 11 roster
At present, playable fighters confirmed for Mortal Kombat 11 were: Scorpion, Baraka, Sonya Blade, Skarlet, Geras, Dark Raiden, Sub-Zero, Kano, and pre-order character Shao Kahn.
Other characters who made an appearance during the livestream reveal in January were Rain, Kung Lao, Liu Kang, Cassie Cage, and Shinook – just not confirmed as playable as of yet.
Kronika, who created existence at the dawn of history, was also featured in the prologue trailer. Whether or not the Keeper of Time is playable remains to be seen.
The character select menu shown suggested 25 playable characters, though just seven are confirmed as it stands.  It's possible Reptile will make an appearance, at least as an assist.
Another fun thing: you'll be able to customize fighters in Mortal Kombat 11 with a variety of Skins, Gear, Special Abilities, Intro and Victory Cinemas, Taunts and of course, brutalities – all earned through gameplay.
Be sure to bookmark our Mortal Kombat 11 roster page for future updates.
Mortal Kombat 11 editions, pre-order, Kombat Pack
At present there are three variations of  Mortal Kombat 11 available to pre-order and each guarantees entry into the beta – except for PC.
There's the obvious standard edition available, along two other versions to choose, and a Kombat Pack will also be available. Contents of the pack will be announced January but thanks to Steam, we have a general idea of what's included.
See below for a breakdown of the contents of each edition.
Standard edition
Mortal Kombat 11 base game
Mortal Kombat 11 Premium Edition ($99.99)
Base game
Kombat Pack

Six playable DLC characters
Seven skins
Seven gear sets
One week early access to character DLC
Mortal Kombat 11: Kollector's Edition – PS4, Xbox One ($299.99)
Mortal Kombat 11 Premium Edition (includes base game and the Kombat Pack)Steel book case
Magnet featuring the MK logo
1:1 life size replica of Scorpion's mask with stand
Authenticity plaque
Packages in black collector's box
Like the standard and Premium Editions, pre-ordering the Kollector's Edition for PS4 or Xbox One will net instant access to the March 28 beta. You will also receive the playable character Shao Kahn. The Kollector's Edition is a GameStop-exclusive in the US.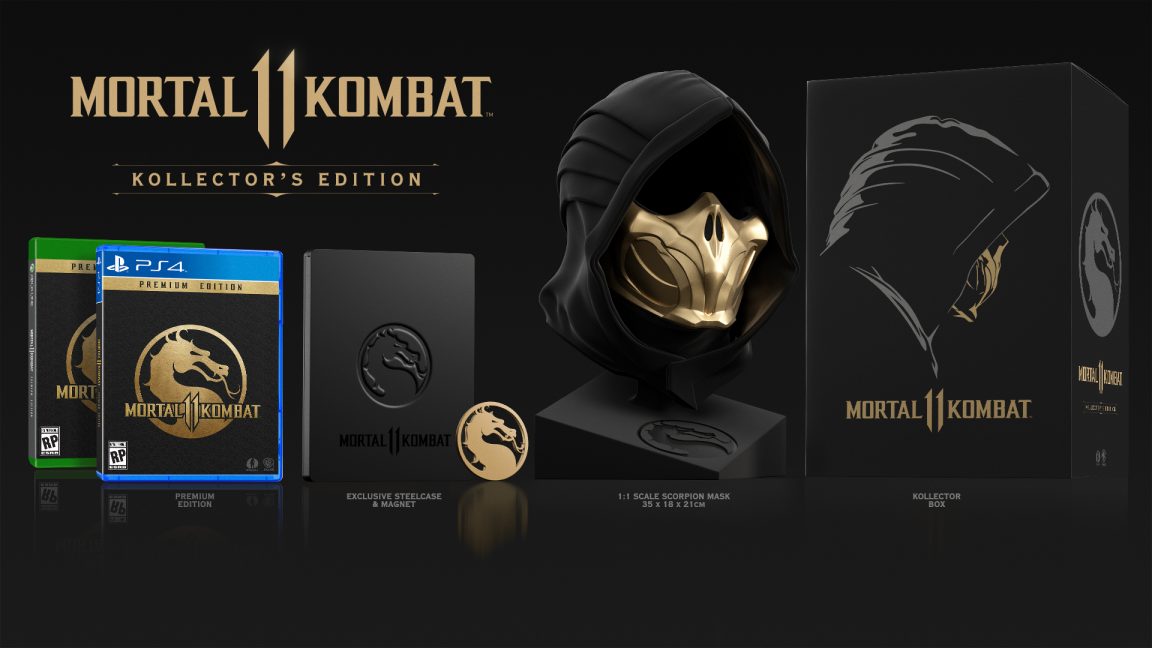 Mortal Kombat 11 beta
The Mortal Kombat 11 beta will start March 28 and will only be available on PlayStation 4 and Xbox One systems. This includes PS4 Pro and Xbox One X.  Sorry, PC users.
Those who have pre-ordered will be able to access the beta straight away. At present, NetherRealm Studios hasn't elaborated on what's included, so be sure to check back for updates.
How to get into the Mortal Kombat 11 beta 
The Mortal Kombat 11 beta will be available to all who pre-order any edition of the game on PS4 and Xbox One. If you pre-order a physical copy, you will receive a code to gain access to the beta. Some retailers may not offer a beta code, so be sure to check first before pre-ordering.
Pre-ordering a physical copy will allow you to redeem the beta code before the tester starts, but you won't be able to download it until it goes live.
Digital pre-orders will automatically gain access to download the Mortal Kombat 11 beta when it is live.
Mortal Kombat 11 trailers
Mortal Kombat 11 Gameplay Reveal
Mortal Kombat 11 Story Prologue
Mortal Kombat 11 Geras Reveal
Mortal Kombat 11 – Sonya Blade Reveal
 Mortal Kombat 11 – Behind-The-Scenes Look
We'll be updating this page regularly as we learn more about Mortal Kombat 11, so watch this space.