Bandersnatch Easter Eggs – every reference in the new Black Mirror episode
Bandersnatch is the latest choose-your-own-adventure film that generously references video game and pop culture relevant to the technological dystopia that is Black Mirror. Here we're taking a look at the secrets hiding in the frames.
If you haven't watched Bandersnatch yet, here's your one and only spoiler warning.
Bandersnatch is the latest choose-your-own-path feature on Netflix, after the success of Minecraft Story Mode. These styles of games have been revitalised by the likes of Telltale's The Walking Dead, as players want to feel more in control of their story and protagonists. Choose-your-own-adventure games often feature morally grey choices and are full of doom and gloom, so it's only fitting that Netflix chose Black Mirror this time around.
Set in 1984, Bandersnatch follows the story of a programmer, Stefan Butler, with viewers making a series of choices that can lead to one of ten endings, deaths of central characters and more.
As with most Black Mirror episodes, there are loads of easter eggs hidden throughout Bandersnatch. From real-life gaming references to nods to other episodes, you'll need to replay Bandersnatch a few times to spot them all.
Black Mirror: Bandersnatch easter eggs
The Bandersnatch is a creature created by Lewis Carroll which features in Jabberwocky, Through the Looking-Glass and the Hunting of the Snark. During Bandersnatch, Butler must find his stuffed rabbit toy, linking into the Alice in Wonderland universe where she must find the White Rabbit. At one point during the film, Butler takes hallucinogenics with Colin Ritman and his girlfriend, Kitty, which is a clear nod to the Mad Hatter's tea party from the same story.
Pax, the Bandersnatch creature, is quite similar to the book's illustration by Peter Newell. It's creepy and I don't want to see it ever again, quite frankly.
Video games are the central theme in Bandersnatch, referencing some real-life games as well as featuring games based on earlier episodes. The company which Butler works for, Tuckersoft, is the same that owns and operates San Junipero, a Black Mirror episode about trapping a conscience in a virtual world, for instance.
Butler's Boss, Mohan Thakur, wants him to finish Bandersnatch by September so that the game can be shipped in time for Christmas. Video game history buffs will remember the ill-fortuned E.T. game for the Atari that was created under similar constraints. While many viewers will be totally unaware of the E.T. scandal, many recall what it was – an unrealistic schedule set by a publisher, wherein the developer rushed the design and production of the game to produce a totally subpar product that they literally buried in the desert with the hope that people would eventually forget it ever existed.
Brooker casually reminds us that it's easy to romanticise obsolete consoles and older titles, as we frequently put old favourites on a pedestal and cry, "Why aren't there more games like this?" before remembering that Red Dead Redemption 2 exists and that no one really wants to go back to playing on an Atari.
Bandersnatch was almost a real game and was being developed by Imagine Software for the ZX Spectrum. Unfortunately, Imagine Software went bankrupt on July 9, 1984, which is conveniently the same date on which Bandersnatch's story begins. Stefan also shares a surname with one of Imagine's founders, Mark Butler. Colin Ritman, one of Butler's colleagues, also shares a surname with another well-known video game developer, Jon Ritman, who produced games such as Bear Bovver and Batman.
The author of Bandersnatch in the film is Jerome F. Davies who is played by English video game developer Jeff Minter, known for psychedelic titles such as Trip-a-Tron and Revenge of the Mutant Camels, where ecstasy can be used to boost your speed, obviously. The cast of Bandersnatch take drugs throughout the film, directly referencing Philip K. Dick by frittering between alternate realities and timelines and the murders that are carried out due to the drug's effects.
Microplay, the video game TV show in the film, is also a reference to Sid Meier and Bill Stealey's publishing company, MicroProse Software Inc. Microplay subsequently became a US label for the company. The Hobbit, 3D Monster Maze and Chuckie Egg video game cases can be seen during the show and there's a brief nod to Rannoch, the Quarian home planet in the Mass Effect universe, with one of the fictional games being called Terror on Rannoch B.
After one of the endings, a QR code with the White Bear icon can be scanned and you'll be taken to a secret section of the Tuckersoft website where a playable version of Nohzdyve can be found, as long as you have a ZX Spectrum emulator. You'll also get to see the other fictional games created for Black Mirror, such as Roachbusters, Terror on Rannoch B and Metl Hedd.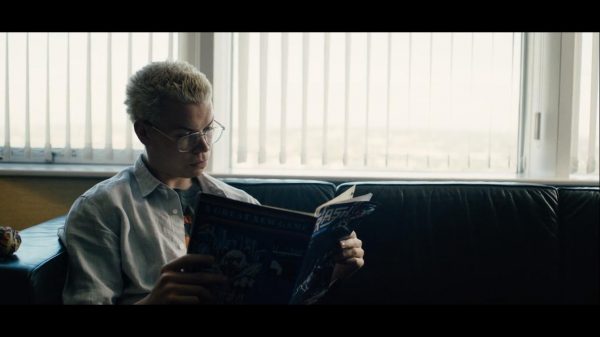 Not content with referencing gaming scandals of yesteryear and including a horrible creature following you around the place, Bandersnatch pays homage to almost all of Black Mirror's past episodes.
The Y symbol can be found everywhere in the Black Mirror universe and is seen on numerous occasions throughout Bandersnatch. I'm still not entirely sure what the Y represents, but whether it's plastered on a billboard or hidden in a subliminal message, you can't miss it.
Ritman is shown to be working on a game called Nohzdyve, which is the title of an episode from Season 3, though spelt in the conventional manner. He's also working on a new game called Mtl Hedd which – you guessed it – is the name of a previous episode where killer mini robot dogs followed you until you were dead. Butler's dad makes a comment about their dog, saying that the dog "will be the death of us" in a bit of clever foreshadowing as the area where the dog is digging is where you can choose to bury your chopped up ol' da.
Butler's therapist is called Dr R. Haynes in a throwback to the curator of the Black Museum, though is later referred to as Patricia Haynes for some reason. There's also the UKN news channel and newspaper, which reference Butler's dad getting chopped into 8-bits, Michael Callow the pig-lover winning the Bake Off and even a glimpse of what might be coming in Season 5.
Smithereens has already been filmed and involves Smithereen's CEO Billy Bauer being grilled about some Russian bots. Nothing like our present reality, then.
USS Callister, Fifteen Million Merits and Hated in the Nation all get a mention in the newspaper, giving rise to the thought that the majority of Black Mirror's stories begin in the 1980s in some shape or form. Some of the book titles in Bandersnatch seem to link back to various episode titles, such as The Stranger in My Bed, which harks back to one of Black Mirror's more upsetting episodes, Be Right Back, where a dead relative is replaced by an android.
Thanks to IMDB for the images used in this article.