Red Dead Redemption 2 vampire hunting, competitive train robberies, bird watching – modes we'd like to see in Red Dead Online
What modes could be coming to Red Dead Online? VG247 investigates.
Now we've all escaped the blizzard, fled East towards Valentine, sampled the sights of Saint Denis, and took a nostalgia trip across New Austin, it's time to look to new horizons.
Red Dead Online goes into beta at the end of this month, and we're starting to speculate on what exactly it will be about. GTA Online has been out for years, it has evolved over time, and it offers one of the richest online experiences around.
Some people have been worrying whether or not Red Dead Redemption 2 can offer the same breadth. After all, GTA 5 allows its players to drive and ride around a virtual city, fly over it in helicopters and airplanes, and even take to the seas by speedboat.
Red Dead Redemption 2, by comparison, might not appear to offer as much variety, but it's there if you look beyond the horses and revolvers of Rockstar's open-world epic.
With that in mind, here are some modes we'd like to see in Red Dead Online.
Cops and robbers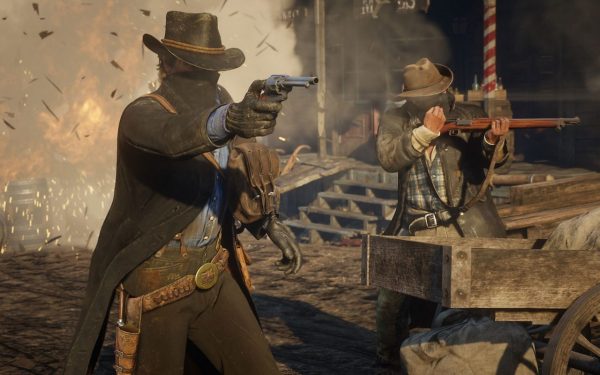 Let's kick it off with an obvious one. One team takes on the role of a band of roaming outlaws, and another team is tasked with bringing them down. This could easily be a straight-up shootout, with one team defending a fortified position and another team attacking. However, I think Red Dead Redemption 2's sandbox offers the opportunity to turn this into something more exciting.
Using the tracking and hunting interface, the team of cops could start out having to track the robbers down. A large area of the map is highlighted and they need to search within this highlighted area for clues of the gang's whereabouts. Meanwhile the gang has to hide, create false tracks, and cover their retreat. Victory for the cops could come from eliminating the gang, or capturing for them extra points. The gang could win by staying alive for a set time.
Heists
This one is a no-brainer after the success of heists in GTA Online. These multi-layered robberies require the teamwork of every player involved, giving everyone on the team a set task. Hold up a bank and one player might need to crack the safes as another keeps the hostages in check. Another player could be peeking out of the window for the law, and another could be prepping the escape route, bringing a wagon around for the illicit goods.
Bird watching
It's not all about killing and robbing in Red Dead Redemption 2. Some of my best memories from playing the single-player are in the moments of quiet, where you're free to take in the surroundings and reflect.
Take a peek at animals through your binoculars to study them and the game tells you what species you're looking at. Basically, Red Dead Redemption 2 already has a built-in bird watching simulator. I didn't even know you could get flying chickens until the other day. Whether this ends up being a mode or not, don't be surprised when roleplayers go all-in on the opportunities offered by Red Dead Redemption 2's simulation of the Wild West.
Hunting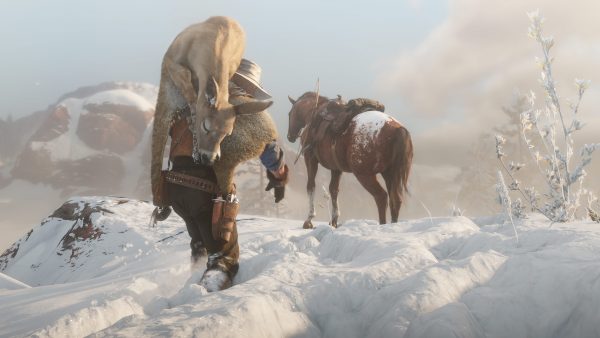 If you'd rather murder animals than appreciate them from a distance, competitive hunting could be your thing. Red Dead Redemption 2's hunting system is extremely in-depth, operating on a ratings system for pelt quality. This system would stop competitive hunts devolving into a massive free-for-all where everyone is blasting every animal they see. Higher points should be awarded for perfect pelts and clean kills, encouraging players to take their time and line up their shots.
Additionally, players could be asked to bag specific animals, and they are each free to go off and hunt in their preferred locations, rather than being hemmed into a small playing area. This would also open the mode up to nefarious tactics, such as stalking a competitor and firing into the air to scare off their mark. Also, let's do a fishing version. Why not.
Multiplayer gambling leagues
If you're like me, you've probably spent an unhealthy amount of time playing poker in Red Dead Redemption 2. As fun as it is, though, there's a way of gaming the system when you're playing against AI. You can often place down massive bets to get them to fold, where actual players might see through your blatant bluff. I can imagine dressing my online avatar up before rocking into Saint Denis as a high roller and reliving other players of their hard-earned dollars.
Competitive train robberies
How do you spruce up a shootout? Set it on a moving arena, of course. Two teams battle over a train stuffed with goods as it snakes around New Hanover. Every time you die, you respawn on your horse and have to chase after the train to jump on again. The best teams will get aboard and have two players holding off rival riders as the other two loot the carriages. NPC security guards can keep would-be robbers on their toes.
Vampire hunting
This section contains spoilers for a missable side story in Red Dead Redemption 2.
There's a vampire hiding in Red Dead Redemption 2 and you have to find all the clues to track them down. In Red Dead Online, a band of friends could team up to find corpses and lost limbs in the alleyways of Saint Denis and the swamps beyond. Find enough clues and you can locate the monster before battling it out.
Last bounty standing
Rather than go down the traditional battle royale route, Last Bounty Standing could drop ten players into the map and mark them all wanted: dead or alive. As well as competing with other players, bands of AI bounty hunters and lawmen are scouring the landscape looking for you. Do you want to retreat into the mountains or hole up in a barn? Last person alive wins.
Wilderness survival
Similar to Last Bounty Standing, Wilderness Survival could pit you against the elements. Crank up the survival elements of Red Dead Redemption 2 and force ten players to live off the land. You have to hunt, eat, and survive in cold temperatures. Watch out when cooking that food, though – the smoke could draw a rival near.
Main missions in co-op
Some of the main missions in Red Dead Redemption 2 are well suited for a co-op spin. You're with your gang members a lot of the time anyway, so let us experience the majesty of that Braithwaite Manor mission with friends.
Shooting competitions
Stack up a bunch of bottles, make a flock of birds take flight, and put us on the starting position with a set weapon and free aim turned on. Seeing who can brutalise the most birds with a bow could make for some real competition. Also, competitive ball-sack kicking, just like in the Oh, Brother side missions.
Ranch management
Like I said before: it's not all about shooting. The main game already has built-in mechanics for menial chores: milking cows, carrying hay, filling up water buckets, and scooping up turds. GTA Online lets players be the CEO of their own company, so it makes sense that Red Dead Online would allow us to manage a ranch and pitchfork a poo.