The VG247 Gear List: gaming hardware picks used by the VG247 team
At VG247 we spend a shed load of time playing games. Here's our picks for the best gear for doing so.
One of the perks of writing about video games as we do on VG247 is that we all get to spend quite a lot of time playing them and, in turn, perfecting our choice of gear in each of our gaming set ups. We test and reject a lot of stuff, and some stuff you read about on the site even in reviews might be considered quality – but the ultimate test of quality is if after the review process we keep using it in the following weeks and months.
On this page the VG247 team run down their current hardware and peripheral picks and recommendations. We'll update a couple of times a year as and when we need to. These are the items we all currently use – so this is a good reference for exactly what rig we might've reviewed a recent PC Game on, plus broader recommendations on any techy items we use for gaming or gaming-related activity. This page will expand over time, so if you're considering building a new PC or you're looking for a new keyboard or controller, this is the place to bookmark and check back on.
Alex's Top Gear Picks
PC Specs
My PC is one of my most prized possessions, and it gets updated fairly frequently. Some elements of this setup have been enduring, though – I'm now on my second Corsair Air 540 case, having loved the first I had so much I just did a straight swap when it was looking worse for wear. I even use the Air 240, its smaller sibling, for a smaller PC in the house.
Given I also spend a lot of time working on the VG247 YouTube channel, the PC has to be good enough for capturing and exporting 4K video quickly, plus editing tasks, general mixing and solid multi-tasking potential. I'm a very strong advocate of quiet fans (thus the fairly expensive Noctua NF series ones I use) and of a modular power supply for neatness. If you can afford to copy those two things, do. Here's the full specs:
Outside of the PC case itself, here's some picks for devices I use regularly during both PC and Console gaming:
Monitor: Asus ROG Swift PG27AQ
This monitor is an absolute beast. It supports full 4K resolution on a gorgeous IPS display, supports NVIDIA G-Sync tech, and as well as the DisplayPort 1.2 connectors I use it also has HDMI 1.4 for connecting up consoles, plus a bunch of stuff I admittedly don't use like USB ports and built-in speakers. The only downside of this display is that it lacks HDR – but a version with that is on the way. If only I could justify the upgrade… (I can't). At 27 inches, it's about as big as I would ever go for a desk-based monitor. I also use a lower-end monitor as a second screen.
Keyboard: Corsair K70 LUX RGB
Once you've gone mechanical you'll never go back, and Corsair's K70 line-up are great keyboards. The model I have has lovely Cherry MX Brown switches, which provide just the right amount of tactile feedback for my style of touch typing when I'm writing on the site. For gaming, there's some great macro features I use, plus the cool RGB lighting if I want to show off. The only down
Mouse: Razer Naga Trinity
The Razer Naga Trinity is actually marketed as an MMO and MOBA mouse, but I don't really play either of those genres and love it all the same. It's comfortable, has a ridiculous 16,000 DPI sensor and 3 interchangeable side plates with different configurations for different kinds of games. I use this alongside a Razer Goliathus Chroma mouse mat, which has cool RGB lighting around the edges and a solid cable management solution.
Headset: Turtle Beach Elite PRO
I liked the Turtle Beach Elite Pro so much that when the one I reviewed for VG247 a few years ago unceremoniously snapped, I picked up another. These headsets perhaps don't take wear and tear as well as they should at the price, but when paired with Turtle Beach's optional TAC pre-amp device, it feels near-enough unbeatable – at least compared to other headsets I've used.
Arcade Stick: Qanba Dragon Joystick
Regular readers of VG247 will know all too well that I'm a full-on fighting game nerd. I own several arcade sticks, but my current first choice is the Qanba Dragon. It's on the expensive and heavy side, but the latter makes it feel sturdy and significant in your lap. Mine has been modded with Sanwa OBSF silent-press buttons to disguise the sound of panic-mashing from my opponents – and if you like swapping buttons, it's got a great opening system that sees the top pop up like the hood of a car.
Capture Device: Atomos Ninja Inferno
For capture on-the-go, the Ninja Inferno is hard to beat. It's actually a recording monitor, but works great for capturing 4K, 60FPS footage of games on-the-go. It's very expensive, however, and there are cheaper solutions built-in to PC – so watch this space, as this section might be added to soon…
Kirk's Top Gear Picks
PC Specs
I've had my PC for a few years now and the only thing I've changed is the GPU and the RAM. Oh, and I banged an SSD in to run my games faster. It's not that I'm completely terrified of changing the CPU and the case, but I'm completely terrified of changing the CPU and the case.
To be honest, my PC can handle most things so I never feel the need to get inside and mess about with it. I probably should clean it at some point, but why fix what isn't broken, eh? Eh? Nah, I'm just really lazy. If given the option, though, I do like to play games on my PC because it's a beast compared to my PS4 Pro and standard Xbox One. Here's what I've got:
For some further tech I'm using for gaming, here's what I have currently. I'm hoping to get a capture kit soon, so we'll add that in. I will also be upgrading my headset shortly, so I'll leave that out for now (my current one was about £15).
TV: SAMSUNG – QE49Q7FAM 49″ Smart 4K Ultra HD HDR QLED TV
I don't use this for my PC because I'm not an animal, but everything looks amazing on this telly. It isn't an OLED, but it's actually much brighter than an OLED. OLED televisions are better for dark rooms, but I used to have issues with screen glare on my last 4K set. You could have the sun in your front room and still be able to see the crisp, colourful image on this set.
Monitors: My main monitor is an LG 27UD69P 27″ IPS 4K UHD, and this is where the PC gaming happens. It's also what I'm writing this on. Hello! It's just as good for being able to read tiny words as it is for shooting tiny heads sticking out of tiny bushes in PUBG. It's the sharpest monitor I've ever owned. My second monitor is an Asus VX24AH 24 inch Frameless IPS 5 ms Console Gaming Monitor with Dual HDMI ports, 2560 x 1440. I mainly use it to keep an eye on people shouting at us on TweetDeck, but it used to be my main monitor and it was a decent step up from 1080p.
I'm not going to shout about my mouse or my keyboard because they're cheap and I am in dire need of upgrades for all my accessories. I'll update this page if and when I can afford to do so.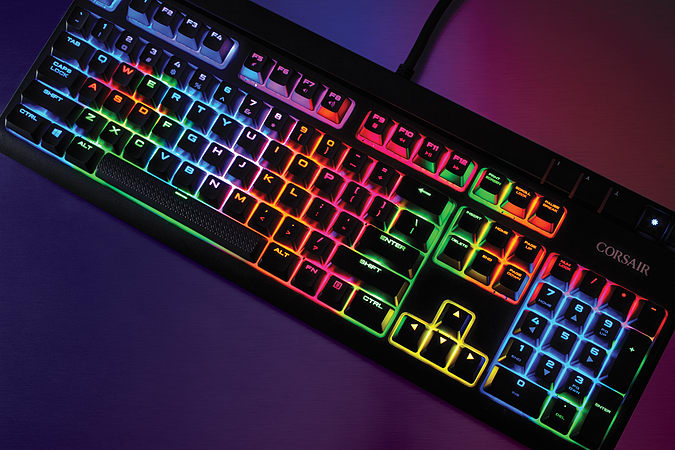 James' Top Gear Picks
Keyboard: CORSAIR STRAFE RGB Silent Mechanical Gaming Keyboard
When you work from home in the same back bedroom as your significant other, the constant click-clack of loud mechanical switches is only ever going to give them (and by-proxy you) the Cherry MX Blues – no matter how responsive the tactile feedback. The silent switches in this Corsair keyboard do an amazing job of giving you a solid, non-mushy typing experience without sounding like an automatic rifle. Something to note if you're interested though: these switches are significantly quieter than most, but aren't totally silent. On the gaming front, the key rollover is flawless and the textured WASD and Space keys are great for orientation.
Mouse: M65 PRO RGB FPS Gaming Mouse
Posh mice are expensive. I tend to find a lot of them plasticy and a bit disappointing, so the aluminium frame and subsequent heft of the M65 make it my far-and-away favourite. The sniper button on the side makes it really versatile too. You can map it to lower the mouse's DPI – useful for popping headshots and making tricky photo edits – or even to pause/play your current audio track, which is a big help when you're transcribing.
Microphone: Blue Microphones Yeti
The Blue Yeti is king of the internet, and with good reason. It's used by a lot of streamers, youtubers, podcasters, and singers because it's easy to work with and offers great sound quality for the price. I picked mine up used for about £50 on eBay a handful of years ago and it's served me well through countless interviews and Skype calls. All you have to do is plug it in via USB – which is less ubiquitous in decent audio equipment than a lay person like me thought – set it as your default audio device, and twist a knob on the back to select if you want to record one or multiple people: simple.
Matt's Top Gear Picks
PC Specs
My PC specs are aging now, but like Kirk I don't feel the need to tinker and change. I won't go into the details because although I play some early access and pre-release code on it, it's not exactly what you would call my gaming "rig". It does have some badass skull stickers on the side of it though. I looking at picking up a quality laptop for gaming and capture in the near future, so I'll fill you in when I've upgraded.
Keyboard: Logitch G513 Carbon RGB Mechanical Gaming Keyboard
I am a notorious skinflint, so have used crappy mouse and keyboards for years now. £10 off Amazon, use it until it breaks, bin it and start again. Imagine my epiphany when I began to use this, a mechanical keyboard designed by the gods. I don't actually use it for gaming, but to write these wonderful words you read today. My fingers mince across the keys, stroking them into a rattling cacophony, a soundtrack for Valkyries to ride into battle. The keys glow like 4am at Studio 54. The palm rest is like having mermaid tails tickle your wrists. It's beautiful.