Assassin's Creed Odyssey blends BioWare-style choice with Metal Gear Solid 5 base management
Assassin's Creed Origins was the RPG refresh Ubisoft's Templar-stabbing series needed, but will Odyssey successfully push that evolution forwards?
If I had to sum Assassin's Creed Odyssey up into a lovely sound bite, I would say something like this: it's as if Origins and Black Flag had a baby, and that baby grew up to land a job at BioWare. You know, when BioWare was still making those games with the shagging in them.
It's Assassin's Creed as a proper Western RPG, filled with branching dialogue, quests, battles, stats, and people to mash your virtual junk into. It's all about giving you options, and it all starts with a simple, series-first choice: do you want to play as a man or a woman?
From there, you're free to carve your own path through Ancient Greece – your lies, your truths, and your love affairs popping back up to Spartan kick you down a well at the most inconvenient moments.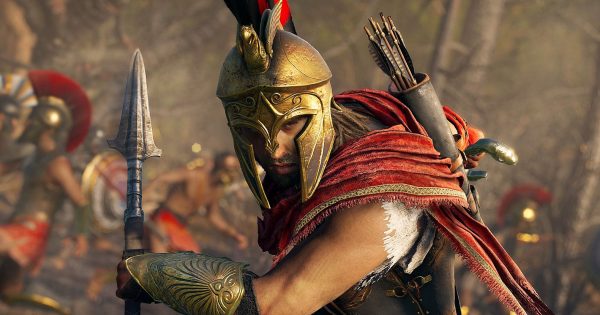 As well as adding in dialogue choices, Odyssey expands on the systemic world of Origins – things such as dipping your arrows into a brazier to light them, or how fire propagates and poison spreads, giving you even more ways to murder people with the environment.
You now come equipped with a range of special moves, from area attacks to the infamous Spartan kick from 300, which sends enemies ragdolling from the nearest cliff edge. It's hilariously over-the-top, fun, and really tempting to use on every civilian you walk past. Be careful, though – Odyssey also tracks your crime.
Kill too many innocents or steal too much and a bounty will be placed on your hood (yes). From there, you'll be hunted down by a Mercenary. Do you pay off the fine, attempt the difficult fight, or try to escape across the sea? Like I said, it's all about choice.
If you do decide to scarper over the waves – though mercs can also take command of a vessel, so be careful – you will sail away your personal floating base; a ship called the Adrestia.
Not only can you upgrade the sails, the hull, the rows, and the ramming power of the Adrestia, you can also recruit almost any character in the world to join your crew. You can see their stats, take them on in combat, and knock them out to gain their loyalty, which is exactly how I make all my friends in real life.
Ubisoft doesn't want your boat to just be a means of getting from point A to point B, the developer wants you to feel like the Adrestia is yours. It wants you to put your personal stamp on it.
All these additions should come together to make you feel like you are a part of this world and you are shaping it beyond simply removing people from the simulation.
And what a world it is. Ancient Greece's seas are gorgeously rendered: dolphins crest out of the ocean and follow your vessel, and sharks tear at the bodies of the crewmembers of sunken ships. Hop off onto a paradise island and the world pops with colour, people bustle by, and birds dart through the sky overhead. Ubisoft always creates amazing places to exist, and Odyssey is no different.
To capture the sound of your ship, Ubisoft climbed aboard a real 16th century Spanish galleon, recording every creak of the wood. Then there's the fact that most of the actors are of Greek descent. It all feels authentic because of the love (and buckets of money) poured into every detail.
Odyssey is shaping up to be a refinement of what Ubisoft achieved with Origins, but its success, of course, will come down to the execution. The story in Origins was forgettable, and the character writing was mixed – Bayek and Aya's relationship was well done, but I can barely remember any of the supporting cast.
Putting an emphasis on choice, especially responses in dialogue, also puts the emphasis on the writing. It's alright taking inspiration from some of the best RPGs, but the writing needs to be of the same quality as those inspirations to keep players engaged.
The story needs to pull you through, not get in the way of the fun. The choices need to be meaningful and add personal weight. The present day sections, in which you'll take on the role of Layla Hassan once more, need to do the same. Odyssey is full of promise, I just hope Ubisoft delivers when it releases on October 5.