E3 2018: Dragon Quest 11 gets a new trailer and special edition pre-orders
Square Enix had some lovely footage of the Dragon Quest 11 English localization for E3 2018.
Kingdom Hearts 3 isn't the only JRPG Square Enix had to share at E3. There was also new footage regarding Dragon Quest 11, the popular Japanese 3DS game that's being ported to English PC and PS4 platforms in the fall.
The Dragon Quest 11: Echoes of an Elusive Age E3 2018 trailer provides some background on the story of the hunted Luminary and his loyal companions.
Along with the trailer, Square announced special editions of the game available to pre-order.
There's the physical Edition of Light version which comes with a reversible cover featuring artwork from Akira Toriyama. Additionally, players who pre-order from the online PlayStation Store will be given an exclusive "The Legend Reborn" Theme as an instant reward. In-game DLC items will also be available when the game launches. Thise who pre-purchase from Steam will receive an exclusive PC Wallpaper Set and in-game DLC items.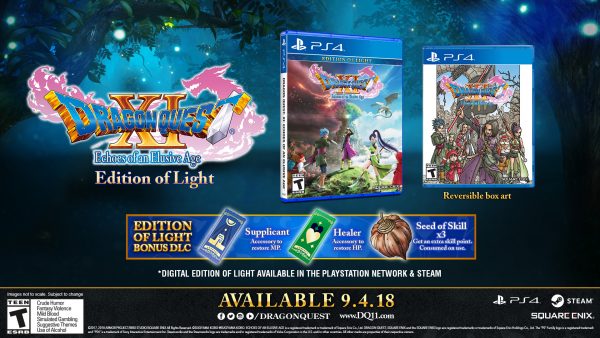 Exclusive to the Square Enix store is the Edition of Lost Time for PS4. It includes the following:
The "Edition of Light" version of the game for PS4
Supplicant: an accessory with the power to restore magic points, Healer, an accessory with the power to restore hit points, and 3 Seeds of Skill, a consumable item which confer a players extra skill points.
Companion Compendium: a 128-page hardback art book featuring concept art and famed artist Akira Toriyama's early designs
Symphonic Suite: 2-disc set featuring orchestrated versions of in-game music
The Map of Erdrea: a 20"x15" cloth map
A Collectible Steelbook Case
Bonus Digital Content: including Pep Pop, a drink that immediately peps up all active allies, and 15 more Seeds of Skill, which confer players extra skill points.

Dragon Quest 11 is coming to PS4 and Steam on September 4 in North America and Europe.
Keep an eye on our E3 conference time guide for all the upcoming conference times and stay on top of all the big E3 2018 announcements.