Agony's deleted scenes include interactive infant murder and first-person rape with visible penetration
Agony recently featured on video game Twitter because the game's press kit was sent out with a cake modelled after a mutilated, vagina-headed demon torso.
The debut trailer prominently featured disturbing imagery, and the developers said they had to dial it down to get the game released, though they plan to patch in the deleted scenes in a future update.
Consider this a content warning if you don't want your day ruined with the details.
This being the age of the internet, those deleted scenes have already started to surface. In fact, they're on YouTube now. I won't link to it, because I'm pretty sure it's in violation of YouTube's ToS, and it's also the most repugnant thing I've ever seen in a video game.
The first deleted scene is an interactive sequence where you play as a demon. The floor is littered with deformed infants, and you are free to go around snapping their necks, throwing them at the ground, and stomping on them underfoot. Physics kicks in upon death and you can still interact with their bodies by walking into them.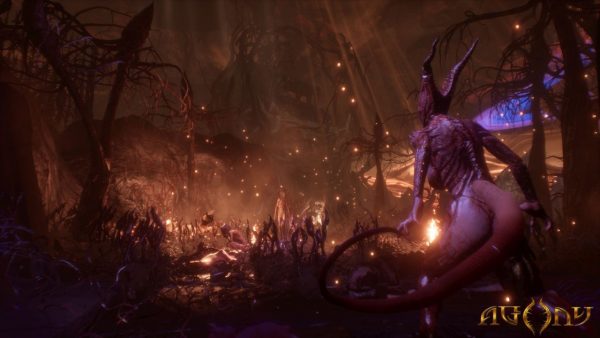 In a later piece of cut content, the player is asked to rape a succubus, and the act takes place from a first-person perspective. It's even more gross than you are probably imagining, featuring full penetration and other details that were clearly added for pure shock value.
Other deleted scenes include arse cheek physics and full sex quickly followed by the birth of a baby, which a demon pulls out of herself. Maybe video games were a mistake.
"In order to be able to publish the game, we had to make some compromises," the developers said in a Kickstarter update before release. "Otherwise, we would have had to to delete the whole project and never release it. With that in mind, we have spent a lot of time to make sure that censorship will not affect the perception of the game.
"That is why for many months we have been conducting interviews with age-rating companies in order not to cut out entire scenes from the game but at the same time modify it enough (e.g. just slightly changing the camera's frame) to get an M (Mature) rating instead of AO (Adult-Only) rating. AO rating means that the game could not be released on PS4 and Xbox One, and we would not keep the promise made on the Kickstarter.
"We also want to confirm that we are preparing a special, optional patch for PC that will remove the aforementioned ;censorship'. We would love to do something similar for consoles but from a technical and legal point of view it is simply not possible."
I would be amazed and disgusted in equal measure if these scenes ever see the light of day on Steam.
Update: There are no longer plans to release the deleted scenes for Agony in a patch on PC, due to "legal issues". However, the developers intend to show them off in an official video somewhere. Here's the checklist of everything still in the game, according to the Steam update:
Gore
Brutal Sex Scenes
Lesbian and Gay Sex Scenes
Genital Physics
Eye Gouging
Heart Plucking
Children Heads Exploding
Setting Fire to Martyrs and Demons
Intense Violence
Strong Language
Drugs