Fortnite: old map vs new map – where is the underground mine and other new locations?
Fortnite Battle Royale is everywhere right now, and after its new map update earlier this week, the game's popularity has reached fever pitch.

But what has the update actually done? Well, here's a handy comparison of the old map vs the new map, with all the new locations, so you know where to head to when you next jump out of the Battle Bus.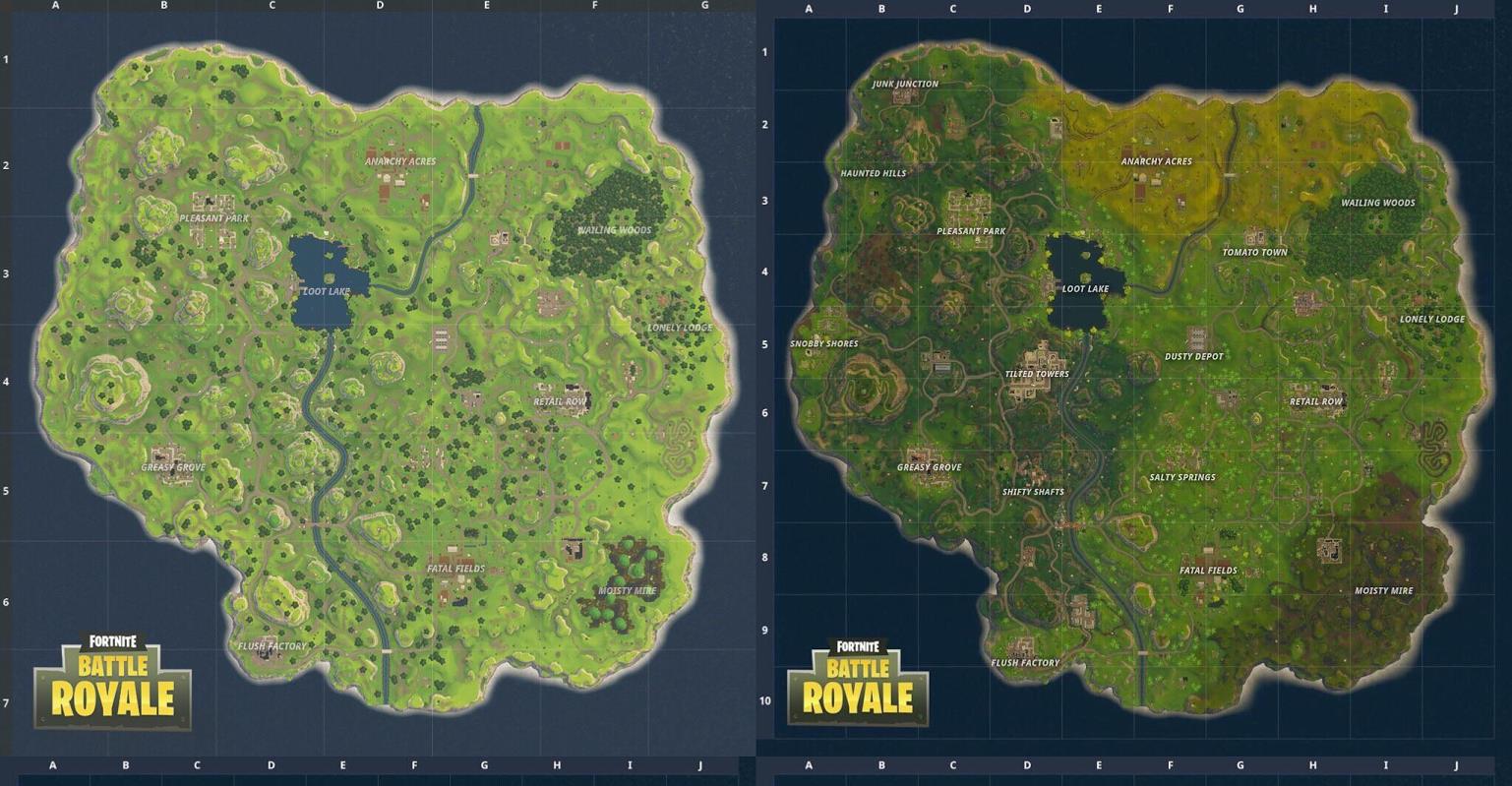 Unfortunately, you can't zoom in on the image in game – but the locations are still visible and some regions are distinct from as far away as the battle Bus itself.
Where is the underground mine – Shifty Shafts?
Made up of a series of subterranean tunnels, Shifty Shafts is not only a great place to grab some loot, but set up an ambush for unsuspecting enemies as well. A lot of the underground chests in Shifty Shafts are hidden behind walls that you need to break down with your pickaxe – so listen out for the sound they make and keep an eye out for a golden glow behind a wood.
Shifty Shafts is located at D7 on the map, south of Loot Lake and east of Greasy Grove.
Where are the walled houses – Snobby Shore?
Snobby Shore is made up of a row of large houses surrounded by high brick walls. There's tons of loot hidden across the houses' many floors and rooms, and all the tight corners make for some intense gunfights.
You can find Snobby Shore at the map coordinates A5, all the way on the left hand side of the island – southwest of Pleasant Park and northwest of Greasy Grove.
Where is the junkyard – Junk Junction?
Junk Junction is a big scrapyard filled with old cars piled on top of each other. It's a fantastic place to scavenge metal for your bases, as well as collect loot. Speaking of bases, just to the north of Junk Junction is a giant llama statue that you can edit to turn into your own fortress.
Junk Junction is located at the map coordinates B1-B2, nearly at the most northwestern point of the map.
Where is the city – Tilted Towers?
Packed with secret rooms, tons of chests and amazing loot, Tilted Towers is going to attract loads of players right from the beginning of the match. If you find Knepley's Pawn shop at the south end of the city, there's a secret basement stash hidden behind some shelves. If you're fast, you can collect some good items and get a huge advantage over enemies.
Tilted Towers is at D5-D6 on the new map, just south of Loot Lake and west of the Dusty Depot.
Where is the church and cemetery – Haunted Hills?
Haunted Hills is pretty different to a lot of the locations we've seen in Fortnite so far, featuring a spooky old church and cemetery, as well as a number of outbuildings hiding loot and chests. There's a lot of cover in this really secluded part of the map, which could lead to a lot of players in a confined space if the storm heads over that way.
Haunted Hills is between the map coordinates B2-B3 in the top left of the map, just south of Junk Junction.
If you want even more Fortnite info, Epic Games released full patch notes along with the new update, detailing all of the bug fixes and balance changes that arrived with the new locations.