Botched launches, closed studios, huge fails and dodgy deals – 2017's biggest gaming disasters
2017 was a doozy of a year for in many ways, but there were plenty of stuff-ups along the way.
2017 saw the release of some pretty great games. But the year wasn't incident-free, with free-to-play microtransaction models working their way into full-priced games, increasingly unfinished games launching before they're ready, and a few tales of industry woe that left us feeling sad.
We've broken down some of the worst moments in games from this year below. No prizes for guessing which game topped our list…
Battlefront 2 disturbs the Force
Where to start on this one? During the beta, we and many others accused Battlefront 2 of having a pay-to-win system thanks to its loot crates, and we were assured that the final game would change this a bit. The game launches and – what do you know – microtransactions are all over the game, so pervasive that it's impossible to ignore them. To unlock every character, you'd need to play for 4500 hours, or spend a lot of money. Not great.
So what does EA do? It changes the whole system, an hour before the review embargo ends. It had seen the writing on the wall when a comment about the microtransactions made on Reddit became the most downvoted post in Reddit history, we suppose, but it tweaked things in a way that didn't make full sense – it also cut the number of credits you earned for completing the campaign, so the system wasn't really much better. Players still had to focus on farming credits over actually playing in an enjoyable way.
Fans were unhappy, and on November 27, amid this massive controversy, the microtransaction system flat-out disappeared after pressure from Disney. Is it being overhauled or changed? Nearly a month later, it's still not clear if they're coming back. What is clear is how much this controversy hurt sales, which were down 60% on the original, causing EA's projected profits to drop considerably.
All of this aside, the game's just not that good anyway. If you want a proper Star Wars fix this year, at least you can head down the cinema and check out The Last Jedi (which – quick review here – is seriously excellent).
NBA 2K18 drops the ball
NBA 2K is the only consistently good annual basketball series on the market, with EA's NBA Live series never really taking off, but that popularity has perhaps gone to 2K's head. NBA 2K has been building up its microtransactions for a while (my former housemate spent a bunch on 2K17), but for 2K18, it got particularly egregious. Kotaku was particularly on the ball with calling 2K out for this, pointing out that the virtual currency price of things rose dramatically in this entry.
Moving forward in 2K18's main modes without spending real-world money became nearly impossible. While Take-Two has acknowledged that fans are concerned, that doesn't mean that 2K19 won't make things just slightly worse again. It also wasn't a good look when the pubblisher pressured The Sixth Axis to take down their 3/10 review of the game. NBA 2K is a very strong game, and sells extremely well – let's hope 2K doesn't completely ruin it.
Mass Effect Andromeda: in space, everyone can hear you sigh
Mass Effect Andromeda isn't very good, at least for the first ten hours or so. This was a bitter pill to swallow at launch, considering how great Mass Effect has been, historically. While the original trilogy remains one of the best RPG series ever made, Andromeda is going to be remembered more for its facial animation problems and numerous glitches than for the space exploration and crew-bonding that the series was so beloved for up to this point.
Andromeda was received so poorly that all plans for DLC, or even future patches beyond August, were cancelled. Stories of a rushed development cycle and lack of vision persist. It's very clear, when you play it, that something was wrong behind the scenes. It's not a disaster, but it sure is a disappointment.
Oh well. At least you can still bang aliens.
EA closes Visceral so badly that we briefly think single-player games are dead
Yes, EA is on here twice for its work on the Star Wars franchise. In October, EA suddenly shuttered Visceral Games, which had been working on a Star Wars game led by Amy Hennig, switching the title's development to EA Vancouver.
This was very much unexpected, with Visceral earning acclaim in the past for its Dead Space trilogy. Perhaps alarm bells should have sounded when EA didn't show it at E3 this year, but the fallout, in media, was a general discussion about whether or not single-player games were going to be viable going forward – EA's comments on the subject made it sound like the game had been cancelled because big single-player adventures simply wouldn't cut it anymore, and that it was being retooled into something that could support all the same microtransaction systems that would, about a month later, sink Battlefront 2 (see above).
Of course, it's may have more to do with the fact that the game simply wasn't coming along well, with anonymous insiders reporting that the project was 'doomed'. In any case, it reminds us of what happened with Star Wars 1313, which we're still upset over.
Lawbreakers takes what seems like a smart approach and gets destroyed for it
Lawbreakers steered away from free-to-play design, offering up a premium shooter experience that played well and was generally well liked. All updates are free, and the game is heaps of fun. And what happened? It bombed harder than just about any other game this year. It is this year's Battleborn – a sacrificial example of a shifting industry that just won't let some games succeed – especially if they look just a little too like Overwatch.
What happened, exactly? The player drop-off was immediate, and it never recovered. It's the kind of game that does so poorly that it's worth writing about, just because the numbers are legitimately shocking.
Things have gotten much, much worse since that initial launch period too. After the game's last free-to-play weekend, I decided to look into things. This is how it did:
Just out of interest I checked the numbers Lawbreakers pulled on its recent free weekend – it topped out at 420, which is both
1. nice
and
2. very bad

— James O'Connor (@Jickle) November 21, 2017
The game is reduced on Steam and PS4 over the holiday break, but that's probably not going to do it. Cliff Bleszinski things the problem might be his history of being a dick, but it runs a bit deeper than that. Lawbreakers won't survive without embracing the free-to-play monetisation strategy that has so annoyed us in other titles, and that's a real shame.
Forza goes off the track on the first corner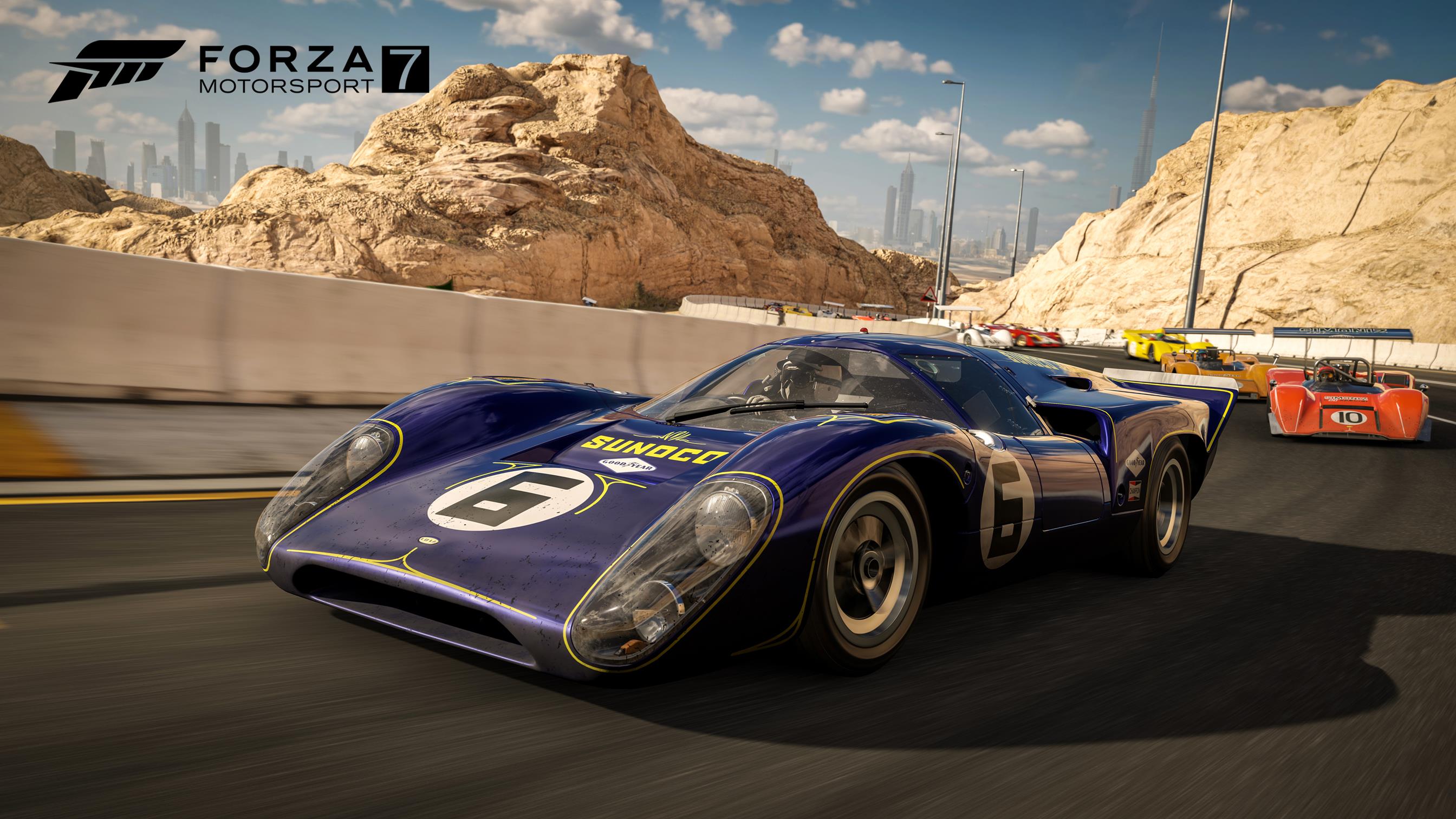 Forza Motorsport 7 is in pretty good shape right now – in fact, it's probably the best game on this list – but boy did Turn 10 mess up the launch. Both the Xbox One and PC versions had issues with the actual logistics of their launches. The Xbox One version carried a 50GB day one patch, which is a bit much, but it wasn't as bad as the PC version, which botched the pre-load in a way that made it difficult or impossible to actually get the game onto your hard drive.
More insidious, though, is the game's approach to microtransactions. As Sherif pointed out, the VIP system completely screwed players who were used to a permanent boost in credit earnings. Instead, the VIP pass awarded you five mod cards that could be used five times each for a 100% credit boost, taking something that was infinite previously and reducing it to 25 uses. This was not communicated by the developer or publisher prior to the game's release.
Turn 10 walked this back in an update, restoring the VIP system to what it used to be. This has become a disturbing trend this year – developers making choices that hurt consumers and then being forced to walk them back when players notice them and get angry. Speaking of which…
Destiny 2: Curse of Osiris makes us curse, alright
We're transparently big on Destiny here at VG247, but we've been quite critical of several parts of Destiny 2 – and the first expansion, Curse of Osiris, doesn't deserve much more than ire. Our review was not positive – Curse of Osiris makes several of the same mistakes Destiny 1 made when it dropped The Dark Below.
This new content, which should had shed new light on the lore of Osiris, gave us almost nothing, making us wonder if the writers really know what they're doing here. It was easy and short, and those who chose not to opt in were locked out of base game content for a while. This was later reversed, but it wasn't a good look.
Meanwhile, most of the good gear is locked behind a horrific grind, Mercury is tiny and has only one new Public Event, the Infinite Forest openly sucks, and Bungie's solution to an overpowered Exotic was to nerf it into damned oblivion.
Here's hoping that Destiny 2's second expansion – and its 2018 in general – fare a bit better.