The best Nintendo Switch games
Our favourites from the rapidly-growing Nintendo Switch library.
The best Nintendo Switch Games
As we approach the end of the first calendar year of the Nintendo Switch being out, it's fair to say that the machine has had quite an impressive opening nine months.
We loved the machine itself back when it launched, but the following months have provided a crucial flow of games that's really made clear it's here to stay in a way the Wii U never was. Everybody was distracted by Zelda at first, and we can hardly blame them for that, but a string of absolute corkers has thanfkully followed.
As the launch fever has died down we've stayed on top of it all, following the Switch as its games line-up swells with a variety of releases. Some might like to say that the Switch has no games, but that's really not true – there's now a good set of titles available, some exclusive and some not, and many great games that are digital eShop-only releases. We've been testing things as they arrive, and here, we report in on the best games for the Switch. According to us, anyway.
In the coming pages you'll find our list of the top games available for Switch – and while we start with the obvious one, we get into eShop titles and smaller games as well as the heavy hitters as we progress down our list.
The Legend of Zelda: Breath of the Wild
Well, duh. I mean, I don't think you need me to really write too much more about this one – I covered it in detail in our ridiculously long review, but the upshot of it is this: not only is this the best Switch launch game, but it's actually a competitor for the best Zelda game ever made and also a strong competitor for one of the best video games ever made period.
Yeah. It's that good.
The thing about Breath of the Wild is that it's brave; it takes a Zelda formula that's worked fine for Nintendo (even if it's struggled to dazzle in recent years) and completely tosses it away for something different.
That different concoction takes influences not just from the original Legend of Zelda but also clearly has been developed with one eye closely trained on some of the best the industry has to offer. There's the exploration antics of The Elder Scrolls and Assassin's Creed clearly visible in its massive world, the sort of tight gameplay loop of Portal found in a great many shrines, the challenge and fear of survival games in its difficulty and weapon degredation.
Anyway, the point is, it's excellent. It's a special game that'll be remembered and talked about for years to come. Read our full review for more.
Super Mario Odyssey
Back when The Legend of Zelda: Breath of the Wild launched it was such a stunning game that I felt pretty sure that Nintendo wouldn't be able to match it, leave alone top it. If Super Mario Odyssey does the latter is quite the difficult call to make, but it certainly manages the former, offering up a similarly fresh take on Mario that somehow manages to be both forward-thinking and respectfully retrospective to the past all at once.
What most impresses about Odyssey is its confidence; despite the fact that Nintendo hasn't really made a Mario game with this sort of structure before (the closest are Super Mario 64 and Sunshine fifteen years ago) they make it look positively easy, cramming every world with activities and things to do that challenge Mario's move set, also the broadest he's ever had in a straight platforming and adventure game.
To say there's something for everyone is something of a cliche but here it rings true: this will be perfect as the first Mario game for somebody young or new to gaming, while those with experience will quickly find themselved tickled by the nostalgic nods and wowed by just how open and expressive its control system allows you to be. It's one of the best Mario games ever made, and that's some damn impressive company to keep.
Mario Kart 8 Deluxe
The original Wii U version of Mario Kart 8 was a special game to begin with. I wouldn't quite go so far as to call it the best entry in Nintendo's massive racing king, but it was definitely up there. Mario Kart 8 Deluxe lives up to its title, however: this is a deluxe take on that game, superior in all the ways that matter, ultimately turning this into arguably the best Mario Kart ever.
What you get here is the complete package from Wii U plus all the DLC plus some additional bits on top. This means a shed load of characters including guest characters such as Splatoon's Inklings, Isabelle from Animal Crossing and Zelda's Link (can we just make the next Mario Kart game feature all Nintendo heroes by default?) and a shed load of tracks. That's 42 characters, 48 tracks, a bunch of vehicles. That's a good package.
The big new addition that ties it all in a neat bow is the addition of Battle Mode, a classic Mario Kart multiplayer staple that was conspicuous by its absence in the last game. Also new is the ability to carry two items at once, two new items, a new smart steering feature that's great for kids and improved visuals – the game only ran at 720p on Wii U but now runs at 1080p and 60fps when docked. It maintains a silky smooth 60fps at 720p in handheld mode.
Mario Kart 8 Deluxe showed up in the Switch reveal video, and it makes sense that it did: this is a classic game that's easy to understand, but it's also one that shows off the Switch's unique functionality well. It's perfect for snapping off the joy-cons and playing two player on the go, for instance, and the short, snappy nature of races makes it perfect for handheld adventures. It's a brilliant, great value package.
Stardew Valley
If there's one thing the first few months of the Nintendo Switch proved, it's that Nintendo's machine is practically born for games that transfer well to a handheld setting – and Stardew Valley is the perfect example of that.
Inspired by the likes of Harvest Moon with a little sprinkle of the likes of Animal Crossing, Stardew is pretty simple: the protagonist tires of city life and ups sticks to move to the country to work a farm. Once there you're greeted with an open plot of land in disrepair and surrounding areas filled with things to do – memorable characters to befriend, monsters to fight and side quests to undertake. Underpinning it all is the simple need to keep things ticking over on your farm.
Stardew Valley was an indie darling back when it originally released on PC and earned accolades when it also later arrived on other consoles, but the Switch could be argued as the very best place to play the game. With a constantly-moving clock, an in-game day in Stardew Valley is a perfect bite-sized chunk of game for when you take your Switch on the go, but there's also plenty of depth to keep you busy for many, many hours.
Before you know it you can easily have sunk ten or twenty hours in and, and the nature of the game means you'll have had a very different experience to anyone else you know. As an eShop download title it's also nice and cheap – the perfect combination.
Snipperclips: Cut it Out, Together
While Zelda is the perfect game to sit down and play on your own in massive nine-hour binges, Snipperclips offers the inverse experience: something small and bite-sized that's ideal for multiplayer either on the TV or on the built-in Switch screen.
When I first played this at Nintendo's pre-launch hands-on event for the Switch the game was set up that way – console out with the kickstand deployed, Joy-Cons detached and ready to go. This makes sense: Snipperclips is the perfect little example of how those controllers can be split by the machine and used by two players in simple games that are ideal for train journeys.
In many ways Snipperclips is a lot like some of the best 3DS download titles – a puzzler with a unique sense of style and a finite but good value set of puzzles to play through. It's all about physics, and while things start out relatively simple it escalates in a brilliant fashion towards complex and rewarding puzzles – but without becoming frustrating.
Perhaps the best thing I can say about Snipperclips is that it feels such a natural fit for the Switch despite essentially being an indie game. This is an indie that caught Nintendo's attention, prompting Nintendo to pick up the game – and the resulting product feels like it could've come out of Nintendo SPD in Japan. That's a big complement.
Puyo Puyo Tetris
So what, I hear you ask. Puyo Puyo and Tetris are old news. You can't do much new with these beloved but old gaming concepts. And, yeah – I admit, you're sort of right. Except… you're not. SEGA proves you wrong by finding the one truly new thing to do with the two franchises – mash them up together.
Puyo Puyo Tetris actually came out a while ago, but due to complicated licensing issues with Tetris in particular was restricted as a Japan-only release. Not so any more – it's available on Switch and it's still just as amazing as it was on its original release. The lower price is a sweetener to an already great deal. This game, bluntly, is amazing.
The big deal is that the rules of Puyo Puyo (or Doctor Robotnik's Mean Bean Machine, as it was to me growing up) and Tetris end up mashed up together, and there's a plethora of game modes that play on this. One player can play with Puyos and the other with Tetrominos, or you can just play pure Tetris or Puyo. At its best, you're playing with both at once, never quite sure which is coming next – a Puyo or a Tetris piece.
It's amazing. It's also perfect for two-player with disconnected joy-cons if you're on a flight or something. This one is a must-have.
Splatoon 2
When push comes to shove the imitable Splatoon will very probably be remembered as the most memorable bit of the Wii U, aside from Nintendo being thoroughly humbled by its performance. Splatoon is Nintendo's most memorable new series since the Super Nintendo, in fact (sorry, Pikmin), a very Nintendo-feeling take on the online shooter infused with a punky, exciting energy that feels new to the company.
The game comes largely from Nintendo staff who have studied under Nintendo's 'big names' but let loose on a game all of their own – and they clearly went wild with it. Splatoon is a cheekier attempt at a sequel, basically the same content as the first game but with some tweaked story continuation and some new maps, but Splatoon was nothing if not begging for the wider audience a more successful machine could give it.
While not exactly all that useful as an undocked Switch game for travel thanks to its focus on online (while there are offline modes, online is where the real action is) Splatoon makes its case as a must-own Switch game in other ways, marking out its territory as one of the best online experiences on the platform alongside Mario Kart. Nintendo has shown strong post-launch support for the game too, adding in new maps, weapons, modes and gear for players and patching in requested changes and features.
If you never got around to playing the original Splatoon 2 is a must-have, but even if you did it's a decent, if iterative upgrade. Highly recommended.
Sonic Mania
After years lost in the wilderness, Sonic the Hedgehog is good again. It'd be unfair to say Sonic is back since he never really left, it's just that he was showing up in a state, drunken, clutching a bottle of liquor. This is Sonic come clean, back to what he does well – and astonishingly, it wasn't even made by Sega themselves.
Sega approved it, of course, but Sonic Mania is basically a fan game, with Sega finally tapping the folks behind fan games and reverse-engineering of the classic Sonic game movement and physics since they seem to be some of the few people left who truly understand why those games worked. After a few test runs on mobile ports of the classic Sonic titles, this is them now trying their hand at something new.
Sonic Mania is a love letter to the good old days, featuring a few classic levels remixed and reimagined and some new levels for good measure. Pretty much every level gimmick from the Mega Drive games makes an appearance here, plus there's some storming boss encounters and absolutely fantastic music. The aim was to look and play like a 'lost' Sonic title from the Sega Saturn era, with the 2D art inspired by the Mega Drive but with more colours and additional effects pushed than the Mega Drive could ever handle.
Sonic Mania nails that feeling, and the result isn't just one of the best Sonic games ever but a game you could make a strong case as being the very best in the series.
Mario + Rabbids: Kingdom Battle
It's sort of difficult to imagine that Mario + Rabbids: Kingdom Battle exists. I mean, imagine the optics for a moment: Nintendo is handing development of a Mario game to an external publisher. That publisher is Ubisoft. The game crosses over the universes of Rabbids and Mario. Oh, and it's a strategy game with light RPG elements that closely resembles the modern reboot of XCOM. I mean, what?!
And yet here it is – and it's good! Mario + Rabbids: Kingdom Battle is delightfully silly, slavishly reverent to the worlds of Mario and extremely lovingly created. Best of all is how it does a truly admirable job of being a family-friendly take on the usually rather hardcore turn-based strategy genre without becoming too streamlined – young Mario fans and XCOM fanboys alike will have a great deal of fun here.
It's also very funny, packed with silly humor that sometimes goes so far that it's surprising it's been allowed in a Mario game. The building blocks that make it might seem like a strange fit at first glance, but they slot together nicely and create something special that's well worth your time.
The Elder Scrolls V: Skyrim for Switch
The very first time we got a glimpse at the Switch in Nintendo's first trailer, Skyrim was running on it. There was that familiar sight – bows and arrows, dragons, slightly janky AI and the still-gorgeous world of Skyrim ready for you to lose yourself in. I wasn't entirely sure if it'd work on Switch, but I couldn't have been more wrong: Skyrim doesn't just work, it's utterly perfect for the machine.
Skyrim's open-ended nature means you can pause pretty much any time you like, fast travel as required to safe spaces and generally hop in and out of it at whim. While I've experienced Skyrim in-depth twice before with two massive save files of over sixty hours each, I'm treating this one a bit differently. I'm playing in small chunks rather than binging, slowly exploring new corners of the world and discovering new quests.
The Switch additions like amiibo-activated Zelda-themed loot and motion controls all work well, but the real marvel is in having a game this huge and this engaging packed into such a tiny, portable machine. Of course, if you've never played Skyrim before the option to binge is there – just dock it and away you go.
Graceful Explosion Machine
If you like a bit of arcade action, Graceful Explosion Machine is probably the best option for that on the Switch – which is saying something considering there are some true arcade classics that have been rereleased on the machine's eShop. Graceful Explosion Machine is basically an arcade shooter, but its systems are built around a deceptively deep weapon-switching mechanic that adds a great sense of challenge and achievement.
While it's a bit of a cliche to deploy, it is indeed a game that's easy to pick up but incredibly difficult to master, with colourful visuals that initially wow and slightly distract turning into perfectly designed and pitched warnings of where you might want to move or where to attack next.
There's a main story mode, but really Graceful Explosion Machine comes into its own when you're going mad in search of a high score – the perfect kind of setup for on-the-go gaming. Oh – there's amazing use of HD Rumble, too.
Minecraft
Here we are again – another port of a game from other consoles that seems to find a new lease of life on the Switch. After hundreds of hours on the PC I was pretty sure I was done with Minecraft, but the release of the Switch version found me being dragged back in again – and deep.
There I was once more building walls around a town, encouraging villagers to multiply in order to get some iron golems. Beneath the town a network of carefully-mapped caverns and, of course, portals to the nether for farming enemy mobs. In no time at all many hours had vanished – and it's all thanks, again, to how special it feels having a fully-featured, fully-fledged version of a game like this on a console. This is no 'pocket edition', but full-fat Minecraft with everything that entails.
The addition of some Nintendo-themed DLC with Mario music and skins for the characters and world are a nice addition, but they're just a bonus. The charm of Minecraft on Switch is just that – having Minecraft, one of the best games ever, on the Switch. Simple as that.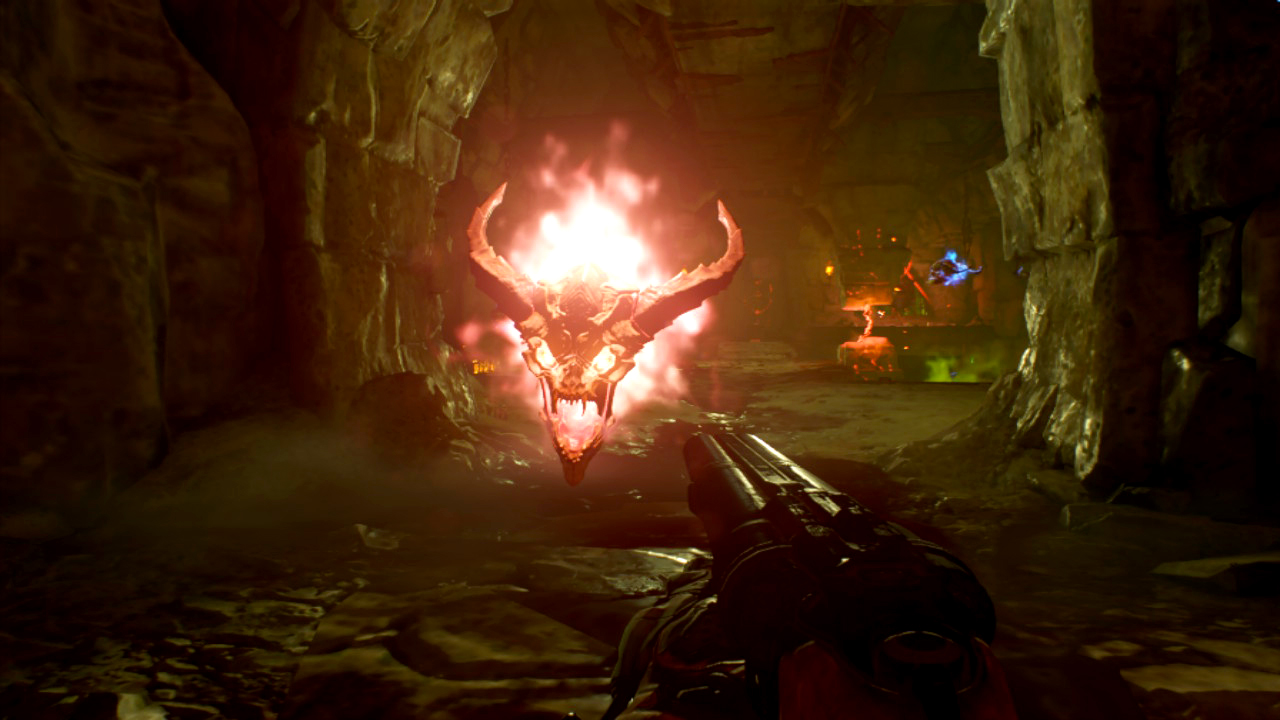 DOOM
It's hard to believe that the 2016 Doom reboot runs on the Nintendo Switch at all, leave alone it looks as good as it does – but it's all there. Handheld or docked, Doom encourages you to rip and tear your way through a sea of demons and is just about one of the most satisfying experiences in gaming – and it just runs on the Switch like it's no big deal, albeit with occasional frame drops and a visual downgrade from the Xbox One and PS4 versions.
Doom is best defined by how melee executions are turned into a way to regain health and ammunition, encouraging you not to hang back and bunker down but get up close and personal with enemies in order to take them down and properly reap the rewards to thus make you more prepared for the next encounter. Like a lot of the best games on Switch (like Mario and Zelda) it's an astonishingly clever revival and reimagining of a truly classic game – and in that success a new modern classic has been created.
One internet meme sort of summed up Doom's attitude and its difficulty: it's not quite the Dark Souls of shooters, because in Dark Souls you're trapped in a room with deadly demons. In Doom, the demons are trapped in a room with a deadly you.
Xenoblade Chronicles 2
Never let it be said that Nintendo has abandoned the most hardcore players with their first-party efforts, for Xenoblade 2 exists. This is one of the most hardcore, in-depth Japanese RPG experiences you can hope to find on any platform – and it's really rather good to boot.
Monolith Soft have of course put out similar games in the form of Xenoblade on Wii and Xenoblade X on Wii U, but this is by far the most confident of their efforts. It does a better job of introducing the myriad mechanics that help to make combat so in-depth and easily personalized for every player and then offers up a truly enormous world for you to roll around in. There's a standard-issue epic plot but you're also free to just explore or tackle side content if you're so inclined.
Xenoblade 2 might not be for the faint of heart. It features some truly awful character design and at times is a little too obtuse for its own good, and broadly speaking folk in need of an adventure should definitely go for Zelda: Breath of the Wild first before attempting this behemoth, but it's an excellent game nevertheless.
Rocket League
It's hard to believe that Rocket League is already two years old, but as the game goes from strength to strength with eSports leagues springing up around it and a player base that continues to grow, the Switch version is a solid version of the game that keeps its excellent balance and tight controls intact while making it run perfectly in both handheld and docked mode.
The port comes from Panic Button, the studio behind the also-excellent Doom port. Notable here is a frame rate of 60fps and the now requisitive Nintendo-themed additional content including Mario, Luigi and Metroid-themed cars and customization options unlocking as you progress through the ranking.
Given that like Splatoon this is a game at its best online this one is better for those Switch players who get most of their action at home, and there's even cross-platform play with the PC and Xbox One versions of the game included to that end.
1-2-Switch
The thing about 1-2-Switch is that, well… it isn't exactly brilliant. It's a game that undoubtedly should've been a pack-in, but if you get the opportunity to pick this one up at a reduced price even much later on in the Switch's life span, it's probably worth your attention. That's why it places here on this list.
Like Snipperclips, 1-2-Switch is another perfect example of part of the Switch's X-Factor – the fact this machine can do both such a sprawling Zelda and these simple Wii-like mini-games on the same devices comfortably is a great advantage.
The games vary in quality but they're broadly speaking good, clean fun. I had guests over and after a fair amount of alcohol deployed 1-2-Switch – the resulting laughs were pretty much exactly what Nintendo likely envisaged. The game is fun, but that fun is almost entirely dependent on the company you keep while playing it.
1-2-Switch isn't going to sell anybody on the machine, but it does make a compelling argument for the other, non-hardcore side of the Switch. If this game had launched at the height of the Wii it probably would've been enormous, and in that regard it's another strong string to Nintendo's bow and a good (if expensive) way to demo the machine to friends.
Fast RMX
Whenever he's asked about F-Zero, Nintendo's Shigeru Miyamoto always seems a bit confused. I read an interview with him once where he expressed confusion that people would want a new F-Zero without the series finding a significant new gimmick to change things up – he's not so much about the samey sequels. So there's no F-Zero on Switch, or at least not yet. Enter Fast RMX.
Fast RMX is exactly what you'd expect, basically: it's an F-Zero or Wipeout style racer to its very core. If you owned a Wii U you might be familiar with FAST Racing NEO on that machine; RMX is actually a remastered, Remixed version of that game – thus the RMX.
It's a more aracade-like feel and isn't anywhere near as punishing as the harder elements of the excellent F-Zero GX, but as an approximation of that style of game it's a decent, worthy contender from an indie studio.
It's pretty too, and mostly runs as smoothly as you'd want for a racer with this speed – 60fps is occasionally rocky, but not by much. There's split screen plus online multiplayer – for its tiny eShop price this one is easy to recommend.
Super Bomberman R
Coming off the back of Fast RMX's tiny retail price Super Bomberman R is… difficult. Bomberman is 33 years old (as the box proudly proclaims), but he really hasn't changed much. Simplicity can be a good thing, but one does have to wonder if Bomberman is in dire need of a Pac Man Championship Edition style kick up the backside to really rejuvenate the franchise – especially if they want full retail price for these games.
Super Bomberman R is a difficult package to recommend in terms of value, but the actual game itself is a pretty compelling Switch experience when divorced from its price. In many ways Bomberman is the perfect 4-player local multiplayer game, and this is a deliberately stripped-back experience that harks back to the classic entries of the series, with superfluous and more ridiculous power-ups removed from the game.
While there is online, Bomberman is really all about that local play, sat around a TV or huddled around the Switch itself somewhere. The controls are simple enough that the small Joy-Cons aren't an issue as they might end up being in some games (I look forward to seeing how Street Fighter 2 holds up on those things) – making it another perfect game to break out to show off the Switch.
But, man – that price. There's a single-player mode complete with cutscenes and the like, but none of this makes the sting any lighter considering we're all attracted to Bomberman for much simpler, basic pleasures – the sorts of experiences that feel like they'd be better off as a cheap download. Even after an admirable couple of patches and some free DLC, it's still a stinger. Still, Super Bomberman R is pretty tempting, but be aware of what you're getting for your full-whack price tag.
Golf Story
I have an enormous soft spot for the classic Mario sports games that appeared on the Game Boy Color, in particular Mario Golf and Mario Tennis. This pair included RPG-like story modes with classic 2D RPG storytelling where instead of battling you'd settle things and earn experience points through your sport of choice. Golf Story is an excellent independent game that follows the same mantra, and it feels right at home on Switch.
Featuring some lovely, cutesy sprite work, a sweet little story with an Aussie twang (it was made there!) and some really great 2D golfing action it's hard to turn this one down – good golf games are all too rare these days.
You can even draft a second player in to enjoy that golf action in story-free multiplayer, something I recently did with a friend on a long transatlantic flight. It's a great combination of single and multiplayer offerings and fares well in both docked and handheld modes.
Snake Pass
In Snake Pass British studio Sumo Digital has seemingly channelled another British studio for their first Switch title: the N64 heyday Rare. While Snake Pass is mechanically different to those classic Adventure Platform titles for the N64, something about this kid-friendly adventure game seems to carry the spirit of those classic games – it just feels like it's cut from that same cloth. That's not just down to the soundtrack from ex-Rare composer David Wise, either.
I've found Snake Pass to be a bit of a divisive game, but I fall into the camp that thoroughly enjoyed it. It uses non-traditional controls and a focus on the physics of how snakes actually move to make a game that just asks you to be curious and just explore. The idea of just making you deal with the inherent physics around being a snake sounds a bit strange, but it really works.
The controls confuse at first but quickly right themselves, and its platform-puzzle action is exciting and unique. It'll take you a decent amount of time to make your way through its fifteen stages – an ideal downloadable gem.
LEGO City: Undercover
Of all the games exclusive to the Wii U, I always felt like LEGO City: Undercover was one of those that suffered the most. It was a pretty good exclusive game, but the combination of not being groundbreaking and not being a Nintendo IP meant that even on a machine so starved for original exclusive content it didn't get as much attention as it deserved.
Now the game gets a second lease of life, and while it's now also on PS4, Xbox One and PC, Switch still really feels like it's where LEGO City: Undercover is most at home.
The game is basically the LEGO gameplay that'll be familiar from the other hundreds of games from that brand, but the twist is that it's set in a living, breathing open world city. It'a also a crime game, albeit one where you play as a cop – so this is basically as close as you're going to get to a kid-friendly GTA game. At that, it works.
LEGO City: Undercover hasn't aged too well since its original release on Wii U, and that combines with some lengthy load times to put it on the lower end of this list. It's still a pretty fun game though, and well worth a look if you're after an open world Switch adventure.
Honorable Mentions
Above we've featured our absolute top picks, but the Switch library doesn't end there. Scattered about on the eShop in particular are a slew of other games that are worth a look, many of them ports that you may have played elsewhere. Here's a quick run-down of the best ones:
Shovel Knight
Shovel Knight is already an indie darling, and it's already one that's closely associated with Nintendo – the titular character even has an amiibo! Switch has a few different Shovel Knight experiences available, and each of them is an excellent call-back to the 16-bit glory days… which is becoming a bit of a theme on the Switch already.
I Am Setsuna
This little gem was released on PS4 and PC last year, but it's now cropped up here on Switch – which seems an appropriate place for it given its inspirations. Setsuna is basically a modern attempt to recapture the magic of SNES-era Japanese RPGs such as Chrono Trigger, and while it can be a little one note it's a pretty excellent first attempt from new Square Enix studio Tokyo RPG factory.
Thumper
Thumper is an absolute joy. While the best place to play this mad, thrumming rhythm game is without a doubt in the intense confines of a VR headset, a pair of headphones makes it a pretty damn intense experience on the Switch too.
Resident Evil Revelations Collection
One of the best titles on 3DS and its 360/PS3 follow-up make their way to Switch in an upscaled, improved format. Revelations is a tightly-wound, satisfyingly frightening action game that occasionally shows its 3DS roots a little too closely, while the second game in the collection is a more action-packed zombie-smashing adventure. Both run well and are worth a punt.
Rayman Legends: Definitive Edition
Rayman Legends is a classic platform that keeps the poor old armless one alive while his irritating Rabbid friends have moved on to bigger and better things, and though this is a fairly simple port of this game, the game itself is an excellent experience.
Voez
Voez has been out on mobile phones for a while, but there's a fair chance you've never heard of it. It's the first handheld-only Switch game – it requires the touch screen, so can't be used at all in docked mode. This is basically a cute rhythm action game with some story stuff layered on top. The artwork is some standard anime stuff, and rhythm games are tactile and fun to play on the Switch screen. If you're commuting with the machine, this is a decently-priced eShop pick.
Human Resource Machine
A puzzle-simulation mash up, Human Resource Machine is basically a wonderful little game that gives you access to basic programming skills in the guise of a puzzle game. It requires some good lateral thinking and though it can be obtuse and frustrating on occasion when you nail something it feels absolutely amazing. It was a hit on PC, and it deserves success here too.
Othello
It's Othello.