8 amazing GTA 5 mods that are worth your time – travel to space, fire vehicles from a cannon, improve the graphics, and more
The Grand Theft Auto 5 modding scene has exploded since the game's PC release – here are some of our favourites.
Grand Theft Auto 5 is still going strong, recently passing a frankly ludicrous 85 million sales worldwide. A lot of those sales are on PC, and modders have really gone to town on GTA 5, picking and poking at it to see what's possible in this engine.
There are hundreds of great GTA 5 mods out there, but these eight really stand out to us as particularly inventive, cool, and worthwhile. If you think you've picked Los Santos apart, give these a look.
We've covered this one before, but it's pretty impressive, so we wanted to highlight it again. This Iron Man zips around at a tremendous pace, and has all the weapons you would want. In fact, it looks like a substantially better realisation of Iron Man than the last official Iron Man game (Iron Man 2 on Xbox 360/PS3, which was rubbish).
You'll have to subscribe to the creator's Patreon at the $2 tier to get it, but hey, it's pretty great.
SUPER. HOT. Superhot was a pretty wonderful game, and while there's more content available for it now, we really like the idea of taking the gameplay model of Superhot and applying it to an open world like this. Basically, the world only moves when you move, so you can plan everything out in advance and move very strategically to put down your enemies. Being able to literally stop your enemies in their tracks is satisfying, even if you have to stop yourself as well.
This one sends you beyond the boundaries of Los Santos…and Earth itself. This one lets you get in a rocket ship and travel beyond the boundaries of Earth, with three moons and 11 planets to explore. It's not quite No Man's Sky, but it's pretty exciting to see this kind of work coming from a modding team.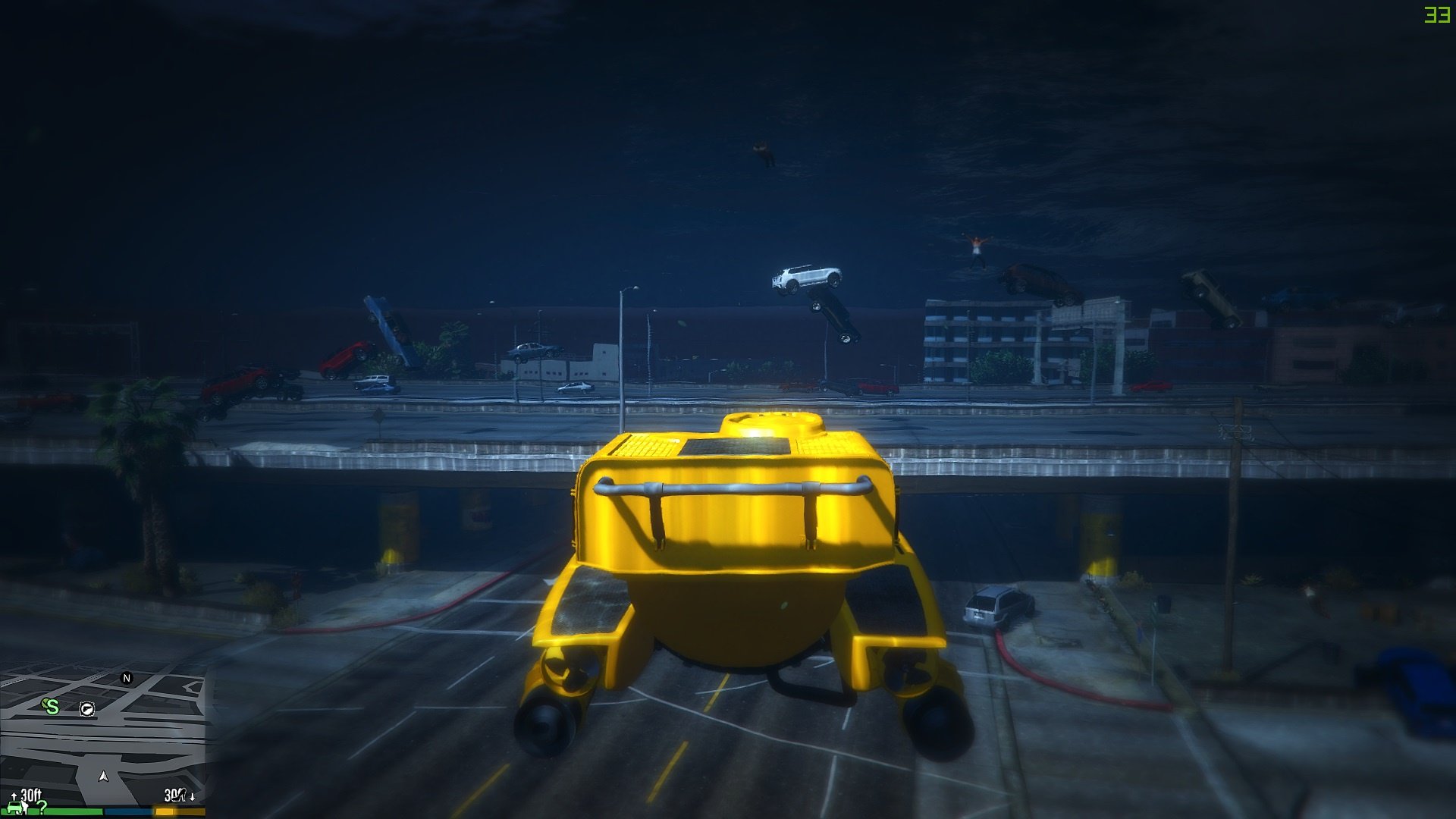 In this mod, you can either have a version of Los Santos with no water, one that is waterlogged like a tsunami just came through, or a version that is completely underwater like the lost city of Atlantis. Again, we've looked at this one before, but it deserves a revisit – it's a very cool idea, and you can either strand some whales or leave them very happy. It's always fun to get a new perspective on an old map.
We love a good gimmicky mod, but sometimes you just want something that makes it a bit easier to appreciate everything the developers have put into the game. This mod opens up 65 building interiors that are otherwise inaccessible outside of specific missions, interiors usually only accessible in GTA Online, or, in a few cases, which have been removed from the game but were left in the code. The mod developers might have made minor changes here and there, but mostly this is a showcase for what Rockstar can do.
This is literally a gun that fires random vehicles, and what more could you want, really? When you fire this gun, vehicles will go flying out, causing carnage wherever you point it. Perfect for dealing with your enemies, or just for causing a big ol' pile up and flaming wreck.
We've got two different mods here – one that adds Doc Brown and Marty's iconic cars into the game, another that (sort of) lets them travel through time. Look, it's not that exciting – the time of day just changes if you reach the right speed – but the DeLorean is such an iconic car that just driving it around is inherently very satisfying. This is…heavy, Doc.
Here it is – the holy grail of GTA visual mods. From their description:
The goal was to try and make GTAV look visually similar to Southern California in real life. The author has viewed more than 40 hours of video footage, hundreds of photos and researched a variety of neighboring districts within the Los Angeles and Salton Sea areas. All of this was necessary in order to produce the most realistic visual experience currently possible with GTAV's game engine.
They've more-or-less succeeded too – GTA 5 looks gorgeous with this mod installed. A real triumph.
Do you have a favourite GTA 5 mod that we've overlooked? Let us know below.