Skyrim's best armour: light and heavy sets, plus low or no armour options
Skyrim returns on Switch and VR, so let's talk armour.
Armour is important in Skyrim, but so is looking good. How can you balance aesthetic and function? Does it matter? What does armour even do?
On this page, part of the our Skyrim guide, we go over everything you need to know to get the ideal armour set up, regardless of your preferences.
We're republishing these tips to celebrate Skyrim releasing on Switch and VR, but even returning veterans may learn something. Let's dig into armour, shall we?
Skyrim's armour cap can be a bit confusing. It's displayed as 567 with a full armour set that includes head, torso, hands, and feet, but each piece has an additional hidden bonus of +25.
The damage mitigation cap is 80%. You'll never top this so as long as you're at the armour cap, 80% of damage inflicted on you will be blocked.
Hitting the armour cap with magic
It's entirely possible to reach the armour cap if you don't want to wear four armour pieces – if you're a mage for example, or if you just prefer the gentle caressing breeze afforded by a skirt.
One option is to use the Dragonhide spell that offers 80% damage reduction for 30 seconds, essentially simulting the effects of reaching the 567 armour cap. Combining this with a necromage vampire build will increase the duration so if you're contemplating being a mage and don't want to be weighed down with armour, consider switching over to the dark side.
There are a number of mage armour perks as well but it's worth wearing light armour and then casting them, as the perks alone will only get you up to around 350 which is the equivalent of around 55% damage reduction. Stock up on Fortify Alteration potions and if you don't mind the long casting times, the Alteration spell will also come in handy.
Hitting the armour cap with crafting
Otherwise, to hit the armour cap you should focus on Smithing and Enchanting.
For Smithing, you'll want to get 100 Smithing, 100 Armour skill, the Ancient Knowledge ability (obtained by completing the quest Unfathomable Depths) that makes Smithing increase 15% faster, and Blacksmith's Elixir which increases weapon and armour improving by 50% for 30 seconds.
When it comes to Enchanting, Fortify Smithing can be added to clothes, rings, necklaces, and torso armour. The effects stack so it's possible to get four boosts to Smithing when a full set is worn.
This is plenty to enable you to craft armour that reaches the cap, and there's no point going trying for higher values – you won't see any further damage reduction as a result, unfortunately.
The best light armour
Light armour is right up our alley. It doesn't weigh much, doesn't slow you down, and sneaking is much more effective than in heavy armour.
True, it provides less protection than heavy armour at the outset, but thanks to the armour level cap, it'll eventually provide just as much protection as heavy armour.
Taking hits, reading skill books, and paying a trainer will all increase your light armour skill and increase the effectiveness of your light armour.
Because the armour cap essentially means all sets end up at the same level, you should choose a set or piece that you like the look of or has a particular bonus that will enhance your play-style. Here are a couple of our favourites.
Nightingale Armour
This is a favourite and thanks to the one-handed and stamina buffs it's great for dual-welding assassins. You can get the armour by doing the Thieves Guild quest Trinity Restored.
At its highest level, it increases stamina by 40 points, increases frost resistance by 50%, and adds 25% damage to one-handed attacks.
It also makes you harder to detect when sneaking, makes lockpicking 25% easier, and reduces the cost of illusion spells by 17%
Dragonscale Armour
This armour set is technically the best set if you're going down the light armour route, and will get you to the cap faster than other sets. Plus it looks super fancy.
You can forge it using dragon scales, iron ingots, and leather strips, but you'll need to have unlocked the Dragon Armour perk and have a Smithing level of 100.
The best heavy armour
Once again, the armour cap ensures that whether you choose light armour or heavy armour, it'll all be the same in the end. But for those who want serious protection from the outset, heavy armour is for you.
Here are a couple of suggestions.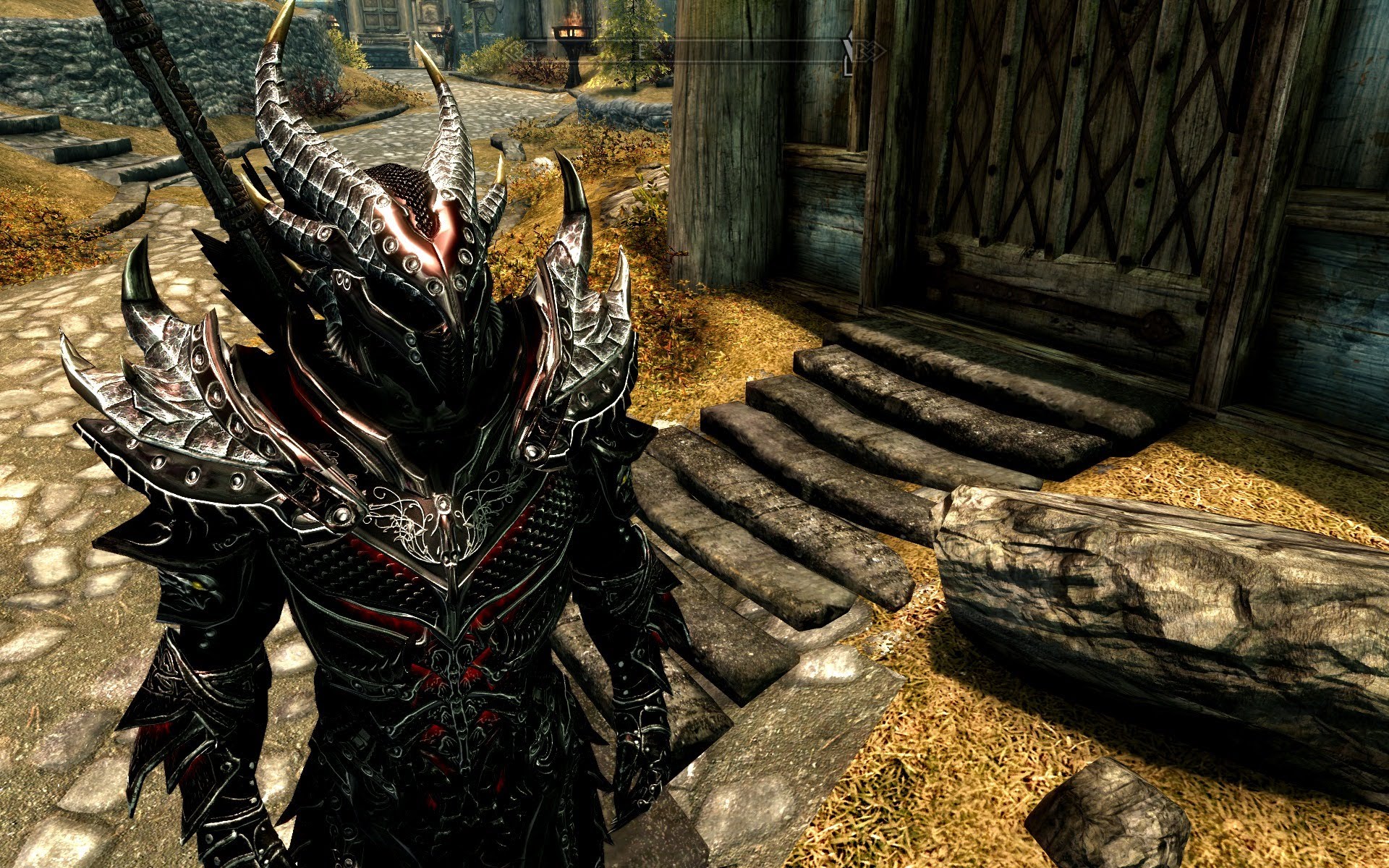 Daedric Armour
This set has the highest armour rating in the base game, making it the best in the category. Looking all kinds of epic doesn't hurt either.
You can craft it with ebony ingots, Daedra hearts, and leather strips, and you'll need a Smithing level of 90 and the Deadric Smithing perk.
Ahzidal's Armor
You can get this armour set by completing the Unearthed quest and it has some pretty good enchantments.
There's a small chance that enemies who melee attack you will be paralyzed while wearing the torso piece but it's so tiny as to be inconsequential.
Conjuration and rune spells cost 25% more, but the range is increased. If you wear any four Relics of Ahzidal you'll get 10 points added to Enchanting, but if you wear any other bits of apparel, you won't get the buff.
How To forge the best armour
We've briefly covered a couple of the light and heavy armour sets you can come across in the game, but if you're determined to forge your own, here are our picks along with what you'll need to craft them.
Daedric Armour set (Heavy)
Daedric Smithing Perk
90 Smithing level
10 Leather strips
17 Ebony ingots
5 Daedra hearts

Leather strips can crafted from leather or bought from merchants for 3 gold, while you can buy ebony ingots for 150 gold once you reach level 27. Kill Dremora inside the Shrine of Mehrunes Dagon located at The Pale for an easy source of Daedra hearts.
Dragonplate Armour set (Heavy)
Dragon Smithing Perk
100 Smithing level
13 Dragon scales
6 Dragon bones
10 Leather strips
Leather strips can be crafted from leather, or will cost you 3 gold a piece from merchants. Dragon scales and bones are drops from killing dragons.
Dragonscale Armour set (Light)
Dragon Smithing Perk
100 Smithing level
14 Dragon scales
4 Leather
2 Iron ingot
Leather can be crafted from hides or purchased from merchants for 10 gold. Iron ingots will set you back 7 gold each. Dragon scales are dropped by dragons.