Doom Nintendo Switch review: a solid port of a modern classic
This is a most faithful version of the 2016 game of the year contender and something of a technical marvel.
Remember Doom 64? It's a weird, wonderful and unique little piece of Doom series history, the only 'main' Doom sequel not developed by id software and one exclusive to Nintendo platforms. It was the last traditional style Doom before id would take the series in a horror-driven direction, a fast-paced (by N64 standards), balls-to-the-wall shooter. Now classic Doom is back, and with it now also comes a welcome return to Nintendo platforms – though even with it in my hands it's difficult to believe this actually works.
I mean, here's the rub about how Doom runs on the Switch: It has a greatly reduced level of visual detail and fidelity thanks to lower-resolution textures and a 720p rendering resolution (docked or undocked, the output is the same), but, well, it runs. And it runs well, shooting for a locked 30fps and absolutely hitting it most of the time, though stutters and other performance issues are occasionally present.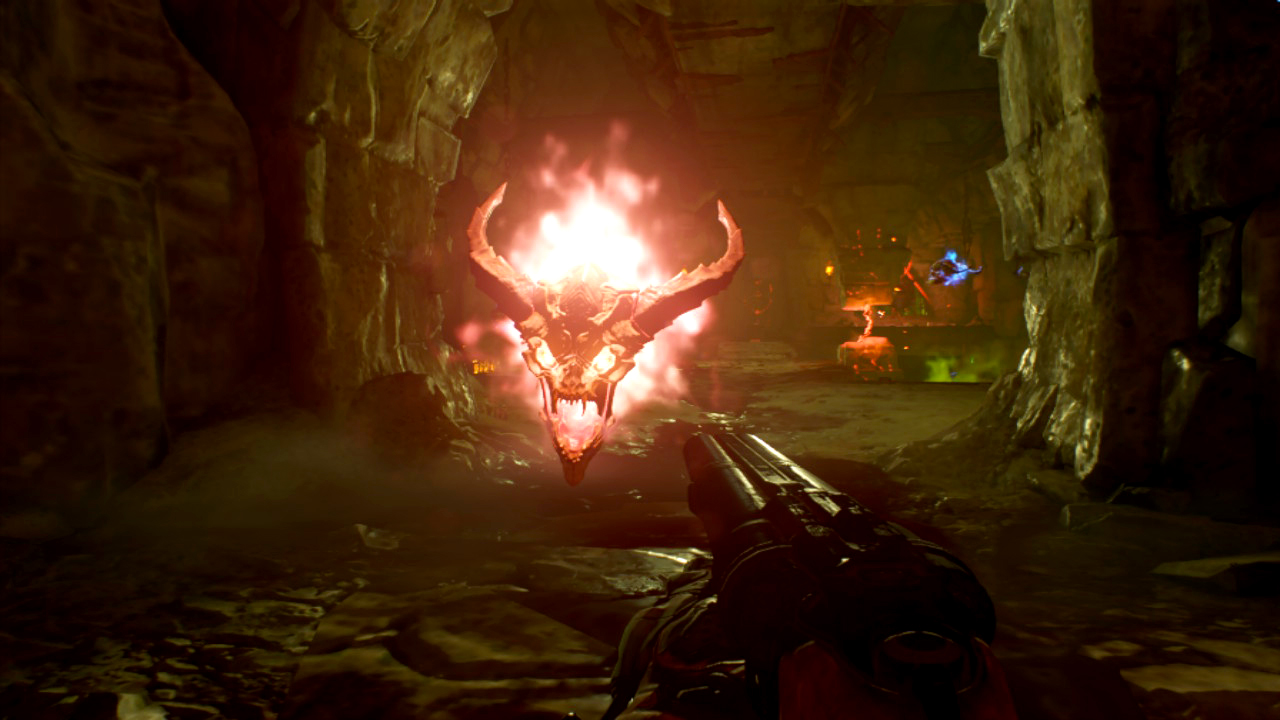 Let's be real for a second: the Switch was never going to become the definitive platform on which to play Doom 2016. That's always going to be a high-end PC, and if you're talking just consoles that's surely now the Xbox One X – but none of those are anywhere near as conveniently portable as the Switch.
Infrequent frame rate issues and the occasional bug can't really drag this down. For its stated purpose, a bit of Doom on the go, this is a perfect, impressive port – and aside from the SnapMap map-editing feature it's also entirely feature complete.
It's hard to believe that this high-end, current generation game is running on the tiny, portable Switch hardware. Skyrim is one thing, but that game is ultimately six years old. Doom is current and yet still manages to put in a decent performance on the Switch, something which I still find myself scratching my head in disbelief over.
More importantly, however, Doom still feels good to play. Something is lost from the halving of the frame rate from the other versions, it's true, but in the context of being able to play this game's campaign or excellent arcade missions on a flight or on a train it's a trade-off I'm willing to make.
"While on paper this is without a doubt the worst version of the game available it also comes packing a barnstorming unique selling point in the form of the Switch's portability."
I have a few minor criticisms, however. The multiplayer feels as superfluous as it ever did, though on the Switch it feels even more-so: multiplayer is very likely an at-home, docked activity and the drop in performance feels to impact this side of the game more than the rip-roaring single player campaign. If you really want to play this game multiplayer you're better off doing it on another platform, but this is still a decent value add for Switch-only owners.
For some reason the default stick sensitivity is turned way, way down and the game feels sluggish and wrong on this default setting. The moment you turn it up (and I mean by a lot: I practically doubled my sensitivity) the game starts to feel right again, with all the speed and snappy action that made this reboot of Doom so satisfying in the first place.
If you don't know all about the game's demon-stomping action, you might want to read our Doom review from last year based on the original PC, PS4 and Xbox One release. Everything said there still stands, but the headline is that this is a wonderfully-designed revival of the spirit of the classic Doom, even if in real moment-to-moment terms it isn't actually all that similar.
This means that the hitscan, instant-hit weapons found in many shooters now are replaced with actual projectiles you can weave around, and the game's real stroke of genius comes in the form of its melee, which is simultaneously a method of killing and one of the main ways you replenish your resources, including health. In order to stay alive you're encouraged to get closer to enemies to take them down up-close and personal, but getting close thus puts you in deeper danger, creating a delicious vicious circle of demon-smashing violence. It's brilliant.
One internet meme sort of summed up Doom's attitude and its difficulty: it's not quite the Dark Souls of shooters, because in Dark Souls you're trapped in a room with deadly demons. In Doom, the demons are trapped in a room with a deadly you.
In Doom the Switch gains an adult-targeted game that Nintendo can be proud to have on their system. This is a modern classic and one of the very best games in recent memory, and while on paper this is without a doubt the worst version of the game available it also comes packing a barnstorming unique selling point in the form of the Switch's portability. Short of lugging around some high-spec laptop this is the only way to play a game like this on the move, and that in itself is impressive. The trade-off of a drop in resolution and frame rate feels entirely worthwhile in that regard.
As for the game? Well, Doom 2016 is still utterly fantastic, the sort of thumping, compelling shooting experience that gets the blood pumping. In a time when so many shooters can feel like rote shooting galleries, Doom feels like something more – and it remains a firm recommendation for anyone who's yet to play it on whatever platform they can get their hands on.