BlizzCon 2017 kicks off today – watch the opening ceremony here
BlizzCon 2017 starts today, and you can watch the opening ceremony right here along with us. Wow. Has it been a year already?
The BlizzCon 2017 schedule is packed as usual and, like last year the opening ceremony can be viewed without need of a Virtual Ticket.
It all kicks off with a pre-show at 10.30am PT, 1.30pm ET, 5.30pm UK, 6.30pm CEST. The main event starts 30 minutes later at 11am PT, 2pm ET, 6pm UK, 7pm CEST.
You can watch the opening ceremony below via YouTube. Alternatively, you can view it on Twitch, over on the the BlizzCon website and through the Blizzard Mobile App.
Times for regions other than what's listed above for the opening ceremony and below for the panels can be found through Word Clock.
Panels for Blizzard titles will be held once the opening ceremony ends. These are locked behind the BlizzCon virtual ticket. We'll bring you news out of the panels as quickly as possible, as Blizzard doesn't send the information over until after each one ends.
Look for plenty of Overwatch news to come out of the show today. Last year, Sombra was finally revealed as a Overwatch hero after enough teasing to make a saint utter string of curses. The Ecopoint and Oasis maps were detailed along with the announcement of a professional esports league for the game.
The Overwatch World Cup Quarterfinals and Semifinals will take place today, and we posted the schedule for you earlier this week.
We already know that there won't be news on Diablo at BlizzCon, unlike BlizzCon 2016 which provided a bevy of content information. Last year, the studio announced the original Diablo was being patched into Diablo 3 and would be an annual January event. The Rise of the Necromancer pack was revealed as well.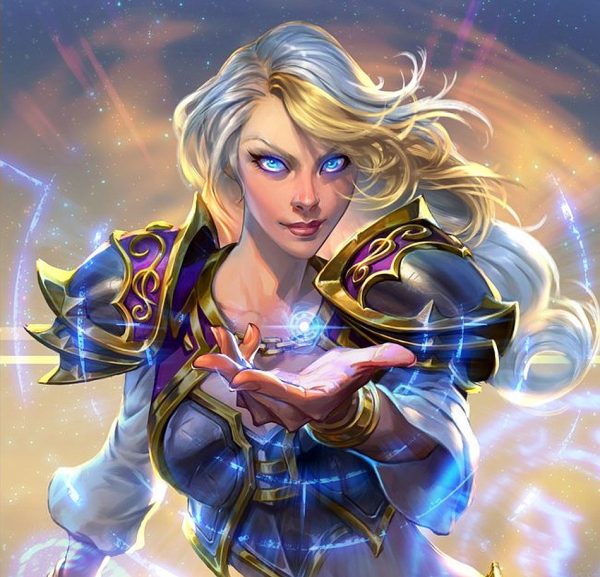 News regarding World of Warcraft is expected, according to the event's schedule. Expect updates on the latest content and features to be provided. Last year, contents of World of Warcraft Patch 7.1.5 with the addition of Micro-Holidays, Brawler's Guild Season 3, and class updates was announced. Patch 7.2: The Tomb of Sargera was also touched upon.
With the July datamine of Kul Tiras Armor and BlizzCon 2017 art featuring Jaina Proudmoore, speculation has it the next WoW expansion might be maritime-based since Kul Tiras is an island nation-state. What Jaina's possible role happens to be is not known, but as a major WoW character, it will be interesting to see what she's been up since she wasn't present in the Legion expansion.
WoWhead has pointed out patch 7.3.2 contains three encrypted models for the ArmoredRaptor mount, Tottle BattlePet, and SeaBraidStallion. These new critters are likely to be announced at the show.
Hearthstone players can pretty much expect a new expansion to be revealed for the card battler. BlizzCon is the main event for large Hearthstone announcements and it will be interesting to learn information on the next theme. Last year, it was Mean Streets of Gadgetzan.
More likely than not, new battleground brawls and heroes will be revealed for Heroes of the Storm, and a first look at the latest updates and "other surprises" are planned for StarCraft 2 players.
Blizzard will also discuss the newest social tools for Battle.net which recently added the ability to appear offline, use multiple text and voice chat channels, an option to customize profiles with an avatar, and more.
The studio is also said to be working on an unannounced, mobile real-time strategy and MMO hybrid game. This bit of news was brought to light when a job ad appeared online, and was subsequently pulled. Whether the mobile game will make an appearance or even discussed at BlizzCon remains to be seen.
Generally, a lot of news comes out of BlizzCon, so hopefully we'll learn plenty across the numerous panels. The panel schedule is posted below.
World of Warcraft – What's Next
12:30PM – 1:30PM PDT
Join the World of Warcraft development team for an overview of what's in store next for the heroes of the Horde and the Alliance, including updates on the latest content and features.
StarCraft 2 – What's Next
12:30PM – 1:15PM PDT
Join the development team as they set the stage for the future of StarCraft 2. You'll also get a first look at the latest updates—plus some other surprises.
Hearthstone – What's Next
1:45PM – 2:30PM PDT
Greetings, travelers! Gather at the inn as the Hearthstone team gives you a look at what they're serving up next and delve deep into how the Year of the Mammoth will come to a close!
Blizzard Social – What's Next
1:30PM – 2:30PM PDT
Join the Blizzard Battle.net team to see the newest tools we've created to help connect our players.
Overwatch – What's Next
2:45PM – 3:45PM PDT
Agents of Overwatch, assemble your team and get ready for a briefing on your next objective. Join the developers for an in-depth look at the newest updates coming to Blizzard's team shooter.
Heroes of the Storm – What's Next
5:00PM – 5:45PM PDT
Take a look into the eye of the storm as we unveil some of the exciting new updates and gameplay changes brewing in the Nexus.