Monster Hunter World guide: gameplay, features and changes in Capcom's new hardcore RPG
Monster Hunter World is coming. Here's what's new, what's been axed, what you need to know and how high to set your expectations.
Monster Hunter World: your guide
Monster Hunter World is the next big entry in the long-running action RPG series from Capcom.
Don't be fooled by the title; World is the next core entry in the Monster Hunter series, not another spin-off or remake. After many years of bouncing between portables, where admittedly it thrived, Monster Hunter is set to make a big splash on the most popular home platforms.
It's had a serious overhaul, too. Monster Hunter World puts a thoroughly modern spin on the classic series formula, retaining the basic hub, quest and hunting structure we all love so much, but generously throwing new features in and updating existing systems.
This series has always had the potential to go really big, and Monster Hunter World looks set to do just that. Don't be left on the sidelines wondering what's happening; get across Monster Hunter World now – and get hype.
Gameplay and Features
In the video at the top of this page Monster Hunter fanatic Arekkz summarises everything we know about Monster Hunter World so far.
For those who prefer to read, this page is full of links to further details, but sinc ealmost all the info came in lengthy videos, we've also neatly summarised the intel so far below. It's been divided into sections so that you can quickly find out exactly what you want to know about Monster Hunter World.
Multiplayer
Offline play is available for solo players. No offline, local multiplayer.
Multiplayer supports up to four hunters at a time.
You can drop a flare at any time in the field to summon drop-in, drop-out multiplayer help.
Multiplayer groups can also form up traditionally before setting out for the field.
Emotes and in-game chat will be available.
Hunting
Combat is more fluid with transition affects and escalating combos, such as the bow's shoot-dash-shoot-dash-special fire arrow combo.
Scout flies will help you find your target, but only after you uncover clues.
Monsters can detect players through sight and smell.
Stealth is a good tactic, but it's optional.
The monsters in each zone are arranged in a hierarchical ecosystem.
Monsters can be lured into fighting or scaring each other.
Monsters will not always be interested in players until provoked or lured.
Lock-on is available in combat.
Damage numbers indicate the effectiveness of attacks – but there are no health bars.
Status changes will show up as visual effects on your character's body.
Mounting progress and success is indicated on the mini-map.
Mounting attacks sometimes involve primary weapons.
Mount interrupts can be recovered with a grappling hook.
You can swim, but there's no underwater combat.
Hit boxes are more complex and expose complicated weak points.
You can continue exploring the field after a successful hunt.
Environments
There's a hub town you'll load in and out of between quests.
The field is "open world" – that is, zones are seamless. You won't see loadings screens during quests.
You can fast travel between base camps in the field, but not during combat.
Each field contains multiple numbered zones and is about 2.5 times the size of any seen before.
Environments include interactive objects such as shock frogs, rock fall traps and poison plants.
You can view the whole map in a menu in addition to a mini-map.
Monsters can damage environments, opening new paths.
Inventory and equipment
All 14 weapons from Monster Hunter 4 are present. Tonfas will not return.
Grappling hook allows access to difficult terrain.
Grapple also serves as launcher for rocks, bombs and other missiles.
Weapon sharpness gauge shows decreasing effectiveness.
You can change gear while in the field at any base camp.
Capes called mantles have gameplay effects like stealth, lure or poise.
A quick-use menu allows for rapid item use in the field.
Traditional scrolling inventory menus are also present.
You can move while using items like potions, but not sprint.
Miscellaneous
Palicoes and Palico Armour return
The E3 2017 demo included a tutorial with fully voiced NPCs and small cutscenes.
Hunter Arts and Styles, and Prowler Mode will not feature.
Fictional in-game language can be switched to English or Japanese.
Global multiplayer servers – no regional gating.
Gathering is contextual and sometimes instant.
Capcom has declined to talk about the following potential Monster Hunter World features – yet.
Story
The new quest system
Companions
G-Rank mode
Transmog
Monster Hunter World trailers
We only have one Monster Hunter World trailer so far, but it's a pretty good one.
This first Monster Hunter World trailer was released during Sony's E3 2017 press conference.
Although it generated a great deal of excitement, it also raised a lot of confusion – some of the footage shown is really misleading. Scan this page for details on gameplay and features before you get too stressed out by the trailer's weird presentation of Monster Hunter World.
We're expecting many more Monster Hunter World trailers as we get closer to release, so stay tuned for updates. In the meantime, you can check out some gameplay footage or through links in the news section below.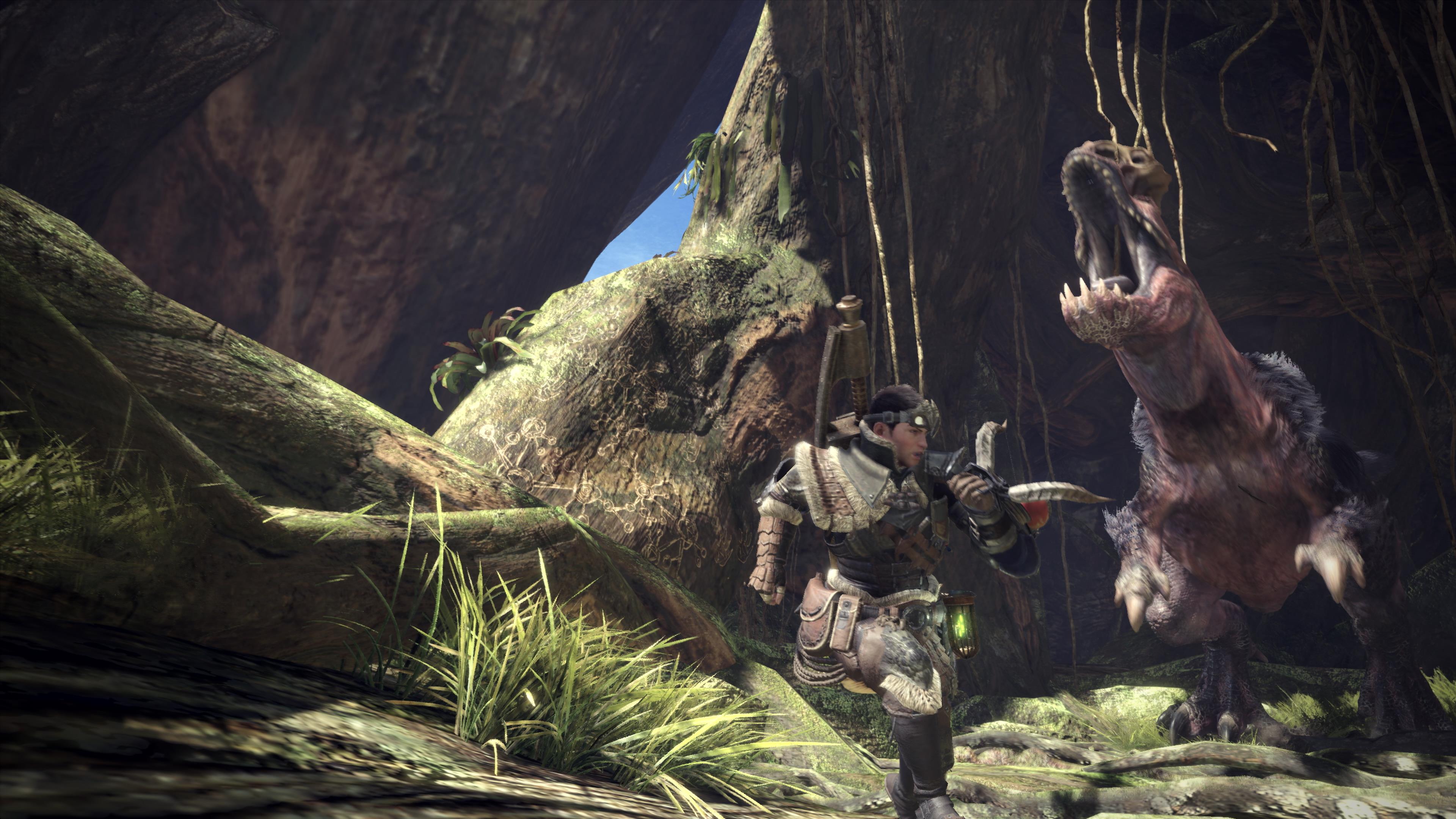 Monster Hunter World release date
Monster Hunter World will release in early 2018 on PS4 and Xbox One. "Early" usually means during the first quarter, so somewhere between January 1 and March 31.
The PC version of Monster Hunter World does not yet have a release window.
There will be no delay between the Japanese and western release dates.
We'll have an update on Monster Hunter World's release date as soon as possible. Given how little Capcom is saying and showing right now, we wouldn't be very surprised to see the project slip a little – but we'd be very happy to be wrong.
Monster Hunter World pre-orders, bonuses and DLC
Capcom has not announced any pre-order bonuses or incentives for Monster Hunter World. Neither has it made any noises about DLC. This is a refreshing change for the games industry in 2017.
Despite the lack of official pre-order information, retailers such as Amazon have opened Monster Hunter World pre-orders.
We'll update this section once more information becomes available on Monster Hunter World pre-orders.
Does Monster Hunter World have cross-platform play?
In a word: no. Monster Hunter World does not have cross-platform multiplayer. Although we'd really love to see it happen so all out PC, PS4 and Xbox One buddies can group up, Capcom has ruled it out.
People are saying Monster Hunter World has cross-platform play because of a slightly ambiguous comment during Monster Hunter World's E3 2017 announce about everyone playing together. This refers to Capcom's decision to axe regional matchmaking restrictions, so players in the US and Europe can play together with Japanese veterans. This should make it easier to find groups to play with.
Which platform is best for Monster Hunter World?
Monster Hunter World is coming to PC, PS4 and Xbox One. Right now we don't have much information about how each version stacks up, but as mentioned in the MHW MHW release date section above, the PC build will be lagging behind the consoles a little bit – so that's something to consider.
On consoles, Monster Hunter World's frame rate is locked to 30 fps. Capcom isn't ready to talk about the PC version's performance yet.
Monster Hunter World has not been announced on Switch, even though – as a franchise that has previously worked so well in portable formats – it would suit the on-the-go console perfectly. A shame, that, but it may have something to do with Capcom and Nintendo's arrangements for other Monster Hunter titles on 3DS.
Monster Hunter World news
In the section we'll gather together Monster Hunter World news headlines, so you can follow along the whole story from reveal to release – or just quickly scan for the latest updates on Capcom's big new thing.
Look for more updates to our Monster Hunter World guide soon. We're betting big on what looks to be one of the most challenging and absorbing action RPGs of the generation.