Call of Duty: WW2 Headquarters mode could support up to 48 players
Multiplayer in Call of Duty: WW2 supports up to 48 players, but this is probably the number of players that can fit into the Headquarters social space.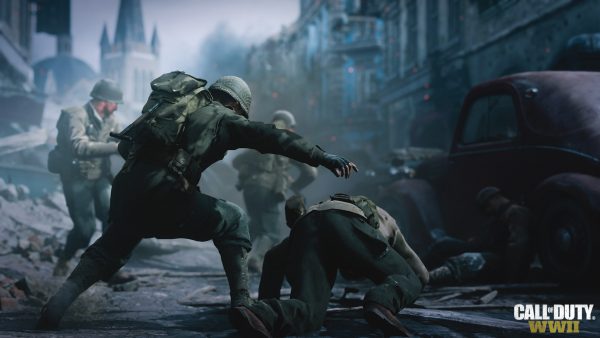 Call of Duty: WW2 will be the first game in the series to feature a Destiny-style social space.
Called Headquarters (not to be confused with the game mode), this space allows players to show off their gear, interact with one another, and generally hang out. We actually got our first a look at Headquarters in last night's reveal event.
It was a very short clip, but we did see players running around what looked like a base by the beach. Now, according to the game's listing on the Xbox Store (via Reddit), this space supports up to 48 players. The store page does not explicitly attribute the number to Headquarters, but it does mention online multiplayer supporting 2-48 players.
First look at the new Headquarters feature in #CODWWII https://t.co/vlpwKPgHwU pic.twitter.com/CCGzByRZtI

— charlieINTEL.com (@charlieINTEL) April 26, 2017
Though this could mean Call of Duty: WW2 has increased player count in one or more of its multiplayer modes (maybe the new War mode?), the page is more likely referring to the new social space, Headquarters. Intersintgly, the game's page on the general Windows store only mentions a maximum of 18 players, which is in line with previous Call of Duty games.
By comparison, Destiny's social space, the Tower, supports up to 16 players per instance. We're going to find out about this and the rest of the game's multiplayer innovations at E3 in June.
Call of Duty: Ww2 is out November 3 on PC, PS4, and Xbox One.