Call of Duty: WW2 first screenshots leak
This is our first, unofficial look at in-game screenshots from Call of Duty: WW2.
Since Activision officially announced the name of the next Call of Duty game, Call of Duty: WW2, different bits of information have been slowly making their way online.
First, we learned some details about the story, the new co-op mode, and the boots-on-the-ground multiplayer. The November 3 release date was then spotted on a big ad.
There's also going to be a "private beta" you can get into by pre-ordering. But, until now, we hadn't actually seen any footage or screens beyond the official art.
The eagle-eyed folks at Charlie Intel noticed that the official Call of Duty website, particularly the account log in page, was updated with three new WW2 images briefly, following the announcement. These have now been taken down of course, but not before the site grabbed them.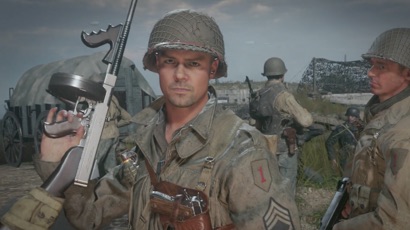 As you can see, these images have a very low resolution, but we can at least see the good ol' Thompson submachine gun. Despite the low resolution, you can easily see how well-detailed everything looks. This is after all the first time we're seeing a WW2 setting on this console generation.
Call of Duty: WW2 will be officially revealed in a livestream this Wednesday at 10am PT/1pm ET/6pm UK. We expect this showing to focus almost entirely on the single-player, judging by how Activision handled similar events for other Call of Duty games in the past.