Blizzard's gradual transition from Battle.net branding has been applied to the game launcher
Blizzard has continued to slowly distancing itself from Battle.net branding over the last few months, and the transition has now been applied to the game launcher with the latest update.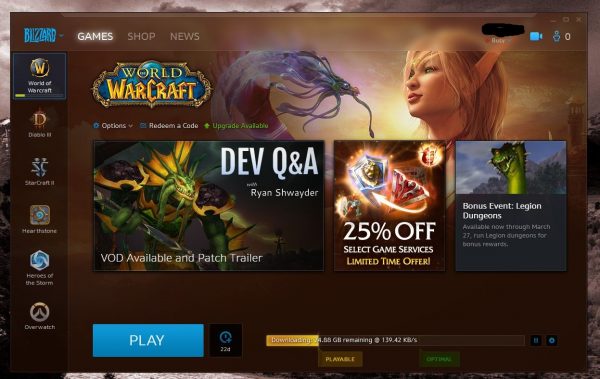 Those who play World of Warcraft, Overwatch, StarCraft and other Blizzard titles may have noticed the change with the latest update to the game launcher.
As you can see in the top left corner of the screengrab we took, the launcher now has the Blizzard logo instead of Battle.net.
In September of last year, Blizzard announced it would gradually phase out the Battle.net brand for its gaming service and the functionality connected to it. Henceforth, it would start referring to its various products and services using the Blizzard name instead.
Changes starting kicking off that month with the addition of "Blizzard Streaming" and "Blizzard Voice," with Blizzard stating there was no longer a "need to maintain a separate identity" for what is essentially networking technology.
Battle.net launched alongside Diablo in 1996 as a chat and multiplayer matchmaking service.