This week's best game deals: Fallout 4 Pip-Boy Edition, Nintendo Switch cases, Call of Duty, more
Another week has gone by and I'm still playing Zelda. Almost non-stop. Just one more shrine. In other news, there's a brand new batch of the best gaming deals of the past week to check out. Which we'll be checking out, right now.
As usual, we've got deals that'll work in the UK, deals that'll work in the US and some deals that will work in both the UK and US, as well as presumably many other places. Let's get started.
UK & US Deals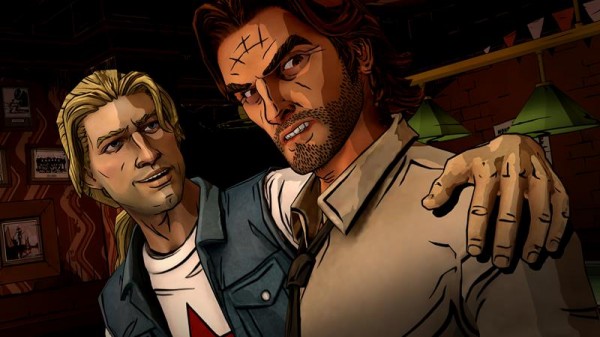 Humble is hosting a sale on a whole range of Telltale Games…games, this week. There's 'up to 80% off' the set, which includes things like The Walking Dead, Batman: The Telltale Series, Minecraft: Story Mode, Tales from the Borderlands, The Wolf Among Us, and Jurassic Park: The Game. Speaking of which, hey, remember that there was a Jurassic Park adventure game? Here are some highlights from the range, while it's still on.
Batman: The Telltale Series for £11.39 / $14.99 / €13.79
The Walking Dead: Michonne for £2.74 / $3.74 / €3.74
Minecraft: Story Mode for £9.49 / $12.49 / €11.49
The Wolf Among Us for £4.74 / $6.24 / €5.74
Jurassic Park: The game for £2.99 / $3.99 / €3.99
Telltale Games Week from Humble Store
Over on the greener pastures of Xbox Live, Gold members (ha!) can get a few key discounts on a range of games including Rainbow Six Siege, Hitman Season One, Gears 4, Far Cry 4 and the truly wonderful Axiom Verge. Specifically, here are some of the highlights of the current batch of Gold savings.
Hot off the announcement that Full Throttle Remastered is not only due out on April 18th, but available to pre-order right now, GOG.com is celebrating by taking up to 90% off of some of Double Fine's finest wares. If you're unfamiliar with Double Fine's body of work, perhaps you've heard of Broken Age, Brutal Legend, Psychonauts or Massive Chalice? Also up for grabs here is a downright bargain-priced copy of Grim Fandango Remastered, arguably one of the best adventure games ever made. You can pick these games up individually or in one big bundle if you prefer.
Day of the Tentacle Remastered for £3.69 / $4.53 / €4.29
Grim Fandango Remastered for £2.09 / $2.48 / €2.39
Broken Age for £3.79 / $4.71 / €4.49
Psychonauts for £1.69 / $1.99 / €1.89
Massive Chalice for £2.99 / $3.71 / €3.49
Nintendo and its official partners have a few options for Switch cases out there but you may have missed when the travel case pictured above was announced – it's quite literally a case for your entire Nintendo Switch, dock and all. In the past week, I got myself a screen protector as well as a carrying case for my Switch, which goes to show how paranoid I now am about damaging the little guy. If you're similarly paranoid right now, feel free to check out our buying guide to the best accessories for Switch over at Jelly Deals. It may be of some use.
Guide to the best Nintendo Switch accessories
The best screen protectors for Nintendo Switch
Here's a friendly reminder that this month's star game when you subscribe to Humble's monthly stack of game keys is Jonathan Blow's puzzle explorathon, The Witness. You'll get that and a handful of other games by subscribing for $12 (around £10). The games change each month, so if you've been meaning to try out The Witness, subscribe before the end of March. The nice folks at Humble say that you can cancel a subscription at any point too, which is nice.
Humble Monthly with The Witness and more games for $12
UK Deals
If you need a little bit more Kit Harrington in your life before the new season of Game of Thrones starts, or you happen to enjoy friendly robot soldier buddies in your video games, you can grab a copy of Call of Duty Infinite Warfare on Xbox One or PS4 for its cheapest price yet. Amazon UK will sell you one of its exclusive editions (which come with some pin badges and extra digital content) for £14.99 at the moment.
Call of Duty Infinite Warfare on PS4 (Amazon Edition) for £14.99 from Amazon UK
Call of Duty Infinite Warfare on Xbox One (Amazon Edition) for £14.99 from Amazon UK
Right this very moment, over at Microsoft's own online store, you can pick up an Xbox One S Minecraft bundle 500GB console for £219.99 and get either an extra controller or a copy of Forza Horizon 3 for free, alongside your new machine. If you fancy it, Microsoft will also give you 40% off a 3-month Xbox Live subscription while you checkout, too.
Xbox One S 500GB Minecraft bundle with extra controller for £219.99
Xbox One S 500GB Minecraft bundle with Forza Horizon 3 for £219.99
Weirdly, the Fallout 4 Pip-Boy Edition is suddenly back in stock over at GAME.co.uk on both Xbox One and PS4, which I imagine is due to someone uncovering some long lost stock in a warehouse somewhere. So if for whatever reason, you still want one of these versions of the game, it'll cost you £69.99 right now.
Fallout 4 Pip-Boy Edition on PS4 for £69.99 from GAME
Fallout 4 Pip-Boy Edition on Xbox One for £69.99 from GAME
US Deals
Final Fantasy 15 has seen its biggest price cut since its launch late last year over at Amazon US right now, since the game is currently available for $34.99 on both Xbox One and PS4. That offer is for a limited time only, though, so if you want it, you'd better head over there Prompto.
Final Fantasy 15 on PS4 for $34.99 from Amazon US
Final Fantasy 15 on Xbox One for $34.99 from Amazon US
In one of the cheapest Xbox One offers so far, NewEgg will sell you a Battlefield 1 Special Edition Xbox One S 1TB Xbox One S console – which comes with a digital copy of Battlefield 1 – for $239.99 via its eBay outlet today. This is undoubtedly a move to clear out stock of the military green console but it's undeniably good value.
Xbox One S 1TB Battlefield 1 bundle for $239.99 from eBay
Over at NewEgg's main site, if you decide to buy yourself a Vive VR headset anytime before Monday, the site will throw in a Radeon RX480 4GB graphics card (around $185 value) absolutely free. Sure, you're still paying $799 for the Vive but getting a whole graphics card as a free bonus ain't bad.
HTC Vive VR headset with free Radeon RX480 4GB graphics card for $799
If you're the type to like your PC accessories to be as garish and questionable as possible, you may want to head over to Bethesda's official store right now. The site is currently clearing stock of its Vault 111 themed SteelSeries accessories – specifically, a gaming mouse and a headset – dropping the prices by about $80 each. The mouse will run you $20 while the headset (a Siberia model) costs $30 while stock lasts.
Fallout 4 Vault 111 SteelSeries gaming mouse for $19.99 from Bethesda Store
Fallout 4 Vault 111 SteelSeries Siberia headset for $29.99 from Bethesda Store
With that, we're done for another week. Keep in mind that deals, prices and availability can change at the drop of a hat, so apologies if you miss out on something you wanted. I'll be over at Jelly Deals, scouring the world wide web for more deals. Feel free to visit, or follow us on Twitter and give us a like on Facebook.
Did you know that Jelly Deals has launched a newsletter? It lets us bring the best deals directly to you each day. Subscribe here, if that seems like your kind of thing.