Final Fantasy 7 Remake and Kingdom Hearts 3 screens show boss fights, gameplay
Along with Final Fantasy 14 Fan Fest going on in Germany, Square Enix also has a presence at the Monaco Anime Game International Conference 2017 (MAGIC). Here, the company showed new images of Final Fantasy 7 Remake and Kingdom Hearts 3.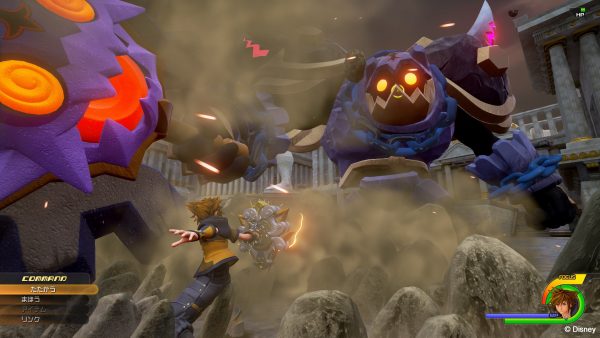 Sadly, not much was revealed on either Final Fantasy 7 Remake or Kingdom Hearts 3, but a little information is better than nothing at all.
According to Tetsuya Nomura, speaking with Gameblog.fr (thanks, Gematsu), the screenshot shown for Kingdom Hearts 3 takes place in Thebes. You also get to see the new model for the Heartless.
Nomura said the Keyblade Sora wields will also turn "into a lot of things," thanks to its Power Form such as a shield and even chariot.
Kingdom Hearts 3 was announced in June 2013 at Sony's E3 press conference, and it doesn't have a release date – but we hope it lands sometime this year.
The Final Fantasy 7 Remake images Nomura showed provide a look at the combat system. He said the combat will occur with without interruption and that when using grenades, allies won't take damage, but scenery will be partly destructible.
In the image below, you'll see the Scorpion, which is the first boss in the game.
Nomura also said he wanted to show a video of the game, but Square denied the request, but more would be shown at a later date.
Final Fantasy 7 Remake was announced at E3 2015 for PlayStation 4, and it too is without a release date.