Nioh hands-on: Souls plus samurai is a pretty great idea, it turns out
Tecmo Koei's new action RPG is promising indeed.
Previously-deadlocked Japanese developers are suddenly on a roll. Final Fantasy 15 is out. The Last Guardian is out. And now, Nioh – a less famous but no less lengthy development – is finally also almost in our hands. Work originally began on Nioh back in 2004, but in 2008 all of that work was thrown out. Their second attempt would also be rejected in full, and so the third attempt to make the game work fell to Team Ninja – Tecmo Koei's action game masters, famed for Ninja Gaiden.
"What about Souls, but with Samurai? As elevator pitches go, that's a strong one."
"At one point it was more of a Japanese RPG, and at another point it was more of an action game," Team Ninja head Yosuke Hayashi explains. Hayashi strikes me as assured and confident in his game – he excitedly gives a detailed presentation on its features and laughs gleefully when I describe one of my more painful deaths during my hands-on time. Nioh may not have originated with his team, but he clearly has been infected with the same enthusiasm for its core concept that kept it alive at Koei through many difficult years.
"What hasn't changed is that the protagonist has always remained a blonde, blue-eyed samurai from the West. But y'know, now, this current version – a combat RPG, an action combat RPG, what we're striving for is a sense of satisfaction for gamers when they defeat enemies or overcome certain challenges. We're really happy with where we're at right now."
I hate to be reductive, but the shorthand for what Hayashi is saying is simple: This game is a Souls-like. Enemies drop a currency that gets spent on RPG progression, and when you die you leave behind a mark on the ground you want to try to get back to. To restore health you find shrines, and shrines work pretty much identically to bonfires in Souls, except shrines are also where you level up and the like. It's all very similar, though – but that's no bad thing. Dark Souls is good. I'm up for a different take on its ideas, and Nioh certainly has that.
While there are some gameplay adjustments to differentiate things, the biggest change is cosmetic. Where Dark Souls is a sort of medieval Western slant on design, albeit filtered through Japan, Nioh fully embraces its Japanese roots. It's here where it's most different. What about Souls, but with samurai? As elevator pitches go, that's a strong one.
"When we were at a point where we were thinking about what the next step would be for Koei Tecmo, we really decided that what we wanted to do was to accentuate our strengths," Hayashi explains when asked about the game's open Japanese style. "Our strengths are to emphasise some of the Japanese qualities. We have the Ninja Gaiden team who have worked on games that are also very Japanese, so those were strengths that we wanted to accentuate."
"We didn't really think about what the US or European audiences would think about a game like Nioh – we just focused more on what our strengths were," Hayashi adds. I think this brave – it's an era where, with console sales crashing in Japan, many Japanese developers are trying to take on Western ideals in their big-budget games. Nioh goes the opposite direction; it fully embraces some deep classic Japanese culture and mines it to create an interesting new setting.
Some of it is mined from history, too. William Adams was an English explorer who was the first to reach Japan. Adams had an incredible life, going on to take up citizenship in the until then hugely reclusive nation and even becoming a key adviser to shogun Tokugawa Ieyasu. Adams was the inspiration for the classic 70s novel Shogun (which is well worth a read, by the way), and that novel itself spawned stage and screen spin-offs. Nioh's protagonist, William, is directly inspired by the real-life fish out of water story. Tokugawa and other figures from the era feature prominently in the game as major story players.
There's a touch of the West to William leading the game, of course, and many have made note of his visual similarity to one Geralt of Rivia, but he is the exception: everything else of Nioh that I play is hugely indulgent in its Japanese trappings. Rather than demons, most enemies in the game are based on classic Yokai. According to Hayashi, these decisions seem to be working out.
"When we first introduced the demo we got a tremendous response from the European audience," he says. "That was the first time we really realised that Nioh resonated in the West. It was really after the demo that we started to get really excited about that."
Beyond that smaller changes help to make Nioh's gameplay proper feel like it'll have a further material difference to Souls. For a start there's a type of skill upgrading tied to weapon classes that isn't impacted by deaths, and the game seems more heavily married to RPG concepts, perhaps a hold-over from the iteration of the title that was a full-on JRPG. Loot spews out of downed enemies in a Diablo style and there's quite a lot of it.
"Nioh heavily inspired by other popular games and is absolutely okay with that, wearing its inspirations openly but also carving out an interesting identity of its own."
Hayashi describes the RPG elements as absolutely key to Nioh's identity and something that was a focus for the traditionally fully action-focused Team Ninja from the very start. "We thought that would be more of a complete, challenging experience," he adds. "We really never diverged from that focus from the beginning."
In moment-to-moment action William has four different stances available to him. This system seems rooted in the importance of the katana to Nioh's setting; to have that satisfying samurai moment in combat, you need stances. That basis translates into stances for every weapon type, however, leading to a seemingly ridiculous breadth. Combat feels good moment-to-moment, and though a couple of hours of event-based hands-on wasn't enough time to master stances and the like I began to get the strong impression that this is a system with a lot of potential depth. I'm on board.
The setting offers other interesting opportunities such as firearms, too. When I start the demo William is equipped with both a bow and an utterly enormous gun that one-shots a lot of enemies but era-appropriately takes an age to load. It seems you'll be able to strategize some distance combat options that'll be unique to this game too.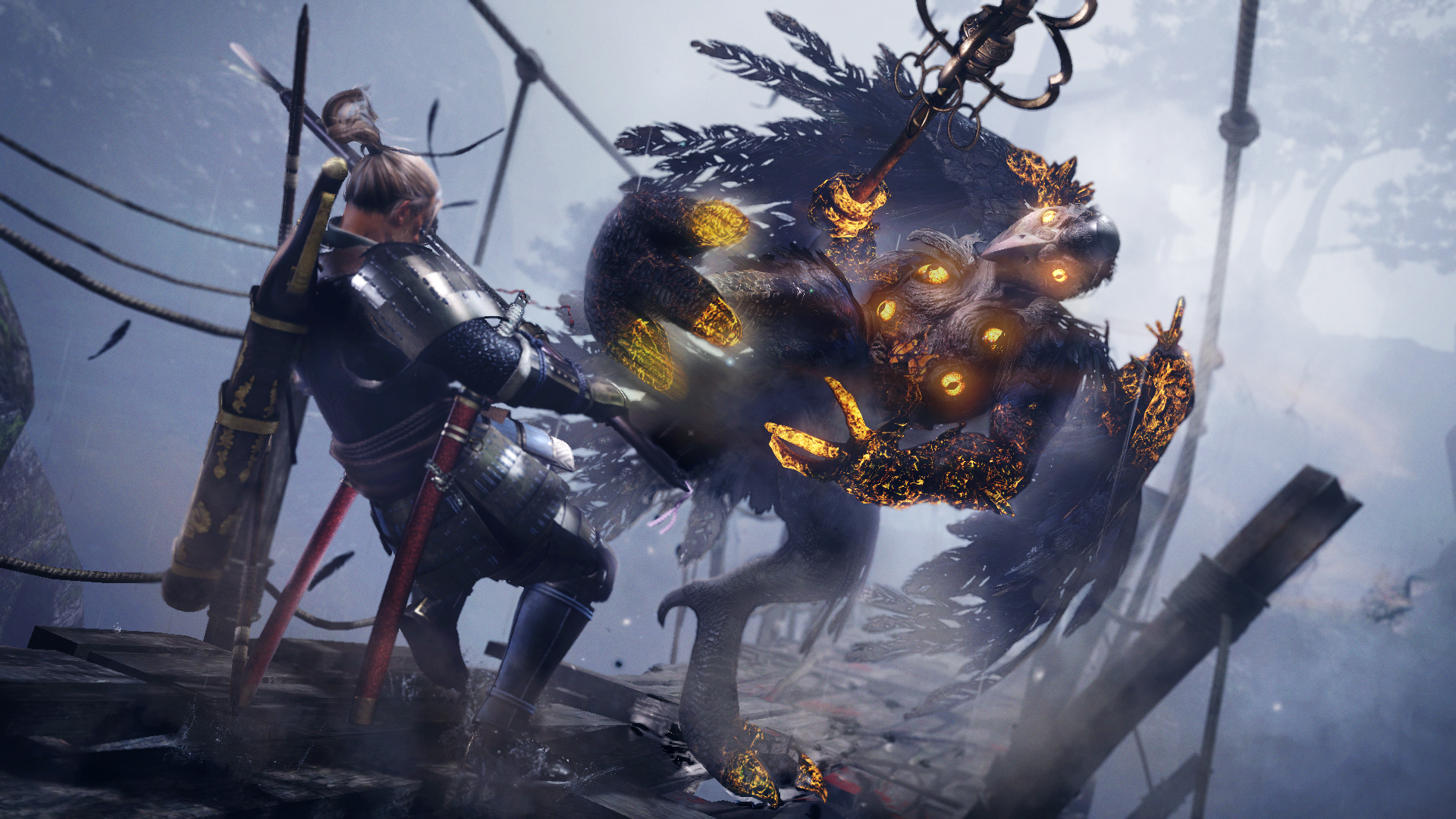 Once you play it for a few minutes it becomes absolutely clear what type of game this is. Chances are you already know if you're interested or not. If you are, know that this seems like a pretty good take on that kind of game. It's the exact kind of game that gives a little more faith in Japanese development after how rough the last generation was for many of Japan's finest.
"The market has definitely changed," Hayashi comments when asked for his opinion on Japanese game development in general. "But there's also the component of how Japanese studios really needed to rethink the way they developed games."
"For Nioh, we really started at focusing on making sure that we had the appropriate team and the team structure. Also, I think that… in the previous generation, many of these studios went into it wondering what kind of games they should make for that platform. Going into the current console generation we've been more proactive from the standpoint of saying 'hey, we want to make this type of game' from the start."
Hayashi's comments strike a chord with me, as that's what Nioh feels like more than anything else: confident in its identity. It's heavily inspired by other popular games and is absolutely okay with that, wearing its inspirations openly but also carving out an interesting identity of its own. The proactive attitude to development can be seen in the final product. I'm about ready for another super-challenging RPG, and I'm looking forward to battling some more Yokai in a few weeks' time.