Black Friday deals: Titanfall 2, Rock Band 4, cheap Xbox Live Gold, and more
Just because Black Friday 2016 is technically over and done, it doesn't mean the deals have stopped flooding in from retailers online and in-store. We've got another batch of deals to go through today in this post, so settle in and maybe even save a few pennies.
Just like the last week of posts, we'll be focused entirely on gaming deals in this post but if you're interested in checking out various techy or non-gaming related deals, head over to Jelly Deals where we've been keeping track of deals on everything from TVs to Chromecasts.
UK & US Deals
GamesPlanet is shifting away from Black Friday-centric naming structures and flinging us all into the realisation that Christmas is creeping up at an exponential rate. The site is currently hosting its 'Xmas Sale' with offers changing every few days. The first set is here, so here are some highlights.
GamesPlanet Xmas Sale Part 1 – ends 27th November
UK Deals
I'm sure this doesn't mean anything great for the state of rhythm games in this day and age, but you can currently get a copy of Rock Band 4 along with its guitar controller on either Xbox One or PS4 for a crazy-low price of £19.99 at Argos. I'm sure that plastic guitar is probably worth about that, let alone the game, music licensing and packaging. But hey, it's yours for 20 quid if you want it.
Rock Band 4 with Guitar Controller on PS4 for £19.99 from Argos
Rock Band 4 with Guitar Controller on Xbox One for £19.99 from Argos
This year's (final?) entry into the Uncharted franchise is the kind of game that I'd recommend to anyone who even remotely wants a PS4. They should probably mail copies to all PS4 owners, but until that weird Orwellian future happens, you can grab a copy of the game for £22.85 at ShopTo.
Uncharted 4: A Thief's End for £22.85 from ShopTo
If you're a fan of boxes, squares or any form of 2D indie puzzle game, this one's for you. Both of the BOXBOY games are available on 3DS through the eShop for the record low price of £2.69 each. That's BOXBOY and BOXBOXBOY, if you didn't know and I honestly hope the developer maintains this naming convention for several more iterations.
BOXBOY on 3DS for £2.69 from Nintendo eShop
BOXBOXBOY on 3DS for £2.69 from Nintendo eShop
Microsoft is keeping up its Black Friday offers on Xbox One consoles this weekend with this newest offer of an Xbox One S 500Gb console along with an extra controller and copies of Halo 5 Guardians, FIFA 17 and Forza Horizon 3 for £229.99. It's a cavalcade of Microsoft branded products for your escapist consumerism needs and it's a nice saving to boot. You can also upgrade the bundle to a 1TB console for £279.99.
Xbox One S 500GB with FIFA 17, Halo 5 Guardians, Forza Horizon 3 and extra controller for £229.99 from Microsoft Store
Re-up on your Xbox Live subscription and get yourself a swanky skin for Gears of War 4 while you're at it. Amazon UK is currently slashing the price of 12 month Xbox Live Gold subscriptions down to £24.99, just like GAME did yesterday, but Amazon's range includes a version that comes with a Gnasher weapon skin too. Neat.
Xbox Live 12 Month Gold membership with Gears of War 4 weapon skin for £24.99 from Amazon UK
Honestly, most of you probably already own and have played the hell out of The Witcher 3 by now, but if you somehow haven't tried this one yet, you can grab the Game of the Year Edition on PS4 or Xbox One for a stupidly low price at Tesco Direct right now. It's going for £19 on either format while stock lasts.
The Witcher 3: Game of the Year Edition on PS4 for £19 from Tesco Direct
The Witcher 3: Game of the Year Edition on Xbox One for £19 from Tesco Direct
Amazon Prime members can get involved in some timey-wimey action adventure with a copy of Quantum Break on Xbox One at its new lowest ever price of £15.99. It's got that fella from Lord of the Rings in it as well as that fella from Game of Thrones and it's from the people who brought us bullet time. So that's nice.
Quantum Break on Xbox One for £15.99 (Prime Members only) from Amazon UK
US Deals
Over in the US, Walmart has added an Xbox One S bundle with a decent stack of stuff. For $249.99, you'll get an Xbox One S 500GB console in white or grey with Battlefield 1 or Minecraft as well as your choice of a 4K blu-ray movie and a $20 Walmart Gift Card just for kicks.
Xbox One S 500GB with Battlefield 1 or Minecraft, selected 4K blu-ray and $20 Walmart Gift Card for $249.99 from Walmart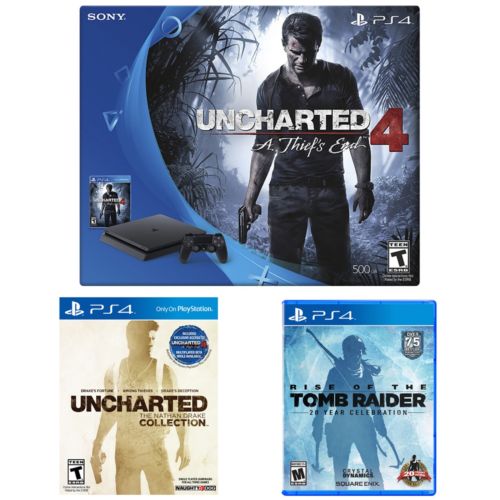 If you're looking for a PS4 instead, you can head over to eBay right now and get this PS4 500GB console with copies of Uncharted 4, Rise of the Tomb Raider: 20th Annviersary Celebration and Uncharted: The Nathan Drake Collection, all for $249.99. While stock lasts, at least.
PlayStation 4 500GB with Uncharted 4, Rise of the Tomb Raider and Nathan Drake Collection for $249.99 from eBay
Lara Croft has spent the last twenty years finding every possible ruin, artifact and supernatural apparition she can. You can get involved with her latest life-threatening adventure for $22.49 if you're a PC player, thanks to GameStop US's current offer. Remember that time Lara casually murdered a T-Rex? What the hell was up with that?
Rise of the Tomb Raider Deluxe Edition on PC (Steam) for $22.49 from GameStop US
Heads up, Amazon US's stock of Titanfall 2 on all consoles has been drifting in and out of stock since yesterday but it's currently back in stock and still priced up at $28 for a PC copy or $27 for a PS4 or Xbox One version. Grab a copy, maybe two, while you can. Remember the Titans.
Titanfall 2 on PC for $28 from Amazon US
Titanfall 2 on Xbox One for $27 from Amazon US
Titanfall 2 on PS4 for $27 from Amazon US
Sunset Overdrive is now cheap enough that it's almost being given away on the street at this point. It's currently down to $5 at Toys R Us right now, if you want it. Am I the only one who would really appreciate a PC version of this game?
Sunset Overdrive on Xbox One for $5 from Toys R Us
If you're the type to like yourself some wrasslin', you can get your hands on a Xbox One or PS4 copy of this year's professional wrasslin' simulator, WWE 2K17, for $29.99 as a part of Amazon US's Black Friday sale.
WWE 2K17 on PS4 for $29.99 from Amazon US
WWE 2K17 on Xbox One for $29.99 from Amazon US
The movie version may not have set the world alight when it was released earlier this year, but the video game reboot of the original game to coincide with the movie that was based on the original game (still with me?) was pretty fun. It's down to $9.99 over at GameStop US, which makes it a must-have if you just got yourself a nice, shiny PS4 Pro console since it's got all that lovely 4K support.
Ratchet and Clank on PS4 for $9.99 from GameStop US
Fallout 4 gets another price cut. Not surprising at this point, perhaps, but always welcome. Head into the irradiated version of Boston for yourself for only $15 with a copy of the game on any format from Target right now.
Fallout 4 on PC for $15 from Target
Fallout 4 on Xbox One for $15 from Target
Fallout 4 on PS4 for $15 from Target
That's all for today, folks, but we'll still be here all weekend and through to the unfortunately titled 'Cyber Monday' to scope out all the best deals and price cuts. If you want to stay as up to date as possible with the Black Friday deals as they arrive, head over to Jelly Deals or find us on Twitter or Facebook.