This week's best game deals: Win a copy of Civ VI, spooky savings, GeForce 1060, and more
Grab a cheap GeForce 1060 and be in with a chance to win a free copy of Civilization VI. What more could you ask for? Come check out today's best deals.
Honestly, I'm surprised that the internet survived both a Red Dead Redemption 2 announcement as well as brand new Nintendo console by way of a strangely compartmentalised box called the Switch. I'm definitely super excited for both of those things, though. The only way you could make the Switch more appealing to me right now is if you told me it could also transform into a truck for when you feel like reliving your childhood in the eighties. Wait, is that one just me? Oh, okay. Well, either way, we've got some rather nice deals on offer this week, so let's go ahead and take a look.
We've got deals that'll work in the UK, deals that'll work in the US and some deals that will work in both the UK and US, as well as presumably many other places. But before we get to all of that, we've got something extra special this week, in the form of a good, old-fashioned giveaway. Let's begin.
Contest time!
We're going to kick things off with something a little different this week since we're lucky enough to have a set of Steam keys for both the standard and Digital Deluxe editions of Civilization VI to give away, courtesy of the folks from GamesPlanet. If you want to be in with a chance of winning one of these lovely, lovely free copies, go ahead and click the link below for all the details.
Entries close on Monday at 4pm and are open to anyone in the UK, Europe, Africa or the Middle East (since the Steam key won't redeem anywhere else).
UK & US Deals
Over at Bundle Stars this weekend, there's a whole host of games at reduced prices with an extra 6% off if you use the code SCREAM6 at discount. For the voucher to work, you'll have to spend a minimum of £6/$6/€6, which seems appropriately seasonal.
Scream Sale at Bundle Stars – Save 6% with code SCREAM6
Capcom's action RPG Dragon's Dogma finally found a PC release at the beginning of this year in the form of the prettied-up Dragon's Dogma: Dark Arisen. So, if you're a dedicated fantasy fan, you're completely obsessed with dragons or you just have a real love for hanging out with people you refer to as 'pawns', this one has something for you. The PC version is extra cheap right now, thanks to Green Man Gaming, where it is currently £9.79 / $11.99 for a limited time.
Dragon's Dogma: Dark Arisen on PC (Steam) for £9.79 / $11.99 from Green Man Gaming
The space trucking strategy simulation that took the internet by storm earlier this year, Stellaris, found its way into the heart of many a PC gamer. You, too, can be one of these heart-warmed gaming types now, since Stellaris is reduced down to £23.44 / $28.77 over at GamesPlanet right now.
Stellaris on PC (Steam) for £23.44 / $28.77 from GamesPlanet
The game that did what Sim City couldn't, Cities: Skylines, is a city builder of massive scale and ambition. It plays pretty damn well, too. It's currently down to £5.75 / $7.05 right now as a Steam download from GAME, or you can cough up a few extra coins to get the Deluxe Edition for £7.50 / $9.19.
Cities: Skylines on PC (Steam) for £5.75 / $7.05 from GAME
Cities: Skylines Deluxe Edition on PC (Steam) for £7.50 / $9.19 from GAME
This being the month of spooks as it is, Sony is playing host to a whole heap of discounts on some horror (or otherwise disquieting) video games. This means games like Until Dawn, The Evil Within, Bloodborne, and Alien: Isolation are all on sale, amongst others. You can check out the range right here, or head over to our Jelly Deals page where you can see the entire list in a handy dandy text form.
Halloween Sale on PlayStation Store – Full List
US Deals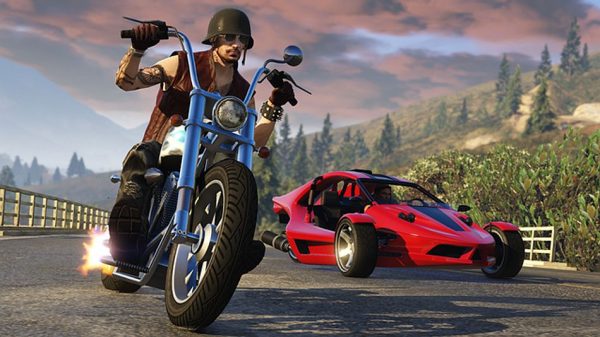 Grand Theft Auto 5 is a game that needs absolutely no introduction at this point. What you do need to know at this moment in time is that Best Buy is selling the Xbox One and PS4 versions of the game for $29.99. Neat, right?
Grand Theft Auto 5 on PS4 for $29.99 from Best Buy
Grand Theft Auto 5 on Xbox One for $29.99 from Best Buy
United Front Games was suddenly shuttered this week (damn it, world, why can't we keep good things?!), and somewhat coincidentally (?) the PS4 version of Sleeping Dogs: Definitive Edition is on sale on the US PlayStation Store. You can pick it up for $7.49 right now, and in this writer's opinion, you absolutely should. In our hearts, Sleeping Dogs will never die.
Sleeping Dogs: Definitive Edition on PS4 for $7.49 from PlayStation Store
UK Deals
If you're looking to put together a build for a new gaming PC anytime soon or want to update your existing setup to be a little more VR-capable, you'll probably want to read this. Right now, GAME is offering a GeForce 1060 3GB graphics card (made by ASUS) for £199.99, which makes it one of the cheapest ways to get yourself a ten-series GeForce card so far. It's real hard to turn down a brand new graphics card for under £200, no matter how new your PC is.
GeForce 1060 Graphics Card for £199.99 from GAME
I believe it was the great philosopher Andrew W.K. who once said, "You can do anything while partying. You can even party while partying." Truer words never were spoken, good sir. As we all know, there ain't no party like a Guitar Hero party because a Guitar Hero party involves plastic instruments, alcohol, and embarrassment. If any (or all) of those things sound like your kind of deal, go ahead and grab the 'Supreme Party Pack' of Guitar Hero Live from GAME, where it can be yours for £39.99 on Xbox One or PS4 (a full £20 cheaper than it's currently listed on Amazon for).
Guitar Hero LIVE Supreme Party Edition on PS4 for £39.99 from GAME
Guitar Hero LIVE Supreme Party Edition on Xbox One for £39.99 from GAME
Good ol' Geralt (or GOG, as I call him) is back once again in The Witcher 3, perhaps for the last time. If you've managed to miss playing The Witcher 3 since its release, there's never been a better time to get onboard, since TheGameCollection is currently selling the game on all formats for £24.95.
The Witcher 3: Game of the Year Edition on PS4 for £24.95 from TheGameCollection
The Witcher 3: Game of the Year Edition on Xbox One for £24.95 from TheGameCollection
The Witcher 3: Game of the Year Edition on PC for £24.95 from TheGameCollection
Some people just can't get enough of the massive space soap opera that is the Mass Effect series. With good reason, I suppose, since Mass Effect 2 remains one of my absolute favourites, and not only for the fact that I can Renegade choice my way into kicking a man through a window mid conversation. If you have yet to experience the intergalactic drama of this series, you can get all three games on PC for £9.99.
Mass Effect Trilogy on PC (Origin) for £9.99 from Green Man Gaming
<Xbox One S Battlefield Bundle>
Any prospective Xbox One owners out there, take note. This Xbox One S 500GB console from Zavvi comes with a free copy of Battlefield 1 as a download code in the box and is priced up at only £229.99 right now, which seems suspiciously cheap compared to what this bundle costs at most other places. Get it while you can, I guess.
Xbox One S 500GB Console with Battlefield 1 for £229.99 from Zavvi
Alright, we're done for another week. Keep in mind that deals, prices, and availability can change at the drop of a hat, so apologies if you miss out on something you wanted. I'll be over at Jelly Deals, scouring the world wide web for more deals. Feel free to visit, or follow us on Twitter and give us a like on Facebook.