Battlefield 1: 9 tips that veterans of the series absolutely must know
Battlefield 1: tips that veterans of the series absolutely must know
We know you're not fooled by the "1" next to this year's Battlefield game. Battlefield 1 is called that because it's set in World War 1.
This particular setting brought on a few drastic changes to classes, shooting mechanics, customisation options, and many more aspects of what we usually look for in a Battlefield game. For veterans of the series, some of these changes will take some getting used to.
We're going to discuss some of them here, as well as a few new features fans of the series need to be aware of. The point is to make it as easy as possible to replicate your usual playing style in Battlefield 1 using the new toys. These tips can benefit anyone, but a couple will make more sense if you played at least one Battlefield game before.
Read on to find out some of the first things that'll stand out when you play the game.
Weapon unlocks are level-gated, and require in-game currency
Unlocking weapons and gadgets in Battlefield 1 is based on a system that borrows from Battlefield 4 as well as Battlefield Hardline. By that we mean you're going to need to rank up to gain access to new weapons, but you won't get to use them right away.
After reaching the rank required, you'll then be able to buy the weapon using an in-game currency called Warbonds. Warbonds are earned from gaining character levels, but you'll never have too much. This requires you to carefully consider each unlock before spending the money.
We should also note that class rank is what unlocks weapons, not overall rank. So, if you want new Assault weapons you're going to need to play this class for a bit. For what it's worth, you can reach the early ranks in a few short hours.
Most of the weapons only require you to be rank 3, so it's not much of a grind.
There aren't that many weapons, but it's all about the variants
While we're on the subject, you should know that the number of weapons is paired down considerably, compared to something like Battlefield 4. Gone are the days of having 10+ toys in each category and even more class-antagonistic ones.
Now, you'll notice that each class has access to about 4-5 weapons at best. However, each of them comes with its own set of variants that completely change its characteristics. For example, there are options with better hip fire accuracy, and a few with attached scopes that are more accurate at further ranges.
It's important to compare the one you have with the one you want to unlock before spending the Warbonds.
LMGs gain accuracy over time
One of the new mechanics in Battlefield 1 has to do with the behaviour of LMGs. These guns are the Support Class' only weapon type, and they're very inaccurate. They only start getting accurate the more you keep firing.
Hip fire with LMGs is usually a no-go, except at very at close ranges. Even still, expect to see a few bullets deviate and for the gun to be accurate a few seconds after you started firing. It's also recommended to never tap fire LMGs, because every time you re-start firing, you reset the accuracy back.
This is by design, as LMGs are meant to be suppressing weapons first, due to their large magazines and the general role DICE wants the Support to play in the game.
SMGs lack the punch at range
This may seem like conventional wisdom, but anyone who played Battlefield 4 can tell you all about their SMG and Carbine adventures of overpowering Assault Rifle players. In Battlefield 1, though, they're nowhere near this good.
Here, SMGs are kings of close quarters. They kick pretty hard but are, outside of LMGs, the only truly automatic weapons in the game. The damage drop-off at range is severe though, even tap-firing won't save you beyond medium range.
Focus on the targets closer to you, and pull out your pistol if you want to ping someone at range.
You can change the direction of recoil on some weapons
Battlefield – and shooter veterans – know all about compensating for recoil, weapon kick and all that. In Battlefield 1, all weapons pull to the right and the left an equal amount, and thus the kick is always straight upwards.
However, for the first time in the series, you're able to change the direction of the kick. You can choose from middle, right, or left. It's as easy as it sounds, if you change to right, the weapon's kick will pull more towards the right, and so on.
Although it may make sense to leave it set to middle for all weapons, since most PC players are used to pulling down to compensate, things may be a bit different on consoles. Everyone's use of the the analogue stick varies, not to mention personal preference – even on PC.
You don't need to charge the syringe to revive someone
The revive tool in Battlefield 1 is a just a syringe. And, unlike the defibrillators, it doesn't require you to charge it to revive your teammates at maximum health.
Just use it near a downed teammate and you'll be all set. You should also know that the range on it is quite limited, so you're going to have to be pretty close to get it to work. Having cover between you and your target will also hinder your ability to revive.
As a bonus, yes, you can kill people with it.
There's no Engineer class
You won't find the old trusty Engineer class in Battlefield 1. This is part of a larger shake-up of the class system, but it also means the Engineer's various jobs have been divided among more than one class.
The closest thing to an Engineer is the Assault Class. This class can equip shotguns and sub-machine guns, but it can not repair vehicles. This isn't too much of an issue, since the new Vehicle Class can do that, but it's worth keeping in mind.
Still, the Assault is the most powerful anti-armour class, thanks to his AT-Rocket Gun, Anti-Tank Grenades, and Dynamite. All three of these are available from the get go, and you'll be able unlock an Anti-Tank Mine later.
The Support class now has a repair tool, and is also able to harass armour with his Limpet Mine.
Get comfortable with the new Vehicle Class (Tanker and Pilot)
DICE finally made the decision to have anyone who spawns into a vehicle (as a driver) be a separate class from the main four. It's called the Vehicle Class, and it comes in two very similar versions, the Tanker and Pilot. The Tanker can equip a main weapon, a sidearm, an Anti-Tank Grenade, and a repair tool.
As for the Pilot, he gets access to the same set of main weapons, a different sidearm, a Flare Gun, and a repair tool. You can choose one of six weapons as your main for either, but the rest can't be customised.
Although you can repair your vehicle from inside, it's sometimes best to step out and repair it from outside. The main benefit of doing this is that your repairs won't be interrupted by incoming fire like it does when you auto-repair.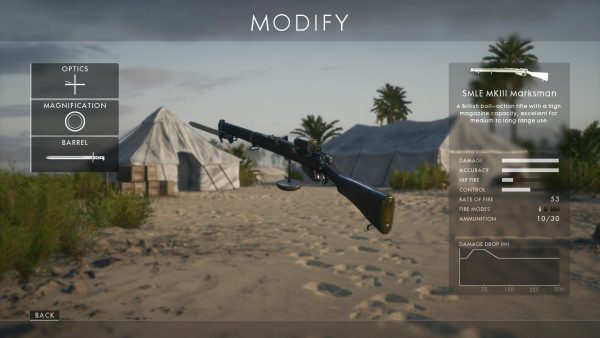 Learn the sweet spot for sniper rifles
Many of the sniper rifles in Battlefield 1 have a sweet spot. This essentially means there's a range at which the rifle will perform the best. At that range, you'll potentially down opponents with one shot to the body, which is great for snipers.
This is a big a change, and will require you to learn each sniper rifle's optimum range, as the game doesn't communicate that stat. You still get damage drop off at further ranges, and the bullet drop effect is still there, obviously.